A 15-month downturn, longest since 2009, and no end in sight.
There's simply no respite for chain restaurants. Industry-wide, same-store sales fell again in May. The last time, same-store sales actually rose year-over-year was in February 2016. On that basis, the chain-restaurant recession is now in its 15th month, the longest downturn since the Financial Crisis.
In May, same store sales fell 1.1% year-over-year. Same-store foot traffic fell 3.0%. Food sales were down, and alcohol sales were down, according to TDn2K's Restaurant Industry Snapshot, tracking sales at 27,000 restaurant units from 155 brands, generating about $67 billion in annual revenue. But the average amount of the check per person increased by 2%, and not because they ordered more food and booze, but because prices rose.
Florida was the least bad region, with same-store sales up 0.1% and foot traffic down "only" 1.9%. Texas was the worst region with sales down 2.4% and foot traffic down 4.3%. Of the 196 markets, 140 (71%) experienced sales declines.
The report – as the reports in prior months – is perplexed by the long downturn:
Recently, there has been an upturn in retail spending on most goods and services. That stands in stark contrast to the continued decline in sales growth at restaurants.

This change in consumer spending patterns was identified about a year ago, and how much longer it will continue is unclear.
Now the hope is that year-over-year sales comparisons this year will look less bad based on the "relatively soft sales" last year. That has been the hope for months, and it hasn't happened yet.
But the pain is not evenly spread in this sector, according to the Restaurant Industry Snapshot:
Dine-in sales have been negative year-to-date, but to-go is up 2.9%. Sales are also up in catering, delivery, and drive-thru.

Breakfast and mid-afternoon sales offer continued opportunities for growth, while lunch and, especially, dinner sales continue to stumble.
While sales in May were "weak across all segments," the fine dining segment "was able to achieve very small positive same-store sales growth." Until May, that sector had done well. Now it too is losing its edge.
All segments were weak, but the least weak were at the top of the price spectrum ("dining experience") and at the bottom ("value and convenience"). Everything in between was particularly weak.
The weakest performing segment in May was casual dining. This was a bit unexpected since the segment showed improved performance during the first four months of 2017 after lagging the industry for several years. Casual dining has added a modest number of new units, but same-store sales declines have contributed to its overall loss in market share.

Despite weak sales results year-to-date, fast casual continues to win the market share battle. It gained the most share in the first quarter of 2017 compared with the same quarter a year ago. Aggressive expansion has driven total sales growth, but increased competition and market build-out have undoubtedly impacted same-store sales for the segment. The only other segment that gained market share year-over-year was quick service.
The chain restaurants' 15-month travails contrast with overall sales at "food services and drinking places," according to Census Bureau retail data. In 2016, sales at these places rose 5.5% to $657.8 billion. In April, the most recent data available, sales rose 3.9% year-over-year to a record $56.6 billion: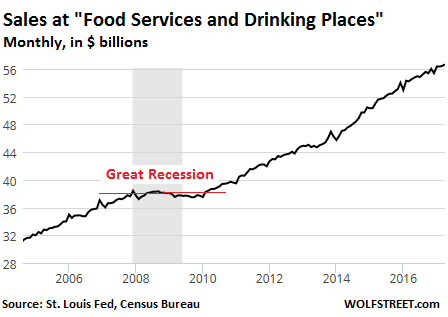 Since January 2010, nominal sales at "food services and drinking places" (then at $37.5 billion) have surged 51%, in part due to price increases: Over the same period, the Consumer Price Index for "Food away from home" has jumped 19%.
From December 2007 through January 2010 – when employment plunged by 8.6 million – nominal sales at "food services and drinking places" were essentially flat. But the Consumer Price Index for "food away from home" rose nearly 8% over those two years. Hence, on an inflation adjusted basis, sales were down sharply!
So the 3.9% sales increase at "food services and drinking places" in April has to be juxtaposed to the Consumer Price Index for "food away from home," which rose 2.3% over the same period. So "real" growth in sales was something close to 1.6%, with chain restaurants likely dragging down the index.
Who is to blame for the travails of chain restaurants? The sitting ducks are, as always, the Millennials. There is already a long list of what they have been "killing": brick-and-mortar retail, democracy, handshakes, America, yogurt…  you name it, they did it.
But Millennials have been around for a while, and the chain restaurant debacle just started in March 2016. So it's unlikely they triggered it, though their lack of enthusiasm for chain restaurants might not help much either. And I doubt that sending them to chain-restaurant reeducation camp would help much.
Instead, it looks more like the beginnings of a broader structural change. Brick-and-mortar retailers have been getting hammered by a structural change that will never reverse. Chain restaurants too may feel the pressure from a change in where, what, and how consumers eat and drink that will leave chain restaurants that cannot adjust to it by the wayside.
This comes on top of an economy where many potential patrons of chain restaurants simply don't have enough discretionary income after paying for all essentials – with costs for healthcare and housing surging – to prop up that industry.
After private equity firms spent years asset-stripping their brick-and-mortar retailers, the effects are becoming clearer. Read…  Brick-and-Mortar Retail Meltdown Has a Busy Month
Enjoy reading WOLF STREET and want to support it? You can donate. I appreciate it immensely. Click on the beer and iced-tea mug to find out how:

Would you like to be notified via email when WOLF STREET publishes a new article? Sign up here.