Aldi's $5 billion bet at a brutal time.
Today, Albertson's explained in an amended S-4 filing for a debt exchange offering just how tough things have gotten for traditional supermarket chains.
As is so often the case, there is a private equity angle to it. Albertson's was acquired in a 2005 LBO by a group of PE firms led by Cerberus. In January 2015, it acquired Safeway to eliminate some competition. It then wanted to sell its shares to the public. But in October 2015, as brick-and-mortar retail began to melt down, it scrapped its IPO.
The filing's most revealing data are same-store sales on a quarterly basis through Q4, 2016, comparing year-over-year sales growth at stores that have been open in the current and prior year. I added the red line to show the trend since Q3 2015: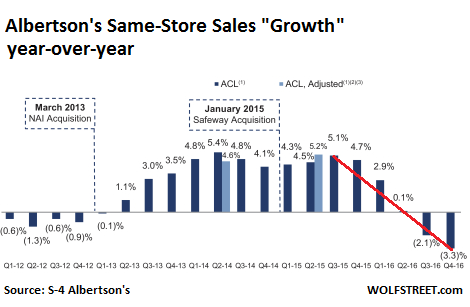 The S-4 supplied some reasons for the decline:
Our identical store sales decrease in fiscal 2016 was driven by a decrease of 1.9% in customer traffic partially offset by an increase of 1.5% in average ticket size. During fiscal 2016 our identical store sales were negatively impacted by food price deflation in certain categories, including meat, eggs and dairy, together with pressure to maintain competitive pricing in response.
The two key factors boil down to competition, precisely what the Safeway acquisition was supposed to have eliminated:
A "1.9% decline in customer traffic."
"Pressure to maintain competitive pricing in response."
In other words, starting in Q1 2016, competition pushed previously strong same-store sales growth off the cliff.
Given a series of acquisitions by Albertson's over the years, total sales rose. The following are sales for the 12-month periods:
Through Feb. 2015: $27.2 billion
Through Feb. 2016: $58.7 billion (includes Safeway)
Through Feb. 2017:  $59.7 billion (includes 29 Haggen Stores and 76 A&P stores)
At the end of 2013, the company had 1,075 stores. It then acquired, divested, opened, and closed numerous stores. By the end of 2015, it had 2,271 stores. And by the end of 2016, it had 2,324 stores.
So in 2016, the net store count increased 2.3% but revenues inched up only 1.7%. Hence the decline in same store sales.
During those three 12-month periods respectively, the company had losses before income taxes of: $1.38 billion, $541 million, and $463.6 million.
And it had total debt of a breath-taking $12.3 billion as of February 25, 2017, up from $3.7 billion in 2013 before the acquisition of Safeway and the other chains.
It's not going to get better anytime soon.
On Sunday, Aldi announced it would invest $3.4 billion to expand its base in the US to 2,500 stores by 2022. The privately held discount-grocery chain headquartered in Germany already has over 1,600 stores in the US. It also owns Trader Joe's, which has an additional 464 grocery stores. In February, Aldi had announced that it would add 400 stores by the end of 2018 and spend $1.6 billion to "remodel and expand" 1,300 of its stores by 2020.
This would bring its newly announced investment in the US to $5 billion. The expansion will make Aldi the third-largest grocery chain operator in the US behind Wal-Mart and Kroger, the company said. And it's going to compete on price.
"As we continue to expand and grow, our purchasing power continues to increase and allows us to bring products at better prices for consumers," Scott Patton, Aldi's head of corporate buying, told Reuters.
Another German grocery store chain, deep-discounter Lidl with 10,000 stores in 27 European countries has plans to open as many as 600 stores in the US, it revealed in May. Its first store will open on June 15. It expects to have 100 stores along the East Coast a year from now. It said it would undercut competitors by up to 50%.
This threat by arch-competitor Lidl stimulated Aldi's thinking; CEO Jason Hart Hart said in a statement that Aldi's prices also would be about 50% below those of traditional grocery stores.
Aldi has always focused on in-house brands to obtain the deepest price cuts. The company's shares aren't publicly traded, and quarterly earnings reports don't cause any kind of ruckus.
Kroger, the largest supermarket chain in the US, booked a sales increase of 5% in 2016, but its net income fell 4.5%, and its shares, after a series of earnings disappointments, are down over 25% from the end of 2015, even as the rest of the stock market was booming.
Then there's Wal-Mart Stores, the second largest grocery seller in the US. It's experimenting with lower prices in 11 states and is hounding its vendors to undercut their competitors by 15%. According to analysts cited by Reuters, it's willing to spend $6 billion on these efforts.
Target too has been plowing more aggressively into the grocery market. Online grocery sales are taking sales away from brick-and-mortar locations. Amazon is now more than just dabbling in it. Everybody wants into this $630-billion-a-year market.
Alas, over the past six years, sales at grocery stores are up a total of 14%, not adjusted for inflation, according to the retail trade report by the Commerce Department. Over the same period, the Consumer Price Index for food rose 14%, according to the Bureau of Labor Statistics. So in inflation-adjusted terms, over the past six years, "real" sales have been flat.
The price war will be a godsend for consumers, at least for a while. But what gives?
Shares of Whole Foods Market have fallen 42% since late 2013 as it grapples with the new environment. And there have been 18 bankruptcies among US grocery store chains since 2014, according to Reuters, including Marsh Supermarkets and Central Grocers in May and Fairway Group Holdings, parent of the "iconic" New York chain Fairway Market, a year ago.
This is the environment that over-indebted Albertson's and its private-equity backers hadn't planned on finding themselves in. Beyond PE firm Cerberus, the backers include real-estate investors Klaff Realty and Lubert-Adler, REIT Kimco Realty, and shopping center owner Schottenstein Stores.
To unload the company in an IPO on the unsuspecting public and conniving institutional investors managing the unsuspecting public's money, the backers must have a buoyant and blind stock market because for equity investors, this must be one of the most toxic combinations: a brick-and-mortar supermarket chain in the age of online sales that was bought by a PE firm, loaded up with debt as it became a supermarket roll-up, in a stagnant market that is attracting the biggest deep-discounters from around the world.
And this, after years of asset stripping by PE firms and hedge funds. Read…  Brick-and-Mortar Retail Meltdown Has a Busy Month
Enjoy reading WOLF STREET and want to support it? You can donate. I appreciate it immensely. Click on the beer and iced-tea mug to find out how:

Would you like to be notified via email when WOLF STREET publishes a new article? Sign up here.