"Landlords have been unable to raise rents…"
The legendary, magnificent, frequently discussed, and all-in-all mind-blowing house price bubble in Prime London finally came to the attention of the Bank of England. On its blog, "Bank Underground," this discovery comes with a big-fat caveat:
Bank Underground is a blog for Bank of England staff to share views that challenge – or support – prevailing policy orthodoxies. The views expressed here are those of the authors, and are not necessarily those of the Bank of England, or its policy committees.
I get it. It's not official. In official circles at the BOE, the house price bubble in Prime London and other parts of London, for that matter, is still dormant.
Nevertheless, the blog post shows some of the marvelous aspects of this creation of central-bank policies, Russian-oligarch money, the adjacent City of London financial district, and other influences.
Since 2005, according to the BOE, home prices have nearly tripled! This has happened under the watchful eyes of the BOE itself, whose headquarter in the City of London would give it a good vantage point. And we've marveled over the years how these house prices have gone out of whack.
OK, Prime London is special (Google Maps). It includes Hyde Park in the middle, with Buckingham Palace, Chelsea, Paddington, Regent's Park, the British Museum, etc. clustered around it. In other words, if you have money, it's the place to be.
So the BOE is a little puzzled:
Economic theory suggests that property prices and rents should move together: rents represent the flow of housing services gained from living in a property, and prices are determined by the discounted value of all future rents.
And that's not what has happened in Prime London, or for that matter, in any of the other cities around the world that are now proud examples of housing bubbles.
Rents in Prime London actually surged too, by nearly 40% over the ten years, but not nearly as fast as house prices: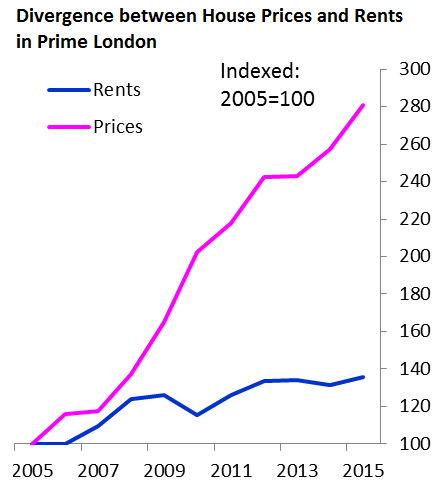 And this has a nefarious effect on landlords, because yields from rental properties have dropped "to between 3% and 4%."
The blog post defines "rental yield" as property price divided by annual rental payments. That would be gross rental yield, before acquisition costs and expenses. Net rental yield, after acquisition costs and expenses, would be quite a lot lower that these figures: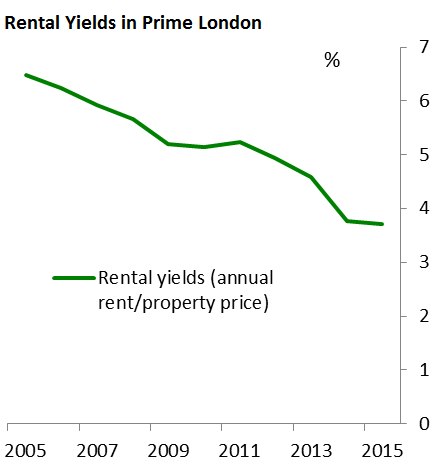 So gross rental yield of 3% to 4% is low. Subtract acquisition costs and expenses, and not that much remains. Landlords still enjoy the tax benefits they get from owning rental property, and they cling to the big hope that property prices will continue to soar for evermore.
But the rental yield in reality is even lower. The BOE says that the median number of days it takes to rent out a property has increased to over 50 days. So if you have a vacant apartment and spend two month trying to fill it, during which you receive no revenues but have to pay all the expenses, and then rent if for one year at a gross rental yield of 3%, you're already in the hole because you get 12 months' rent to cover 14 months in expenses. If the tenant leaves after one year, you start all over again with a money-losing proposition.
For landlords to come out ahead, they must see big gains in property values – which has been happening, at least until recently.
So the BOE asks: "What has driven this divergence" between these skyrocketing house prices and the more slowly soaring rents, a divergence that has wrung the profits out of this deal? What has kept rents down?
In answering it, the BOE takes a turn toward the hilarious:
The most likely explanation seems to be an increase in competition between investors in the rental market. Whilst the number of buy-to-let transactions fell sharply during the crisis, it has since rebounded to around its pre-crisis levels. A higher number of properties available to let has meant that landlords have been unable to raise rents – whilst the prices paid to purchase these properties have risen sharply.
So, in other words, the BOE doesn't lament the insane house price bubble, for which the BOE is in part responsible. Instead, the culprit is market competition, of all things, in the rental market: too many high-priced rental apartments for too few wealthy tenants.
It doesn't occur to the authors that rents have soared to levels where landlords run out of potential tenants who can afford these rents. This condition, caused in part by loosey-goosey monetary policies, is the result of global liquidity trampling over regular folks living in London and pushing them out because they can no longer afford to live there. But then demand dries up…. House price bubbles have a nasty tendency to break apart at this disconnect.
London is not the only place with these problems in the era of central-bank market manipulation and house price inflation. In the US, the game has already advanced. Read…  What'll Happen to Housing Bubble 2 as Mortgage Rates Jump? Oops, they're already jumping.
Enjoy reading WOLF STREET and want to support it? You can donate. I appreciate it immensely. Click on the beer and iced-tea mug to find out how:

Would you like to be notified via email when WOLF STREET publishes a new article? Sign up here.