The "risk free" bonds have bloodied investors.
The carnage in bonds has consequences. The average interest rate of the a conforming 30-year fixed mortgage as of Friday was quoted at 4.125% for top credit scores. That's up about 0.5 percentage point from just before the election, according to Mortgage News Daily. It put the month "on a short list of 4 worst months in more than a decade."
One of the other three months on that short list occurred at the end of 2010 and two "back to back amid the 2013 Taper Tantrum," when the Fed let it slip that it might taper QE Infinity out of existence.
Investors were not amused. From the day after the election through November 16, they yanked $8.2 billion out of bond funds, the largest weekly outflow since Taper-Tantrum June.
The 10-year Treasury yield jumped to 2.36% in late trading on Friday, the highest since December 2015, up 66 basis point since the election, and up one full percentage point since July!
The 10-year yield is at a critical juncture. In terms of reality, the first thing that might happen is a rate increase by the Fed in December, after a year of flip-flopping. A slew of post-election pronouncements by Fed heads – including Yellen's "relatively soon" – have pushed the odds of a rate hike to 98%.
Then in January, the new administration will move into the White House. It will take them a while to get their feet on the ground. Legislation isn't an instant thing. Lobbyists will swarm all over it and ask for more time to shoehorn their special goodies into it. In other words, that massive deficit-funded stimulus package, if it happens at all, won't turn into circulating money for a while.
So eventually the bond market is going to figure this out and sit back and lick its wounds. A week ago, I pontificated that "it wouldn't surprise me if yields fall some back next week – on the theory that nothing goes to heck in a straight line."
And with impeccable timing, that's what we got: mid-week, one teeny-weeny little squiggle in the 10-year yield, which I circled in the chart below. The only "pullback" in the yield spike since the election. (via StockCharts.com):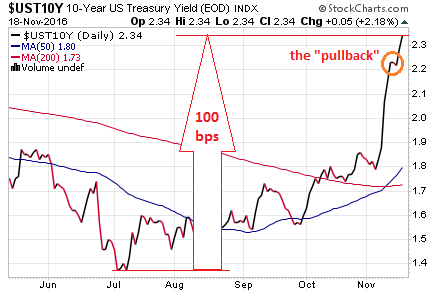 Note how the 10-year yield has jumped 100 basis points (1 percentage point) since July. I still think that pullback in yields is going to happen any day now. As I said, nothing goes to heck in a straight line.
In terms of dollars and cents, this move has wiped out a lot of wealth. Bond prices fall when yields rise. This chart (via StockCharts.com) shows the CBOT Price Index for the 10-year note. It's down 5.6% since July: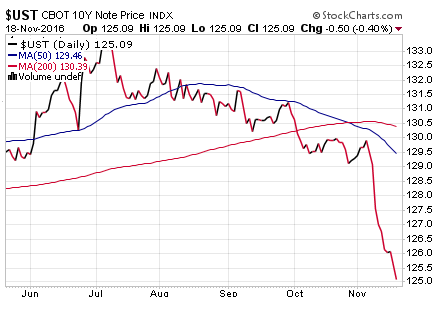 The 30-year Treasury bond went through a similar drubbing. The yield spiked to 3.01%. The mid-week pullback was a little more pronounced. Since the election, the yield has spiked by 44 basis points and since early July by 91 basis points (via StockCharts.com):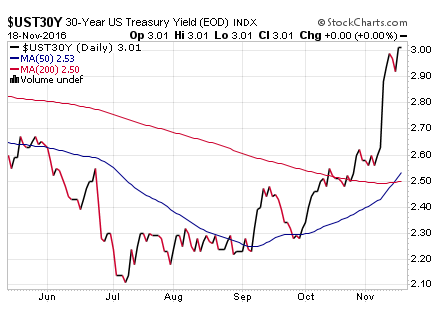 Folks who have this "risk free" bond in their portfolios: note that in terms of dollars and cents, the CBOT Price Index for the 30-year bond has plunged 13.8% since early July!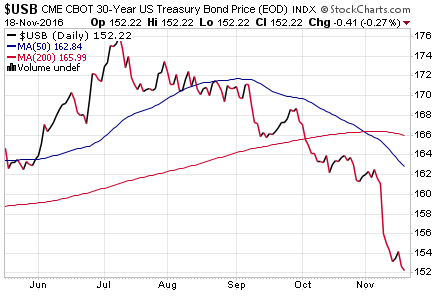 However, the election razzmatazz hasn't had much impact on junk bonds. They'd had a phenomenal run from mid-February through mid-October, when NIRP refugees from Europe and Japan plowed into them, along with those who believed that crushed energy junk bonds were a huge buying opportunity and that the banks after all wouldn't cut these drillers' lifelines to push them into bankruptcy, and so these junk bonds surged until mid-October. Since then, they have declined some. But they slept through the election and haven't budged much since.
It seems worried folks fleeing junk bonds, or those cashing out at the top, were replaced by bloodied sellers of Treasuries.
Overall in bond-land, the Bloomberg Barclays Global Aggregate bond Index fell 4% from Friday November 4, just before the election, through Thursday. It was, as Bloomberg put it, "the biggest two-week rout in the data, which go back to 1990."
And the hated dollar – which by all accounts should have died long ago – has jumped since the election, as the world now expects rate hikes from the Fed while other central banks are still jabbering about QE. In fact, it has been the place to go since mid-2014, which is when Fed heads began sprinkling their oracles with references to rate hikes (weekly chart of the dollar index DXY back to January 2014):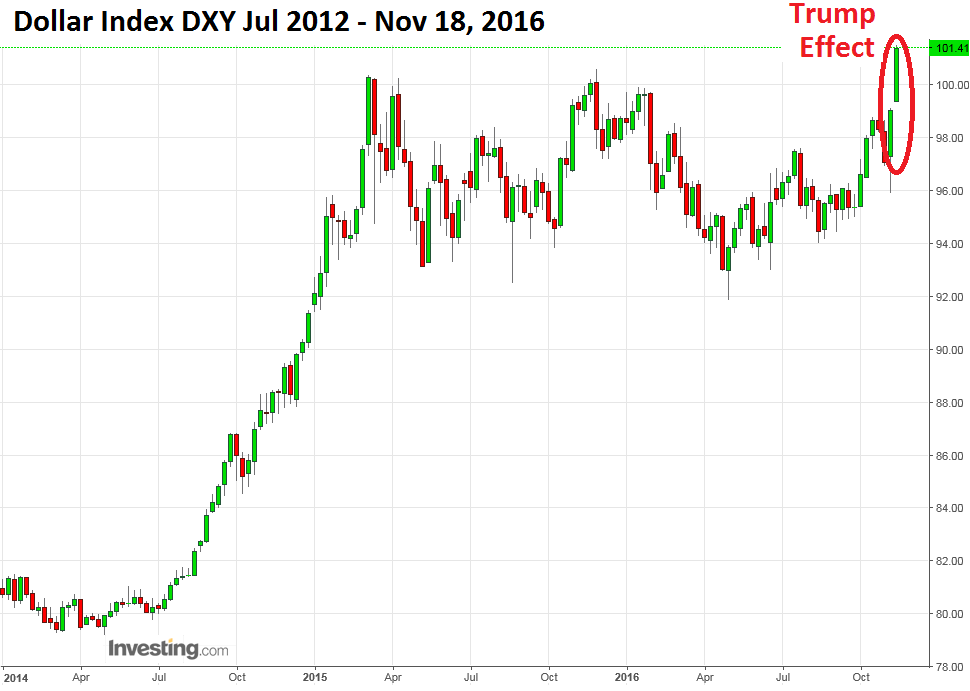 The markets now have a new interpretation: Every time a talking head affiliated with the future Trump administration says anything about policies — deficit-funded stimulus spending for infrastructure and defense, trade restrictions, new tariffs, walls and fences, keeping manufacturing in the US, tax cuts, and what not — the markets hear "inflation."
So in the futures markets, inflation expectations have jumped. This chart via OtterWood Capital doesn't capture the last couple of days of the bond carnage, but it does show how inflation expectations in the futures markets (black line) have spiked along with the 10-year yield (red line), whereas during the Taper Tantrum in 2013, inflation expectations continued to head lower: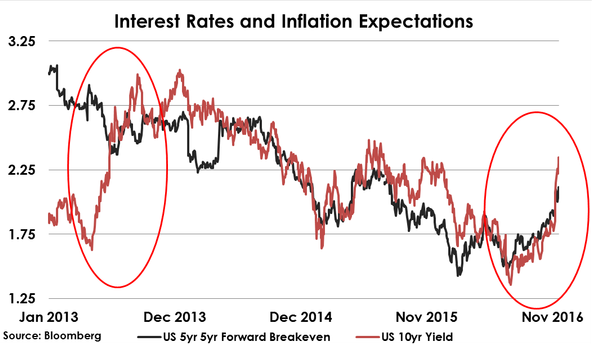 Inflation expectations and Treasury yields normally move in sync. And they do now. The futures markets are saying that the spike in yields and mortgage rates during the Taper Tantrum was just a tantrum by a bunch of spooked traders, but that this time, it's real, inflation is coming and rates are going up; that's what they're saying.
The spike in mortgage rates has already hit demand for mortgages, and mortgage applications during the week plunged. Read…  What'll Happen to Housing Bubble 2 as Mortgage Rates Jump? Oops, they're already jumping.
Enjoy reading WOLF STREET and want to support it? You can donate. I appreciate it immensely. Click on the beer and iced-tea mug to find out how:

Would you like to be notified via email when WOLF STREET publishes a new article? Sign up here.