Auto Sales, Construction Get Totally Crushed.
When the oil bust started in July 2014, it was just a blip. By 2015, bankruptcies were cascading through the oil patch. In early 2016, with WTI down over 70% from its pre-bust levels, it got even worse. But the price has recovered some, and new money is flowing back into the sector, and so it would seem that there'd be some kind of recovery in Houston.
But the opposite is the case: it's now getting really tough.
Sales of new cars and trucks fell 17% in October year-over-year, according to TexAuto Facts, published by InfoNation via Greater Houston Partnership. It was the tenth month in a row of year-over-year declines. So far this year, sales, at 253,000 vehicles, have plunged 22.1% compared to the same period last year.
New car sales plunged 19% in October and 30% year-to-date. Texas is truck country. About three-quarters of all passenger vehicles sold are trucks or SUVs. So you'd think trucks would be the last thing people delayed or stopped buying. But no. Sales of new trucks, SUVs, and vehicles with commercial tags plunged 16% in October and 17% year-to-date.
There are about 175 new car and truck dealers in the Houston Metro area, with over 30,000 employees, according to the Houston Automobile Dealers Association. It's big business. And this chart of rolling 12-month vehicle sales (via the Greater Houston Partnership) shows the ongoing plunge this year, which I circled in red: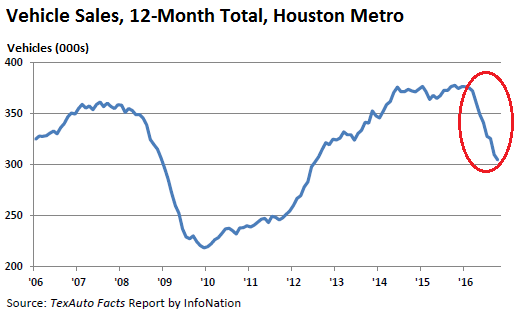 The employment situation in Houston is mixed, as they say. The service sector is doing OK-ish, with jobs increasing by 1.7% year-over-year in September. The goods producing sector has shed 5% of its employees year-to-date. The overall unemployment rate has risen from 4.8% in September last year to 5.7% in September this year.
So you'd think that an increase in unemployment of less than 1 percentage point shouldn't entail a 22% plunge in vehicle sales.
But there's more to it. As oil and gas companies laid off workers and cut back on contractors, it spread uncertainty in the industry and, given Houston's dependence on the sector, far beyond the industry. So if you're ready to replace your pickup with 200,000 miles on it, but it still looks decent and runs well enough, you might drive it for a while longer, given the uncertainty, even if you're still hanging on to your job.
And there's another factor at work. The construction sector is now in free-fall.
Houston had experienced a magnificent building boom since the Financial Crisis, fired up by the boundless optimism of the oil boom and money flooding into the city. But in 2015, vacancies began to soar and sublease space began flooding the market, even as new towers were being completed. In 2016, the problem has become pandemic. And office construction is now taking a hit – over two years after the oil bust kicked off.
Building contracts for the Houston Metro plunged 23.7% in September and 19.4% year-to-date, with non-residential construction down 26.5% year-over-year, and residential down 20.1%.
Building permits for the city of Houston plunged 26.4% in September year-over-year and are down 12.8% year-to-date. Residential building permits fell 25.1% in September. That's terrible enough, but nonresidential permits collapsed by 50.5%!
Within a year, the construction business, when measured in building permits, went from boom to sharp deterioration and now to outright collapse.
Construction booms of the magnificent kind that Houston had experienced since the Financial Crisis power up a local economy in myriad ways. They have deep and wide economic impact, from raw materials to labor. This includes vehicle sales, particularly trucks sales. But when the boom stops so suddenly, with permits down 50% year-over-year for office buildings, it comes as a shock for the broader economy, from car dealers to banks.
And it's the banks they're worried about. Read…  Who'll Get Hit by Fallout from the $11-Trillion Commercial Property Bubble in the US?
Enjoy reading WOLF STREET and want to support it? You can donate. I appreciate it immensely. Click on the beer and iced-tea mug to find out how:

Would you like to be notified via email when WOLF STREET publishes a new article? Sign up here.