Increases in average hourly earnings accelerate sharply for private sector Production and Nonsupervisory Employees.
The employment data for October shows a decent job market, with a decent increase in jobs, despite the strikes that hit manufacturing, in line with a normal pre-pandemic job market, but off the levels of the super-tight labor market coming out of the pandemic. The household survey showed an increase in workers on salaries and wages, but a decline in the number of self-employed, and a big drop in part-time workers. And hourly earnings of nonsupervisory workers jumped at a rate that confirms 4%-plus year-over-year wage growth. So this is what we'll look into now.
The strikes hit manufacturing employment as they ripple from factories through the supply chains. In October, employment in manufacturing fell by 35,000 jobs, with 33,000 of them in motor vehicles and parts, "largely due to strike activity," according to the BLS report today. When those people return to work, those jobs are going to re-appear in the data for a little bump.
I'm going to post a separate article with lots of employment charts by industry category. But here is manufacturing, where employment, after the huge surge in 2021 and 2022, had flattened out this year, as the economy shifted back to services. The drop in October "largely due to strike activity" is very visible: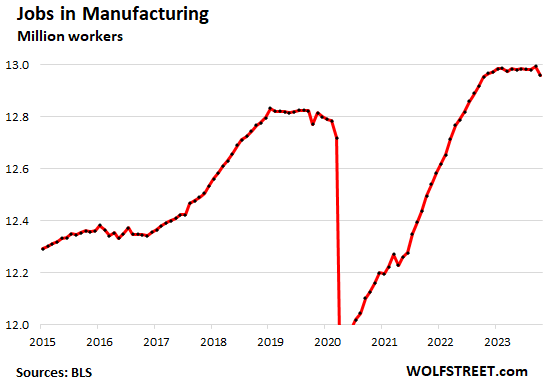 Employers added 150,000 workers to their payrolls in October, according to the BLS survey of employers. Without strikes in the auto sector, employment might have increased by over 180,000.
Either one was below the three-month average of 204,000 workers. In 2019, the three month-average of net job gains was running between 100,000 and 200,000.
The chart shows the three-month average that irons out some of the month-to-month ups and downs: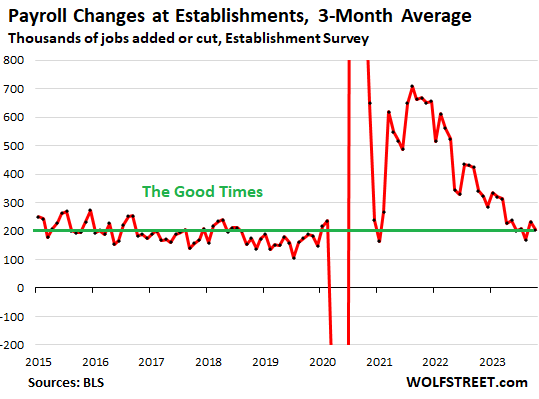 Total employment by employers rose to a record 156.9 million workers.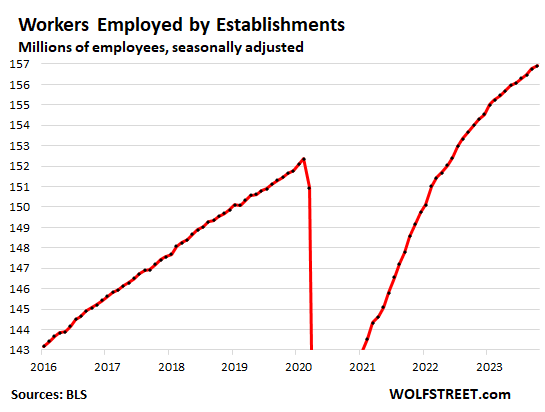 Part-timers plunge, self-employed drop, but workers with salaries and wages rise.
The total number of workers – including workers with salaries and wages employed by employers, self-employed workers, and part-time workers – dropped by 348,000, driven by a 670,000 plunge in part-time employment, and a 90,000 drop in self-employment. This data come from BLS survey of households, not of establishments, and captures those workers who are not employed by establishments.
The number of workers on salaries and wages rose by 64,000 workers to 150.2 million, after a dip in the prior month, per the survey of households.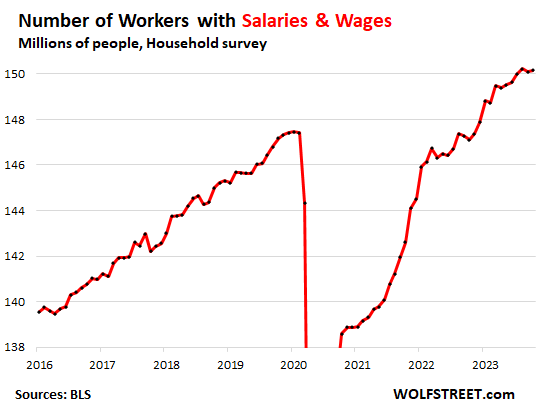 But the number of part-time workers plunged by 670,000, the biggest plunge since the collapse in April 2020.
Turning part-time workers into full-time workers — those who want to work full-time — would be a good thing. But before we get all excited about it, these numbers are seasonally adjusted to balance out the big seasonal variations in part-time employment, and those seasonal adjustments can easy go awry. That's why we look at this stuff with long-term charts so we can see.
The BLS defines part-time work as 34 hours per week or less.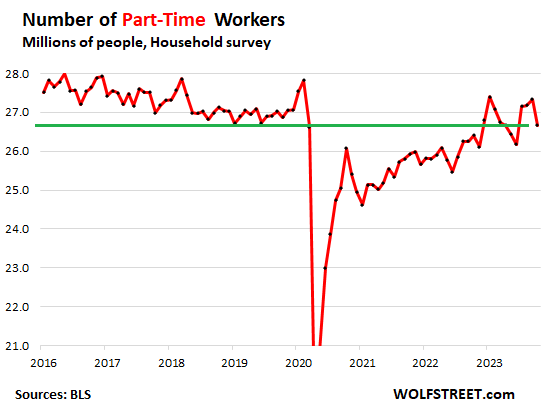 As the above chart shows, part-time employment is lower than it was before the pandemic in absolute numbers.
But part-time employment as a percentage of total employment has been on a long uneven downtrend. In October, the three-month moving average (which irons out some of the month-to-month variability) dipped to 16.8% of total workers. In 2016, it was still above 18%. This long-term trend contradicts the silly meme that the US economy just keeps creating part-time barista jobs.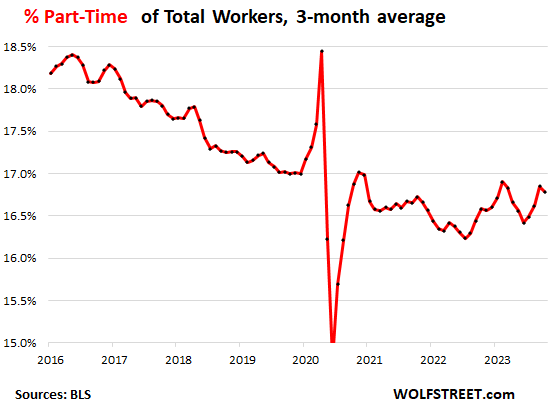 And the number of self-employed dropped by 43,000 workers. The pandemic had created a burst of self-employment that has been tapering off and has returned to pre-pandemic levels:
Self-employment as a percentage of total employment has dropped to the low end of the range before the pandemic, with the three-month moving average in October at 5.5%:
Average hourly earnings of Production and Nonsupervisory Employees in the private sector – the vast majority of private-sector employees, ranging from coders to factory workers – rose by 0.34% in October from September, the biggest increase in four months. This translates into an annualized increase of 4.2%.
Compared to a year ago, average hourly wages rose by 4.4%. You can see how the rate of wage increases is now stabilizing in this 4%-plus neighborhood, after the pandemic chaos. And the wage increases remain far higher than before the pandemic.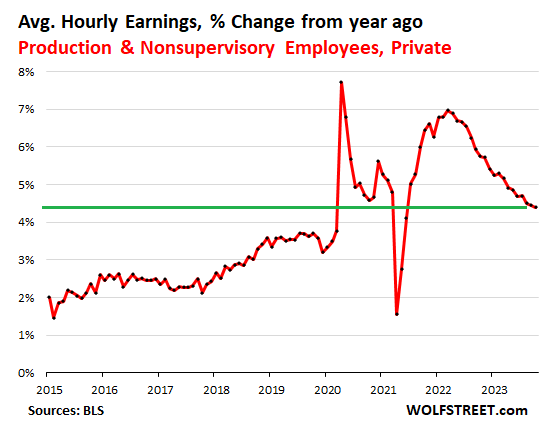 Oh, and the number of multiple jobholders rose in October to 8.356 million, almost as high as in July 2019 (8.383 million).
But the total number of workers has grown over the months and years. Over the past four decades, the number of workers has grown by about 40 million, along with the population. And so the number of multiple job holders as a percent of total jobholders over the years actually dropped.
Multiple job holders as percent of all workers, at 5.2% in October, was where they had been in October 2019, both of them historically relatively low: In the 1990s it was over 6%. The chart shows the three-month-moving average:
Enjoy reading WOLF STREET and want to support it? You can donate. I appreciate it immensely. Click on the beer and iced-tea mug to find out how:

Would you like to be notified via email when WOLF STREET publishes a new article? Sign up here.