What homebuilder PulteGroup said about mortgage-rate buydowns. Homebuilders have figured out this market, homeowners have not.
To sell new houses in this 8%-mortgage environment, homebuilders – whose stocks have gotten battered since August – have resorted to mortgage-rate buydowns through their own mortgage companies. Earnings calls are now all about those buydowns and their costs, including PulteGroup's earnings call yesterday which is currently buying down 30-year 8% fixed-rate mortgages permanently to 5.75%.
That incentive works in selling houses; but costs are steep. We'll get to the earnings call in a moment, but keep that in mind as we walk through the figures on new house sales, prices, and inventories.
The median price of new single-family houses sold in September fell by 3.3% from the prior month, and was down by 12.3% from a year ago, and down by 15.7% from the peak in October 2022, according to data from the Census Bureau today. As you can see in the chart, following a big drop, it has essentially moved sideways since April.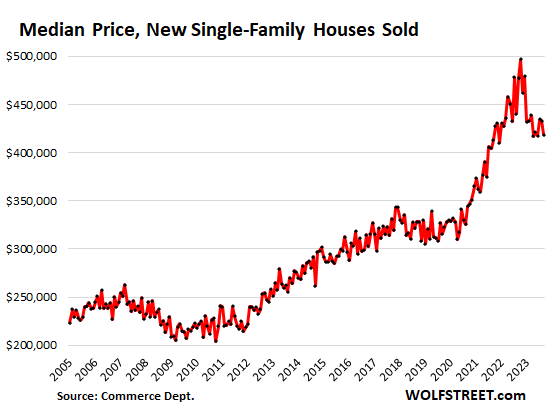 But these are contract prices and do not include the costs of mortgage-rate buydowns and other incentives such as upgrades of countertops.
In this regard, Pulte said that its "incentive load" – now mostly mortgage rate buydowns – was 6.3% of the average selling price of $549,000 in Q3, or $35,000 per house. These buydowns effectively lower the buyer's costs, but they're not included in the data here by the Census Bureau, which tracks contract prices.
Sales of new houses – not seasonally adjusted, and not the annual rate of sales – rose to 60,000 houses in September, up by 36% from the beaten-down levels a year ago. These sales levels would normally be nothing to write home about, but in the 8% environment, they're pretty good, testimony to the effectiveness of price cuts, houses built at lower price points, and mortgage-rate buydowns.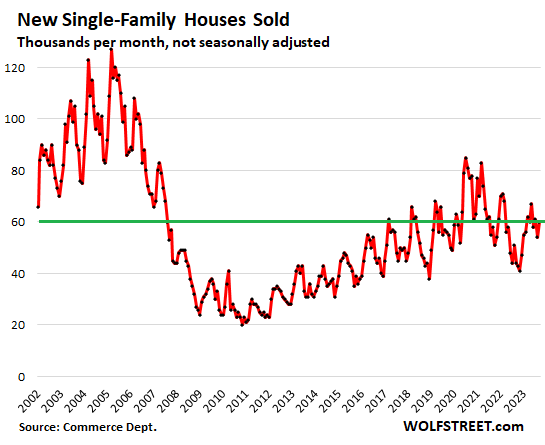 Homebuilders, unlike current homeowners, have figured out this market. Their business is to build and sell homes no matter what the market does. But homeowners who want to sell are still muttering, "this too shall pass," and are not putting their homes on the market, and those that are putting them on the market are now cutting prices at a substantial rate but not nearly enough to bring in buyers, so sales of previously owned homes have plunged.
Inventory for sale of new houses in all stages of construction rose to 441,000 houses. And supply, given the increase in sales, dipped to a still fairly high 6.9 months. This would have been the highest supply in the years between 2011 and March 2020, so more than ample inventory and supply, and homebuilders will have to move it, and they'll be motivated to play with prices and incentives: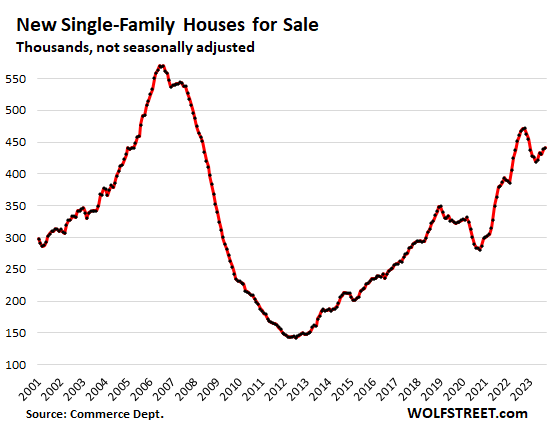 New houses take share from "used" houses. You snooze, you lose.  "New" houses compete with "used" (previously owned) houses on price. And they're now just a spitting distance apart, with prices of new houses down sharply, and prices of "used" houses down just a tad from the peak in June last year:
What PulteGroup said about mortgage-rate buydowns.
The earnings call yesterday was dominated by questions about mortgage-rate buydowns (transcript via Seeking Alpha). Here are some of the salient points:
"We continue to use the permanent 30-year buydown as probably our most powerful incentive. Right now, we've got national incentives that offer 5.75% on a 30-year fixed," when "rates today on the open market would be over 8%," CEO Ryan Marshall said.
"I'll remind everybody, what we've done is we've simply redistributed incentives that we've historically offered toward cabinets and countertops and things of that nature, we've redirected those to interest rate incentives, and I think that has been the most powerful thing for that buyer group," Marshall said.
"There are other buyers that decide that they don't need to go all the way to 5.75%, and they'd like to have a little bit higher rate and use some of the other incentive money that we're offering for other things that they see value in. We're seeing about 80% to 85% of our buyers are getting some form of incentive towards interest rates. That doesn't mean everybody will go to 5.75%. Just some fraction of our total sales [25% CFO Robert O'Shaughnessy specified a minute later] end up in that very lowest category," Marshall said.
"The big headline is that we've got the tools out there, and our sales team has got the tools out there to help individually solve what each and every buyer needs in order to make the transaction work for them," Marshall said.
About the costs of the buydowns and incentives, Shaughnessy said that their "incentive load" is about 6.3% of the average purchase price of $549,000, "about $35,000" per house, and "the majority of that incentive is rate buydown for financing support."
Pulte's shares [PHM] have dropped 17.5% from their all-time high on August 8, to close at $71.01 today.
Enjoy reading WOLF STREET and want to support it? You can donate. I appreciate it immensely. Click on the beer and iced-tea mug to find out how:

Would you like to be notified via email when WOLF STREET publishes a new article? Sign up here.