But the layoff announcements across tech and social media were effective in re-explaining to workers who the boss is.
One theme has become clear: The huge tech and social media layoff announcements that were thrown propaganda-like at the labor market have not panned out in reality. They did hammer perhaps some humility into job seekers and job switchers and just regular employees seeking raises, and those all have calmed down. But that massive reduction in tech employment has not happened. There were some layoffs, while through the other door, the same companies have been hiring, and the net reduction in employment has been much smaller than advertised.
So let's look at Alphabet, which in early January made headlines by announcing that it would lay off 12,000 workers globally. Today in its 10-Q filing with the SEC, it disclosed its Q3 staffing levels and that the layoffs were finished: "As of September 30, 2023, we had 182,381 employees. Substantially all of the employees affected by the reduction of our workforce were no longer included in our headcount as of September 30, 2023."
On net, since the beginning of 2023, Alphabet has cut its headcount by 7,853, instead of the 12,000 in layoffs announced in January.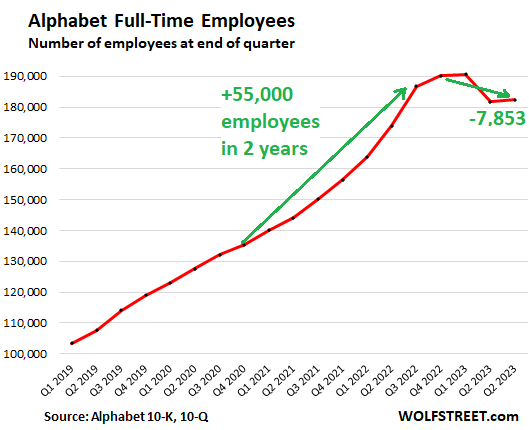 So then its total headcount, after having added 55,000 employees over the prior two years, and after having announced 12,000 layoffs, dropped by just 7,853 this year:
In Q1, rose by 477 people
In Q2, fell by 8,913 people
In Q3, rose by 583 people.
This kind of thing happened across many tech and social media: Fewer layoffs than advertised, and most of those people that got laid off found jobs quickly at other tech and social media companies. There was some churn, but it didn't bring mayhem to the labor market.
Twitter/X may be the big exception: Gutted by Musk, it has largely remained gutted despite some hiring since then, leaving observers to wonder what all these people had been doing anyway.
As Alphabet shows, the tech-and-social-media layoff drama is now largely over, and they're hiring again, which explains the dropping initial claims and continued claims for unemployment insurance, after the rise early this year, which I discussed here: My Favorite Recession Indicator: No Recession in Sight Yet.
Here's that recession indicator. The green line needs to rise to the black line: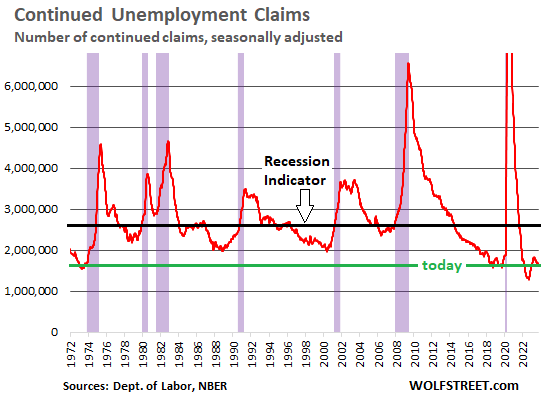 It did let out some of the pressure for ever bigger and fatter compensation packages in the sector. And some folks, after having been shaken up by the layoff announcements and the actual layoffs, are now less likely to quit, and are even grudgingly returning to the office a few days a week.
So the strategy of this huge wave of – concerted? – global layoff announcements in the industry was effective in re-explaining to workers who the boss is, and it allowed companies to get rid of some deadwood, and cut some costs.
But cutting costs isn't cheap. Alphabet in its 10-Q today outlined the costs of the efforts to "re-engineer our cost base"; it included severance costs associated with the layoffs and the costs associated with the reduction of office space. Amounts so far this year through Q3:
Severance costs: $2.1 billion.
Costs of office reduction: $856 million, including $649 million in "exit charges" to get out from leases and $207 million in "accelerated rent and accelerated depreciation."
Shares of Alphabet [GOOG], for reasons related to its earnings report last night and not to these disclosures buried deep in the 10-Q filing today, kathoomphed nearly 9% at the moment.
Enjoy reading WOLF STREET and want to support it? You can donate. I appreciate it immensely. Click on the beer and iced-tea mug to find out how:

Would you like to be notified via email when WOLF STREET publishes a new article? Sign up here.