Cost-of-Living Adjustment for 2024 plunges from 2023 mega-COLA, which outran inflation by a wide margin. This one will fall behind inflation.
The Cost-of-Living Adjustment (COLA) for Social Security benefits for the calendar year 2024 will be 3.2%, according to today's release of the inflation data by the Bureau of Labor Statistics.
The COLA is based on the Consumer Price Index for All Urban Wage Earners and Clerical Workers (CPI-W). The Social Security Administration uses the year-over-year CPI-W for July (2.63%), August (3.40%), and September (3.56%) and averages them out to obtain the COLA for Social Security benefits for next year, starting with benefits paid in January 2024.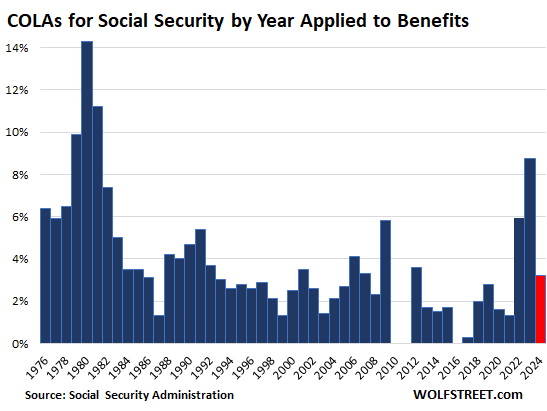 Because COLAs are based on inflation data in Q3 of the prior year, they're based on past inflation data, to adjust benefits paid out in the future. This means that there are years when inflation surges, and COLAs lag way behind and beneficiaries lose purchasing power; and there are years when inflation cools, and the COLAs are well ahead of inflation, and beneficiaries regain some purchasing power.
In 2021 and 2022, when CPI inflation began to rage, COLAs (1.3% and 5.9%) were way behind CPI inflation, and beneficiaries lost purchasing power. In 2023, when inflation cooled, the COLA (8.7%, biggest since 1981) was way ahead of this cooling CPI inflation, and beneficiaries regained purchasing power.
For 2024, we'll have to see if the 3.2% COLA will keep up with CPI inflation in 2024. But it's likely in this inflationary world that this COLA will be left behind once again.
For younger people who are maybe decades from retirement, and who are constantly hearing wild stories about Social Security going "broke" or whatever, and that they'll never receive the benefits, etc. etc., I'll just say this: Those are the very same copy-and-paste stories, with only slight edits, that everyone who is now receiving Social Security benefits has heard all their lives. Those stories have become ingrained in American lore. I started hearing those stories when I was in high school, before I really knew what Social Security was.
Sure, Social Security gets tweaked every now and then. There were some tweaks during my lifetime, including when I was in my 30s when my full retirement age was moved out. And those adjustments "fixed" the program for decades and created an accumulated surplus of currently $2.7 trillion in the Trust Fund.
Social Security comes with spousal benefits and survivor benefits, and it's worth checking out well before you get even close to retirement age.
The most crucial thing to know is that Social Security alone won't be enough to retire on unless you do a lot of belt-tightening. The benefits it provides are smaller than your peak income was; and CPI-W may not fully capture the increases in actual cost of living that you may experience, which causes the purchasing power of those benefits to decline a little every year, which adds up over the years which can turn into decades.
And you may get older than you think. Life expectancy at birth in the US is 74.1 years. But it's not like you have to turn in your keys when you get to 74.1 years. Over the years, as you get through the events that kill people in their younger years, your life expectancy rises.
Someone who is 65 today has an additional average life expectancy of 16.9 years, so about until they're 82. Someone who is 82 today has an additional life expectancy of 6.8 years, so until they're about 89. Someone who is 89 today, has an additional life expectancy of 4.0 years, so about 93 years, etc. You can look this up in the Social Security Administration's actuarial table.
So it's good to prepare for a long retirement. Social Security is only the bottom layer of this preparation. That's why it's so important to create a retirement nest egg during the working years, and to work for as long as possible in some form: Look at our politicians, they've figured this out, and they're having a blast, LOL. Even a part-time gig helps, and it can be a great way to remain active.
Here is my notoriously detailed discussion of today's CPI data — including the nastily jumping core services CPI: Acceleration of Inflation Continues, Core Services Inflation Spikes despite the Massive Health-Insurance Adjustment
Enjoy reading WOLF STREET and want to support it? You can donate. I appreciate it immensely. Click on the beer and iced-tea mug to find out how:

Would you like to be notified via email when WOLF STREET publishes a new article? Sign up here.