Driven by manufacturing plants for technologically advanced, high-value products. Automation is the great equalizer.
Spending on construction projects for manufacturing plants in the US started breaking out of its long doldrums in January 2021. That month, about $6 billion was invested in building factories, same as in January 2015. But then monthly construction spending for factories began to spike and in July set a new record of nearly $17 billion, a notch up from June, according to the Census Bureau on Friday.
Up by 186% over the 30 months from January 2021 through July 2023.
Up by 148% over the 24 months from July 2021 through July 2023.
At the current pace, companies are investing nearly $17 billion per month in building manufacturing plants, or about $203 billion a year!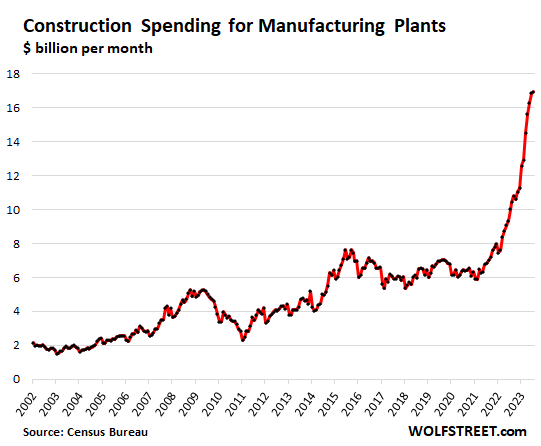 We've been hearing it in the news and in corporate reports: Semiconductor plants, EV plants – Tesla, legacy automakers, and startup companies are plowing many billions of dollars into ramping up manufacturing – component makers, makers of computer, electronic, and electrical equipment, etc. The latter bunch are big drivers behind the surge of factory construction, according to an analysis in June by the Treasury Department.
All of them are technologically advanced industries with high-value outputs. Forget T-shirts and plastic toys.
And all of them use highly automated factories. Industrial robots cost the same in the US as in China. They're the great equalizer when it comes to costs.
There is still a huge amount of manufacturing in the US. By output, the US is the second largest manufacturing country behind China, and larger than Germany, Japan, and South Korea combined.
The problem is that the US has fallen far behind China, and that many industries are dependent on imports from China and other countries. When covid tangled up the supply chains, suddenly there were massive shortages of the most needed products, including semiconductors. So that was a wakeup call.
In addition, as trade relations between the US and China have soured, companies are seeing new risks in being dependent on China.
The majority of cars and trucks sold in the US are assembled in a factory in the US. All major foreign brands have assembly plants in the US, including BMW and Mercedes. Hondas built in the US have among the highest US content. Tesla makes vehicles in the US including for export. And yet, component shortages, triggered by semiconductor shortages, caused the worst vehicle shortages ever. So time to reevaluate things.
Total non-residential construction spending, which includes spending on manufacturing facilities, has surged as well, but not nearly as much. Since July 2021, it grew by 27%. Nonresidential construction spending is very seasonal (green); the 12-month moving average clarifies the trend (red):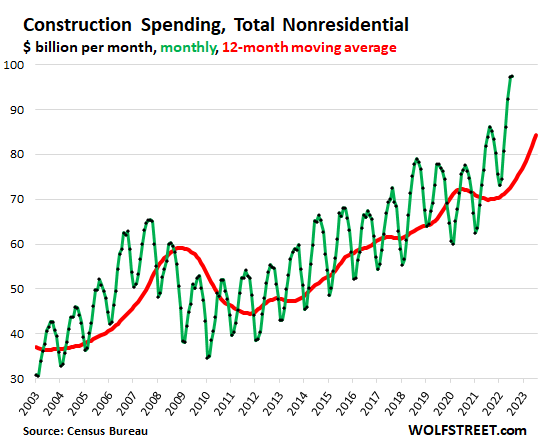 Red-hot increases of construction costs in 2021 and 2022 are responsible for a portion of the increase in spending: A considerable portion or even all of the two-year 27% increase in total nonresidential construction spending may have been due to higher costs.
For example, over the same two-year period, the Producer Price Index (PPI) for nonresidential buildings surged by 29%.
But compared to the two-year 148% spike in spending for manufacturing plants over the two-year period, the 29% increase in the PPI would only explain a small portion. The rest is the surge in investment in US manufacturing plants.
Note how the PPI for nonresidential building construction began to flatten out in January 2023, with essentially no month-to-month increases through June, followed by a drop in July, which pulled down the year-over-year increase in July to 3.8%, the lowest since June 2021, from year-over-year increases in the 16% to 24% range in 2022: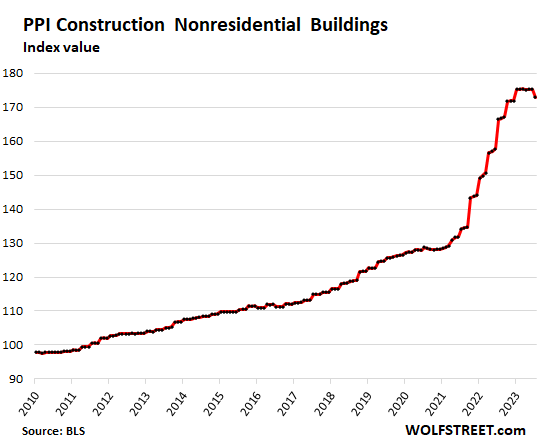 Factory construction spending's share of total nonresidential construction spending has doubled over the past two years, from a share of 8.9% in July 2021, which was roughly in line with the years before the pandemic, to a share of 17.4% in July 2023. This highlights the surge of factory construction beyond the effects of rising construction costs.
When compared to the 12-month moving average of total nonresidential construction, the share of spending on manufacturing plants soared to 20%: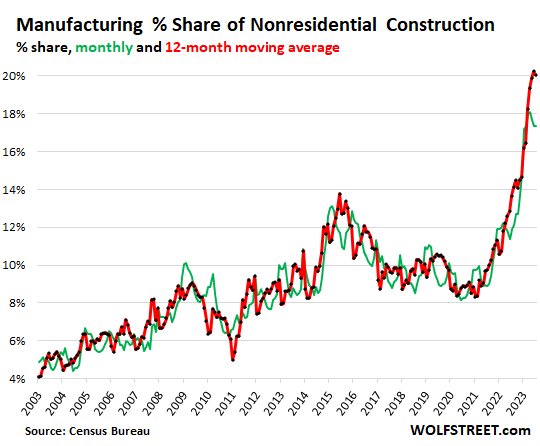 There are lots of reasons behind the renaissance in factory building. The initial surge started in the spring of 2021. Over a year later, in July 2022, with the surge well underway, Congresses passed a package of subsidies for select manufacturing industries, such as semiconductor makers (they get up to $52 billion). But construction spending doesn't immediately happen. The government takes its time in doling out money for these kinds of projects. And the factories themselves take time in planning and permitting before construction can even start. So a portion of those subsidies for factory construction are likely to show up here in construction spending in the future.
Enjoy reading WOLF STREET and want to support it? You can donate. I appreciate it immensely. Click on the beer and iced-tea mug to find out how:

Would you like to be notified via email when WOLF STREET publishes a new article? Sign up here.