He fretted about the re-accelerating economy flying above the "below-trend" growth required to get to 2%. "We will keep at it until the job is done."
The most important aspect of Fed Chair Jerome Powell's speech today at the Jackson Hole Symposium was his total and repeated smackdown of the folks that had either been clamoring for the Fed to raise its 2% inflation target, or had been predicting that it would raise it.
At the beginning of his longer and more nuanced speech today – and referring to his brief hammer speech last year – Powell said, "the message is the same: It is the Fed's job to bring inflation down to our 2% goal, and we will do so."
Amid discussing various inflation dynamics, the progress made so far, the lack of progress in some corners, and the uncertainties around it all, he showed this chart where Fed staff is forecasting that core PCE for July, to be announced on Aug 31, will re-accelerate: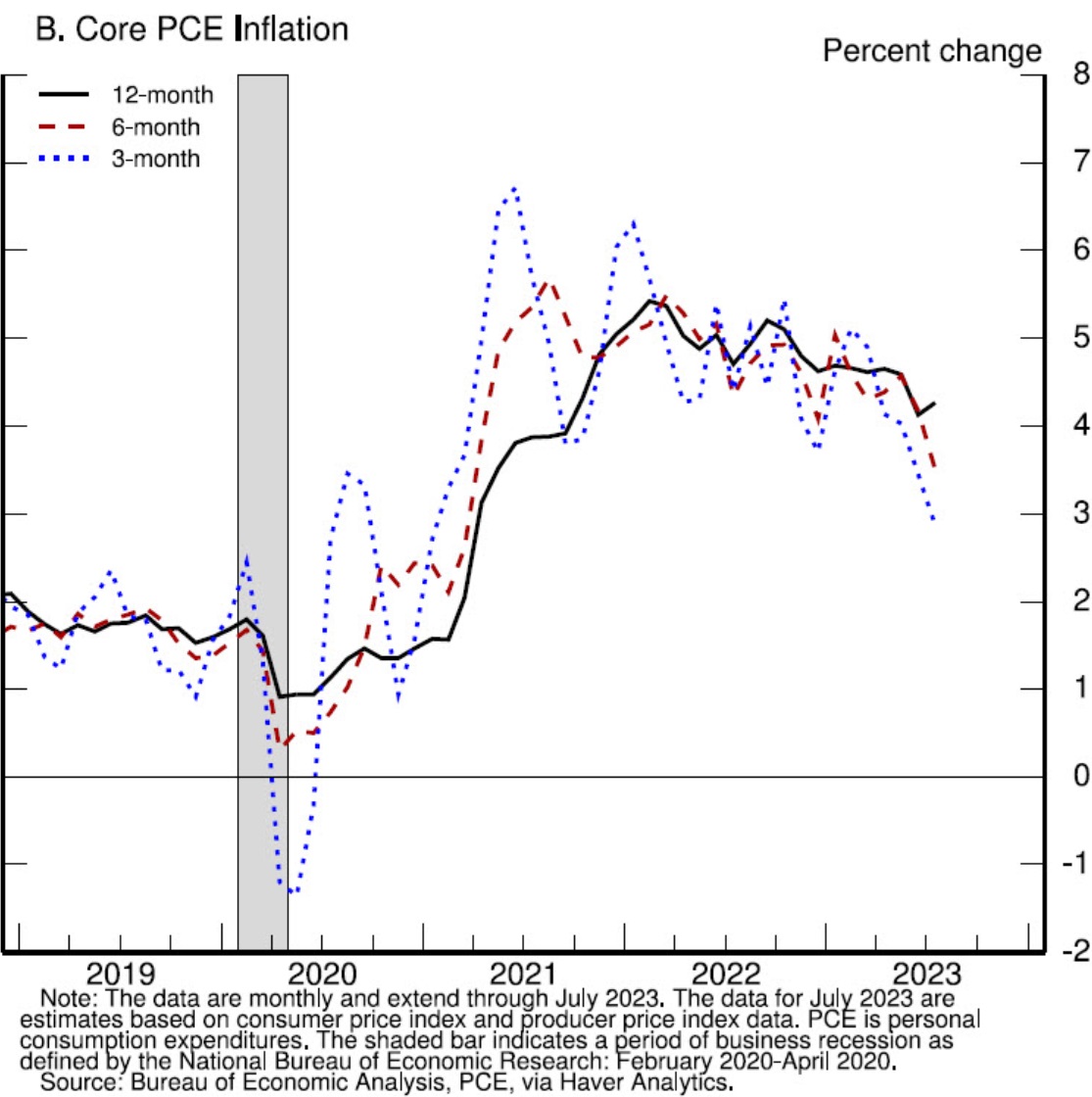 And then he said: "2% is and will remain our inflation target. We are committed to achieving and sustaining a stance of monetary policy that is sufficiently restrictive to bring inflation down to that level over time."
"We are prepared to raise rates further if appropriate, and intend to hold policy at a restrictive level until we are confident that inflation is moving sustainably down toward our objective," he said. And that objective is 2%, as tracked by the core PCE price index.
He said, "12-month core inflation is still elevated, and there is substantial further ground to cover to get back to price stability," and this "price stability" he confirmed today is 2% inflation, as tracked by the core PCE price index.
"Getting inflation sustainably back down to 2% is expected to require a period of below-trend economic growth as well as some softening in labor market conditions," he said.
But that "below-trend economic growth" isn't happening right now, on the contrary, the economy has re-accelerated, and he said the Fed is "attentive to signs that the economy may not be cooling as expected." And right now it isn't:
"So far this year, GDP growth has come in above expectations and above its longer-run trend [Q1 GDP: +2.0%, Q2 GDP +2.4%, and Q3 has started out even stronger], and recent readings on consumer spending have been especially robust. In addition, after decelerating sharply over the past 18 months, the housing sector is showing signs of picking back up."
"Additional evidence of persistently above-trend growth could put further progress on inflation at risk and could warrant further tightening of monetary policy," he said.
"While nominal wage growth must ultimately slow to a rate that is consistent with 2% inflation, what matters for households is real wage growth. Even as nominal wage growth has slowed, real wage growth has been increasing as inflation has fallen," he said.
And he concluded his speech with this line, "We will keep at it until the job is done."
And there were a lot of doubts.
"There are some challenges that are common to all tightening cycles. For example, real interest rates are now positive and well above mainstream estimates of the neutral policy rate. We see the current stance of policy as restrictive, putting downward pressure on economic activity, hiring, and inflation. But we cannot identify with certainty the neutral rate of interest, and thus there is always uncertainty about the precise level of monetary policy restraint.
"That assessment is further complicated by uncertainty about the duration of the lags with which monetary tightening affects economic activity and especially inflation," he said.
"In addition, there is evidence that inflation has become more responsive to labor market tightness than was the case in recent decades. These changing dynamics may or may not persist, and this uncertainty underscores the need for agile policymaking," he said.
"These uncertainties, both old and new, complicate our task of balancing the risk of tightening monetary policy too much against the risk of tightening too little.
"Doing too little could allow above-target inflation to become entrenched and ultimately require monetary policy to wring more persistent inflation from the economy at a high cost to employment.
"Doing too much could also do unnecessary harm to the economy.
And he repeated what he's said many times that "Restoring price stability [now confirmed as 2% inflation] is essential to achieving both sides of our dual mandate. We will need price stability to achieve a sustained period of strong labor market conditions that benefit all."
Which was followed by his closing sentence: "We will keep at it until the job is done."
The smack-down was a good thing for the longer-term bond market.
In terms of the longer-term Treasury market, it must have been a relief that Powell smacked down the folks that have been clamoring for the Fed to raise its 2% inflation target to a level of around where core PCE inflation is now.
The market for longer-term bonds hates inflation, and they want to be compensated for the inflation they expect over the term of the bonds, plus some depending on duration and credit risk. If the Fed raises the target to 4%, the bond market shifts its long-term expectation of inflation from around 2% now – still believing that the Fed can get there – to around 4% or higher.
And the market wants to be compensated for that higher long-term inflation with higher yields. And that would have pushed longer-term yields much higher as these expectations pan out, which would have pushed bond prices much lower.
And it would have pushed borrowing costs for everyone, including mortgage rates, to the next level. What's keeping longer-term yields as low as they still are is the hope that the Fed will succeed in getting inflation back down to its 2% target over the next few years. If that expectation shifts to 4%, or whatever, all heck would break loose in the longer-term bond market.
Enjoy reading WOLF STREET and want to support it? You can donate. I appreciate it immensely. Click on the beer and iced-tea mug to find out how:

Would you like to be notified via email when WOLF STREET publishes a new article? Sign up here.