Prolonging the downturn of for-hire truckers is the growth of private fleets, such as Walmart's and Amazon's which eat into their share.
Every Freight recession takes out already teetering trucking companies, and this time, it was long-teetering and bailed-out less-than-truckload carrier Yellow, the largest trucker ever to file for bankruptcy liquidation. During the last freight recession in 2019, a slew of trucking companies were liquidated, including truckload carrier Celadon, which was brought down by accounting fraud, the largest truckload carrier ever to get liquidated in bankruptcy court.
This freight recession, which started a little over a year ago, came as consumers switched some spending from goods to services, such as travels, and services aren't transported by truck. And it was then made worse as companies, from manufacturers to retailers, began destocking to bring their inventories back in line, after they'd over-ordered during the chaotic era of shortages, confounding levels of congestion, chaos, and huge spikes in freight rates. And when all this stuff finally arrived, the world had moved on.
Private fleets eat share of for-hire truckers, prolonging the for-hire downturn.
Private fleets – such as Walmart's gigantic fleet of trucks, or the Amazon trucks – have grown to over half of Class 8 tractor capacity, according to the analysis by Cass, and they're eating into demand that would have been handled by for-hire trucking companies. This expansion of the private fleets, according to Cass, is prolonging the downturn of the for-hire market.
"We think it's unlikely that [for-hire] industry capacity will broadly tighten until pressure from private fleet growth eases, which looks unlikely this year," Cass said.
In terms of shipment volume in the for-hire market, the Cass Freight Index – which is concentrated on trucking but includes rail and other modes of transportation – fell again in July, to the worst July since July 2020, and July 2016, which had been in the middle of another freight recession (fat red line in the chart below).
Year-over-year, the index was down 8.9%, and compared to the peak in this cycle, in May 2021, it was down 12%.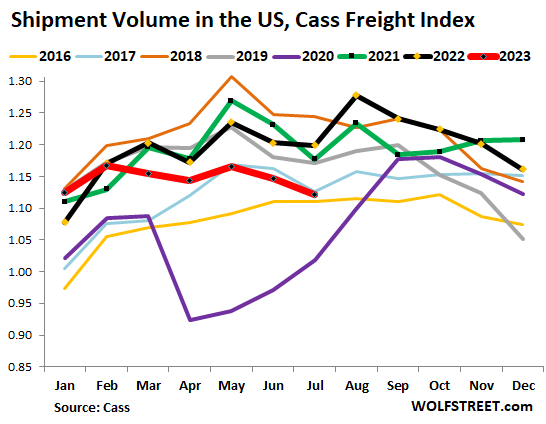 We've heard similar messages from UPS and FedEx. UPS reported a 9.9% drop in daily package volume for Q2, with June volume down 12.2%. FedEx reported an 18% drop in average daily shipments in its quarter ended May 31.
The Cass Freight Index for shipments tracks the for-hire market. Truckload shipments represent over half of the dollar amounts in the index, with less-than-truckload shipments in second place, followed by rail shipments, parcel services (such as UPS and FedEx), and others. It does not include private fleets, commodities, and new vehicles.
Freight rates plunge back to earth, but are still a lot higher than they were.
Truckload spot and contract rates, not including fuel and other charges, fell for the 14th month in a row in July, on a seasonally adjusted basis, and were down by 12.7% year-over-year, and by 15.8% from the peak in May 2022, which pushed them back to where they'd been in February 2021, according to the Cass Truckload Linehaul Index.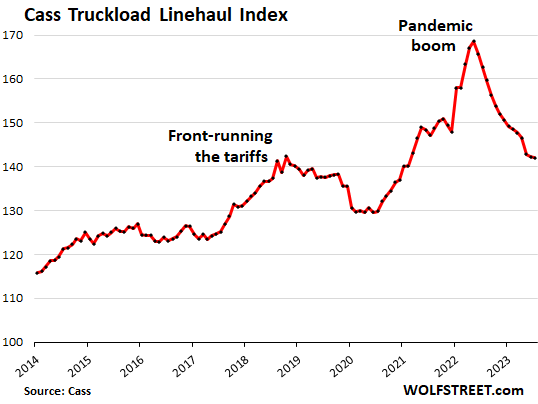 The Cass Inferred Freight Rates Index, which does include fuel charges, dropped again in July and has plunged by 21% from the peak of the spike in June 2022. But it's not like freight suddenly got cheap: The index is still up by 21% from February 2020, before the spike began, and has thereby unwound about 60% of the up-spike.
The red line represents the three-month moving average that irons out the month-to-month ups and downs.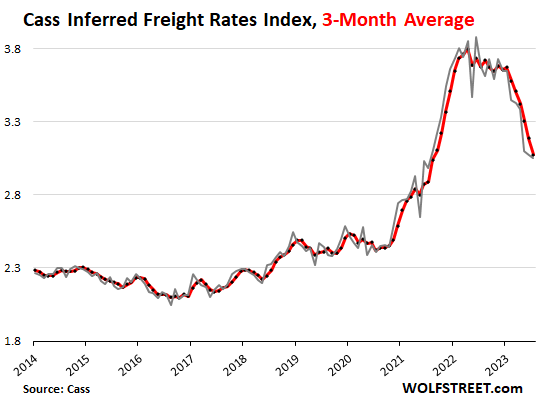 Diesel, after the plunge, is rising again.
The Cass Inferred Freight Rates Index includes fuel charges, and the price of diesel at the pump has been on a trip!
The price of diesel plunged by about $2 per gallon on average across the US from the peak of the spike in June 2022 to the bottom of the decline in June 2023. This plunge contributed to the decline in freight rates.
But the plunge ended at the end of June, and since that low point, the average price of diesel has risen by nearly $0.60 a gallon, according to EIA data today, though it remains far below where it had been a year ago.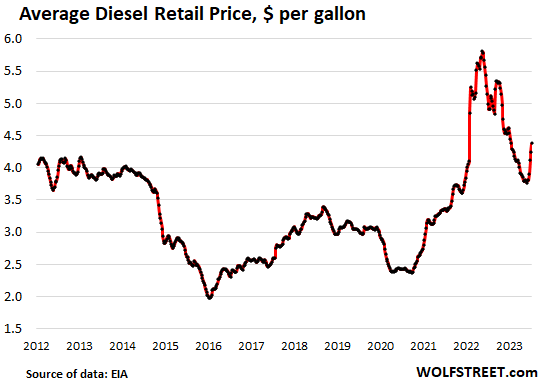 Enjoy reading WOLF STREET and want to support it? You can donate. I appreciate it immensely. Click on the beer and iced-tea mug to find out how:

Would you like to be notified via email when WOLF STREET publishes a new article? Sign up here.