The layoff-hype wrung the sense of power out of workers they'd briefly enjoyed. But that's about all that has happened.
There are always companies that let workers go for a variety of reasons. During the Good Times in the years before the pandemic, these layoffs and discharges averaged 1.8 million per month. That translated into about 1.3% of total employment that was axed every month for whatever reason as part of the normal way of business.
In June, layoffs and discharges declined to 1.53 million. The three-month moving average, which irons out the monthly ups and downs, declined to 1.55 million, the third month in a row of declines, well below the Good-Times average in the years before the pandemic of 1.8 million. In April, May, and June, the rate of layoffs and discharges was 1.0% of total employment. These are very low numbers, and they have come down from the spurt earlier this year.
During the Great Recession, monthly layoffs and discharges exceeded 2.5 million for four months in a row. In March 2020, there were 13 million layoffs and discharges; in April 2020, 9 million.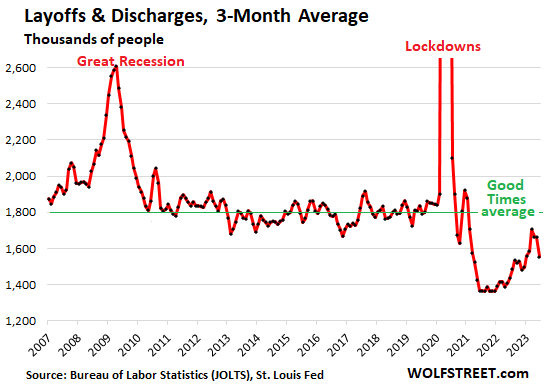 In early 2021, as companies tried to rehire, labor shortages cropped up, and workers quit in large numbers to take better jobs somewhere else – which was called the Great Resignation – and companies hired furiously, and wages rose at the fastest pace in 40 years. Layoffs and discharges plunged to historic lows, below 1.4 million in May 2021 and stayed in that range for a year.
But in mid-2022, mass layoffs started to be announced with huge fanfare in the media and took on momentum late 2022 and into early 2023.
Layoffs and discharges started ticking up in mid-2022, off the historic lows, and continued rising during the year and into 2023, and in March 2023 hit 1.84 million. The whole over-heated labor market was expected to unravel or whatever. Then it got kind of quiet. And layoffs and discharges have dropped since then.
This data is based on surveys of about 21,000 employment sites, the results of which were released today by the Bureau of Labor Statistics as part of its Job Openings and Labor Turnover Survey (JOLTS). This is not based on the layoff hype in the media.
And we have seen this play out with big companies: They made their global mass-layoff announcements last year and earlier this year – with many of the jobs not even being in the US – and all this was hyped endlessly in the media, and then over the past few months, it got quiet, as the big companies have continued to hire.
Alphabet, for example, had added 54,933 fulltime employees during the immense hiring boom in 2021 and 2022, increasing its headcount by 41%. Then in January 2023, it announced that it would lay off 12,000 people – even as it continued to hire. By June 30, its fulltime workforce had dropped by 8,913 employees from the end of December. But compared to June 2022, its fulltime workforce, despite the layoffs, was still up by 7,784 employees. And most of the laid-off workers found work quickly with other companies. It was all part of the big churn. I discussed this entire phenomenon here.
But all this layoff-hype and the actual layoffs did have the effect that workers got scared, and they hung on to their jobs, and they quit quitting; and that was the end of the Great Resignation, during which people went chasing after higher pay and better jobs on the other side of the fence.
Voluntary quits fell to 3.86 million (three-month moving average) in June, the lowest since May 2021, but still above the Good Times average in 2019 of 3.5 million: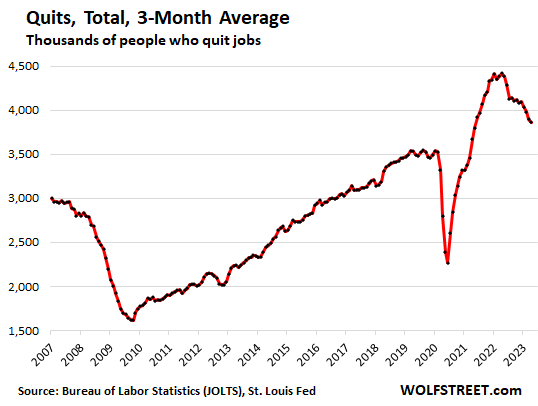 So we can see the psychological impact these layoff announcements and the layoffs themselves have had: They wrung the sense of power out of the workers they'd briefly enjoyed during the labor shortages. And so, wage increases too cooled a little. And some companies shed some of the excess workers they'd hired during the hiring boom. And there was a lot of churn, with people cycling through different jobs. But that's about all that has really happened. And the layoffs and discharges have since then fizzled.
Enjoy reading WOLF STREET and want to support it? You can donate. I appreciate it immensely. Click on the beer and iced-tea mug to find out how:

Would you like to be notified via email when WOLF STREET publishes a new article? Sign up here.