BOJ's Ueda promises to fuel inflation further, hopes for wage growth. Clearly, the strategy is to let raging inflation bring Japan's debt-to-GDP ratio back in line.
The Bank of Japan has been the total outlier in its reaction to the surge of inflation: It's still practicing QE under the guise of yield curve control, which keeps the 10-year yield below 0.5%; and it's still pushing its short-term yields below 0%. It's clearly doing this on purpose, because these folks aren't blind; they're clearly going to resolve Japan's sovereign debt problem, the biggest in the developed world, by fueling inflation to devalue that debt — along with everything else denominated in yen — the classic way. And it's working.
Underlying inflation beyond energy has been relentlessly getting worse. Japan's core Consumer Price Index – all items less fresh food and energy – spiked by 4.3% in May compared to a year ago, the worst since 1981, out-spiking easily the brief spikes caused by the consumption tax hikes, according to data from Japan's Statistics Bureau today: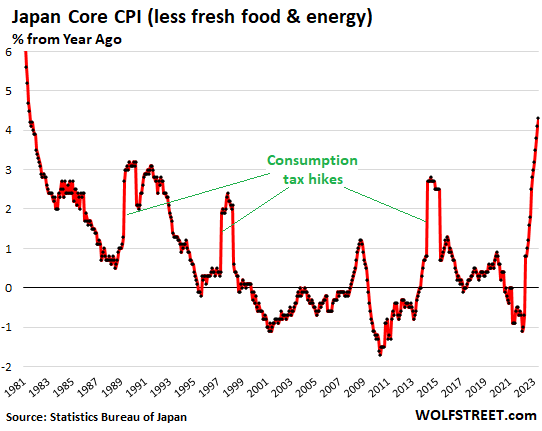 Core CPI blew through the BOJ's 2% inflation target in April 2022. Since then, the BOJ has essentially just laughed about it, and patted itself on the back for finally making some headway in achieving its 2% target or whatever.
On a month-to-month basis, core CPI has reached an entirely new level. The three-month moving average, which irons out some of the huge variability of the month-to-month data, is now at 0.53%, for an annualized rate of 6.6%.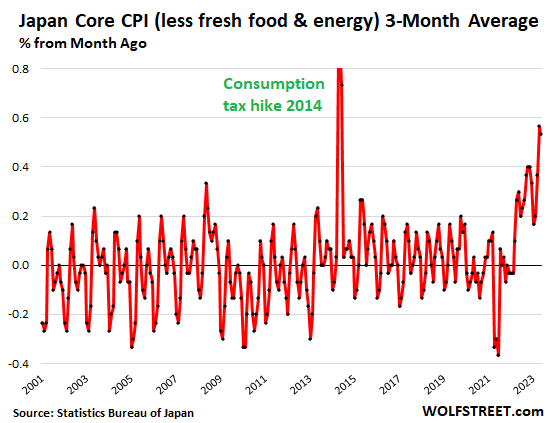 Food inflation spiked by 8.6% year-over-year, the worst since 1976.
Month-to-month, the CPI for food overall jumped by 0.6%, after the 1.1% spike in April. The CPI for fresh food spiked by 1.5%.
In the US and many countries in Europe, food inflation, while still high, has been backing off. But not in Japan.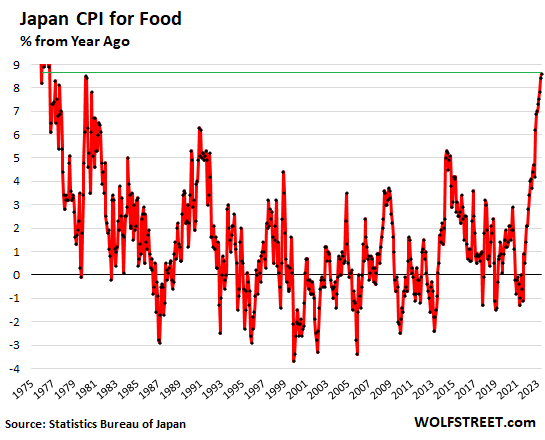 Energy prices have been plunging for months, as they have around the globe. In May, the CPI for Energy on a month-to-month basis, plunged by 3.8% (-37% annualized!). Year-over-year, it plunged by 8.2%.
This includes electricity, manufactured & piped gas, liquefied propane, kerosene (used in common household space heaters), and gasoline. The index for electricity alone plunged by 17.1% year-over-year. As everywhere in the world, this drop in energy prices pushed down the headline CPI.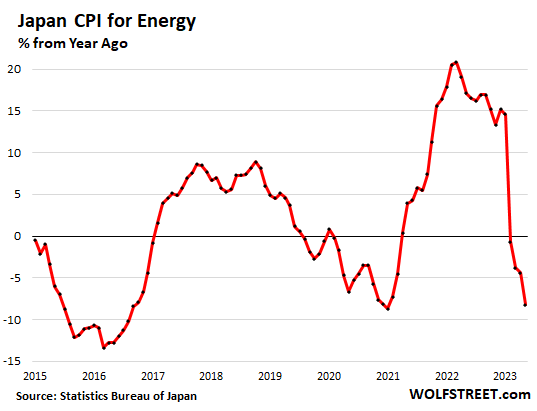 The overall headline CPI, thanks to the plunge in energy prices, rose on a month-to-month basis only 0.1%, after the 0.6% jump in April.
On a year-over-year basis, the overall CPI rose 3.2% in May, same as in March, but down from 3.5% in April.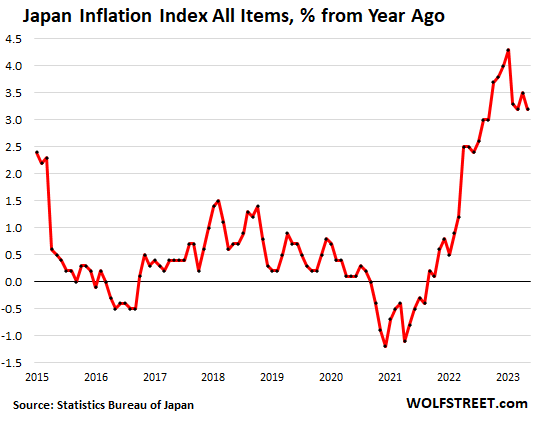 Major categories of inflation, year-over-year in May:
Food: +8.6%, worst since 1976. Fresh food: +5.2%. Food less fresh food: +9.2%.
Meals outside the home: +6.4%.
Housing less imputed rent: +4.4%
Repairs and maintenance: +7.7%
Energy (gasoline, electricity, piped gas, propane, kerosene): -8.2%
Furniture, appliances, furnishings, bedding, etc.: +9.6%
Communication services: +7.5%
Clothing and footwear: +3.9%
Culture and recreation: +3.4%.
Governments hold down inflation where they control prices.
In Japan's universal healthcare system, the government largely sets what consumers pay; but that too is now rising:

Medical care: +2.1%
Medicines: +2.2%
Medical supplies and appliances: +6.8%
Medical services: +0.5%

Public transportation: +2.5%
Education: +1.3%
The BOJ loves it, pats itself on the back.
Two days ago, Bank of Japan governor Kazuo Ueda preempted any handwringing about the surge of underlying inflation and reiterated the BOJ's long-running standard language that it would maintain the ultra-loose monetary policies to sustainably achieve the 2% inflation target, accompanied by wage growth. And he said that core inflation is expected to back off later this year for some magic reason.
This further confirms and clarifies the intent of the BOJ to let inflation rip, to keep fueling it, with wages hopefully sort-of keeping up, and for this inflation to eat up the purchasing power of the yen, and therefore of the government debt denominated in yen, the majority of which is held by the BOJ, and another big pile is held by governmental or quasi-governmental institutions. Enough years of raging inflation, and Japan's debt-to-GDP ratio will come back in line with other developed countries.
That's the hope. And the hope is that the BOJ will be able to control this inflation when it threatens to blow out completely, and not end up where Argentina is, with decades of intractable debilitating double- and triple-digit inflation. Reckless monetary policies have a way of exacting their pound of flesh.
Enjoy reading WOLF STREET and want to support it? You can donate. I appreciate it immensely. Click on the beer and iced-tea mug to find out how:

Would you like to be notified via email when WOLF STREET publishes a new article? Sign up here.