It just never ends with these hype-and-hoopla stocks. And when one wave finally dies, there's something new. This stuff is just hilarious. 
The legalization of cannabis was going to change the world. There are well over a dozen cannabis stocks that trade on US exchanges. These hype-and-hoopla stocks are another classic example of a rip-off of retail investors. Don't ever buy stocks when you're high is not financial advice here. And if you ever want to buy cannabis products, go buy them, but don't buy their stocks is not financial advice either.
So one of these hype-and-hoopla darlings – Canopy Growth Corp, a Canadian company, like so many cannabis outfits – reported its long delayed Q4 and full fiscal year earnings today. Reading their earnings report is probably even more fun when you're high.
All amounts on Canopy Growth, except share price, are in Canadian dollars. Because the shares trade on the Nasdaq, the company has to file its financial reports with the SEC, which it did today:
In Q4, ended March 31, it lost $648 million on $87 million in net sales.
In Q4 a year ago, it lost $394 million on $102 million in sales.
For the fiscal year 2023, it lost $3.31 billion on $402 million in net sales.
It's now shedding operations and cutting out stuff, trying to hang on a while longer.
Over the six years since 2017, the company lost $7.5 billion.
I mean, that takes some doing.
And it has just about nothing to show for these $7.5 billion in losses: No fancy semiconductor that would power the future of generative AI, or whatever, no mass-produced EV that would knock the door-handles off Tesla, but just some products based on a, um, weed, and sharply dropping revenues.
Annual net revenues peaked in fiscal 2021 at $529 million. Since then, revenues have plunged by 24% to $403 million.
Fitch Ratings, which last rated the company one notch above default (CCC-) withdrew its ratings; S&P Global, which last rated the company "selective default," also withdrew its credit ratings, after the company had defaulted on $100 million in unsecured notes and then restructured them with the related-party lender, Constellation Brands, into a cash payment for accrued interest and a new promissory note to be converted into special shares.
On February 10, 2021, Canopy Growth had a market cap of nearly $20 billion. It was that infamous February 10, 2021, when a lot of this hype-and-hoopla stuff peaked and then collapsed to then end up in my pantheon of Imploded Stocks.
We forgot about it already because that was over two years ago, and we have moved on, and this stuff has imploded, and now we're onto the next hype-and-hoopla thing, generative AI, that is so much bigger than pot stocks, and so much more fun. Now we're talking trillions, not a couple of hundred billions. The first half of the charts look similar though. The second half hasn't played out yet.
Cannabis is a valid product. Generative AI may some day be a valid product. But here, we're just looking at hype-and-hoopla cannabis stocks, and what they did to stock jockeys that got all excited about them. The people that got out in time, made lots of money, the others got wiped out. Which is how that works.
Today, the shares of Canopy Growth [CGC] closed at $0.58, down about 99% from the hype-and-hoopla spike on February 10, 2021, when they were worth over $50 a share.
This chart shows the market cap to show the magnitude of this: $20 billion went up in smoke, so to speak, easy come easy go, which is what hype and hoopla is all about (data via YCharts):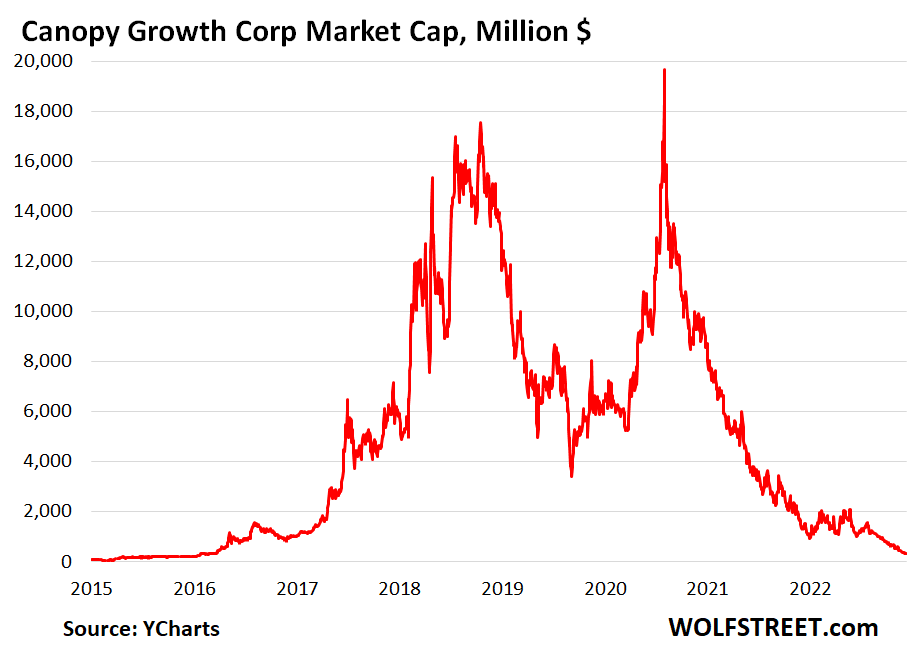 There are a whole bunch of these cannabis stocks. They're summarized nicely by the AXS Cannabis ETF, which has collapsed by 94% from $30.99 at the peak on February 10, 2021, to $1.75 today.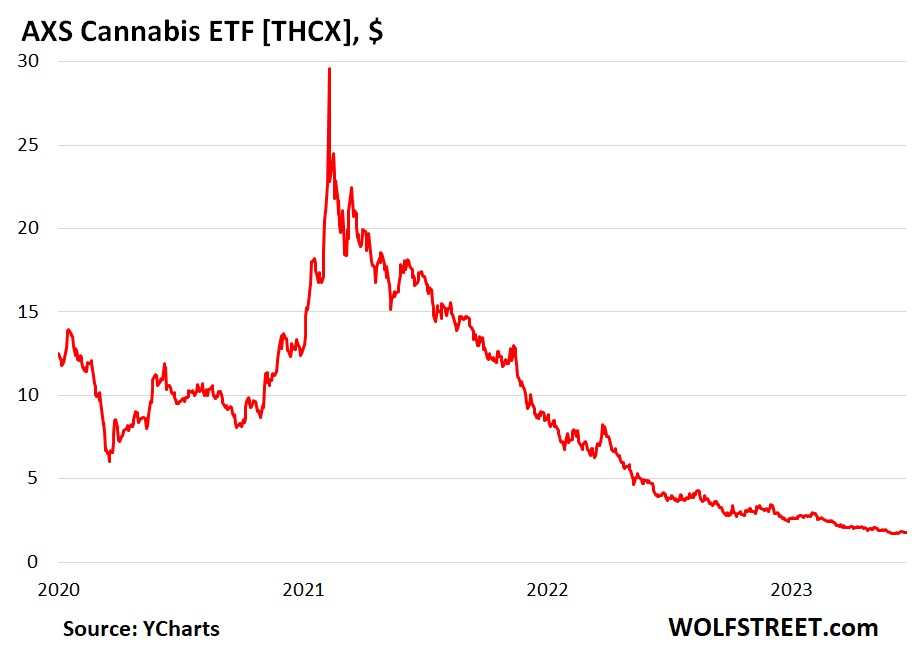 My favorite is Bright Green. I mean, memory in the stock market is like two weeks, or something. The company went public via a direct listing on the Nasdaq on May 17, 2022, after the other cannabis stocks had already collapsed. It was a pot grower with zero revenues. But OK, maybe they were trying to set a collapse record. The stock opened at $15.99 a share then spiked to $58 by the next day intraday, and then did one of those infamous rug-pull insta-collapses. A month later it was at $2.59.
Then a year later, on May 24, 2023, the company pulled off a private placement, selling 3,684,210 shares of common stock plus warrants to purchase 3,684,210 shares of common stock, at $0.95 per share and accompanying warrant. Today it's at $0.91. This stuff is just hilarious: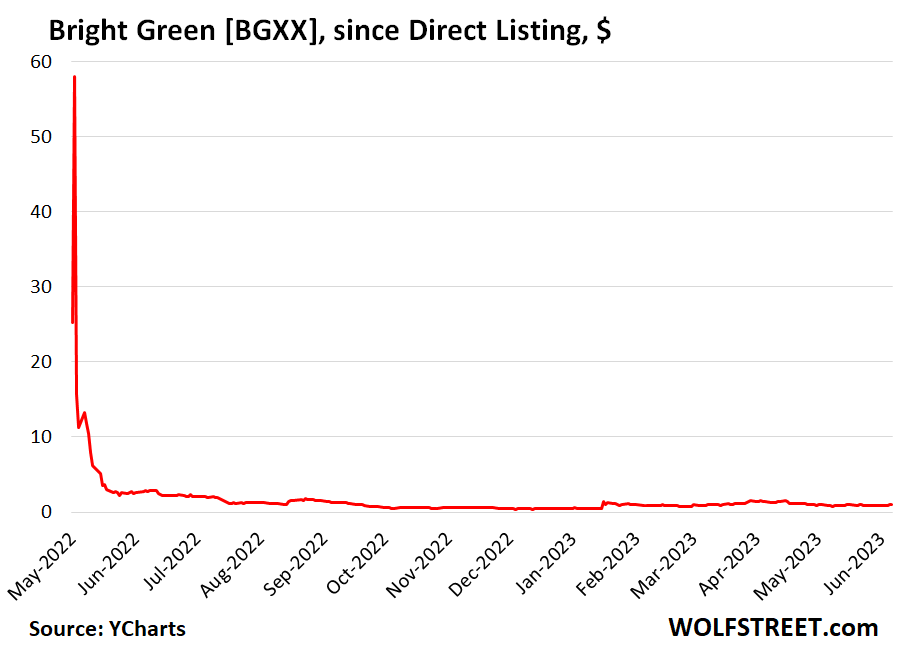 We have seen this behavior in the stock market in one sector after another. It's like a video game, so suspenseful. And it's so much more fun than the casinos in Las Vegas, and you know, it's not real money, it's just play money, of which the Fed printed trillions. But the amounts are big nevertheless. And each time, a bunch of googly-eyed retail investors got cleaned out.
Enjoy reading WOLF STREET and want to support it? You can donate. I appreciate it immensely. Click on the beer and iced-tea mug to find out how:

Would you like to be notified via email when WOLF STREET publishes a new article? Sign up here.