Their huge sales, dizzying growth rates, and high pay-scales move the needle.
Services that are being bought by consumers, businesses, and governments account for nearly two-thirds of the US economy. But four huge sectors totally dominate. They have seen explosive growth over the past few years; three of them by over 30% since 2019. These are the titans of the US economy:
Finance and Insurance
Healthcare Services
Professional, Scientific, and Technical Services
Information
These four sectors are huge in terms of sales, but only one of them, healthcare, is also big in terms of employment. Workers in these sectors are often highly educated and skilled, and well paid.
The absolute monster: Finance & Insurance: +33% since 2019.
Sales jumped by 15.1% year-over-year to $1.57 trillion in Q1, and by 33%, or by $386 billion, from Q1 2019. These are huge percentage increases on huge dollar amounts.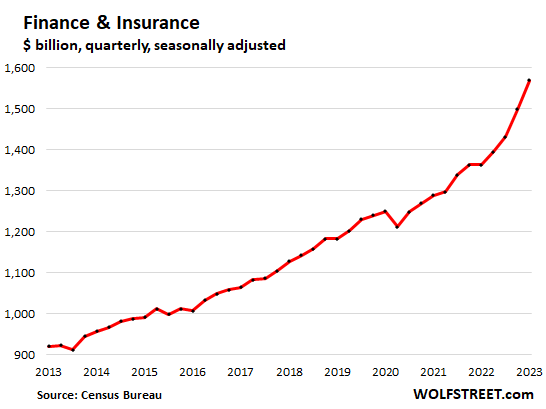 The Finance and Insurance sector has about 6.7 million employees. Includes banks, credit unions, brokers, mortgage brokers, portfolio management, securities and commodity exchanges; trust, fiduciary, and custody activities; employee benefit funds; pension funds; investment funds; all insurers, including health and medical insurers, insurance brokers, claims adjusters, etc.
The #2 monster: Healthcare & Social Assistance: +26% since 2019.
Sales jumped by 9.8% year-over-year to $849 billion in Q1, and by 26% from Q1 2019.
This sector has about 21.3 million employees and includes services provided by doctors, dentists, hospitals, clinics, diagnostic labs; nursing and residential care facilities; child care services, etc.
It does not include health insurance, which falls under finance & insurance. And it does not include other healthcare related sectors such as pharmaceutical products, medical equipment and devices, etc.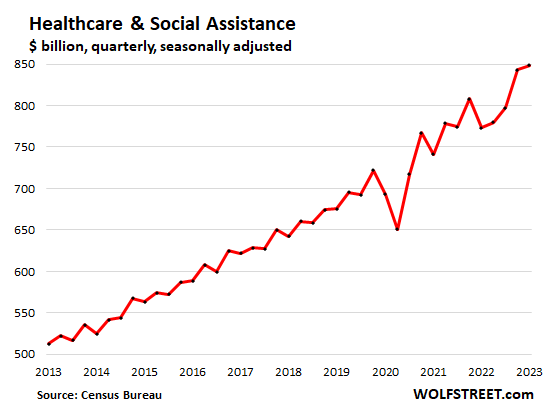 Professional, Scientific, and Technical Services: +38.5% since 2019.
Sales jumped by 8.1% year-over year to $675 billion in Q1, and by 38.5% from Q1 2019.
The sector, with about 10.9 million employees, Includes lawyers; architectural, engineering, and related services; design services; computer systems design; management, scientific, and technical consulting; scientific research and development; accounting, tax preparation, and payroll services; advertising and public relations; polling, commercial photography, etc.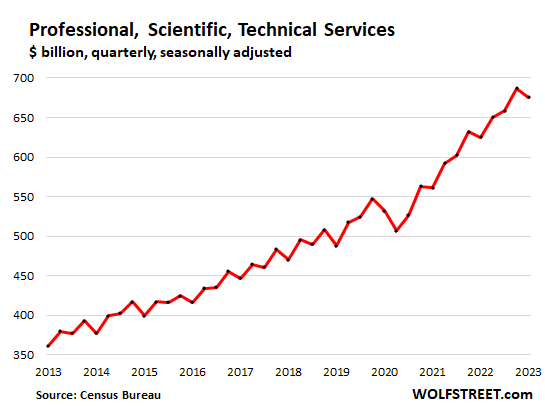 Information: +32% from 2019.
Sales rose by 4.3% year-over-year to $567 billion in Q1, and by 32% from Q1 2019.
The sector has only about 3 million employees. It includes telecommunications services, web search portals, data processing, data transmission, information services, software publishing, motion picture and sound recording, broadcasting including over the Internet, etc.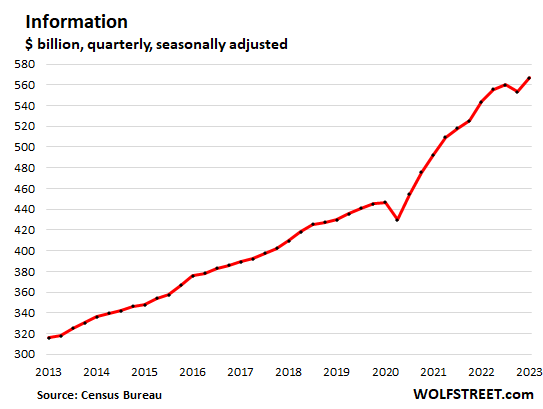 And for your amusement only… gambling.
There is another very vibrant service sector that is now seeing explosive growth: gambling. But it's still a small sector. Sales piked by 17.5% year-over-year to $8.9 billion in Q1,
This industry group does not include casino hotels – they're under hotels. But it includes casinos, bingo halls, video gaming terminals, enterprises that provide gambling services, such as lotteries and off-track betting. It seems gambling mania has broken out:
Enjoy reading WOLF STREET and want to support it? You can donate. I appreciate it immensely. Click on the beer and iced-tea mug to find out how:

Would you like to be notified via email when WOLF STREET publishes a new article? Sign up here.