Interest income is a big number that got a lot bigger, and people are spending some of it.
Interest income to households is surging, fueled by 5% money-market funds, 5.2% CDs and Treasury bills, 4.5% savings accounts, and other fixed-income products that people have invested many trillions of dollars in. Those rates are now producing a significant increase in cash flow to those households – and many are spending this extra cash, especially retirees that have gotten bludgeoned by the Fed's interest-rate repression over the prior 15 years.
But interest payments that consumers are making on their mortgages and consumer loans are going up. And they also make a difference. We want to see to what extent higher interest rates on net (interest income minus interest payments) have cut into overall consumer income. Turns out, they barely have – which could be one of the reasons consumer spending has remained surprisingly strong, and why core inflation is so sticky.
Interest income earned by consumers from their assets jumped by a seasonally adjusted annual rate of $152 billion since the Fed started hiking interest rates, and by Q1 reached a seasonally adjusted annual rate of $1.81 trillion, according to data from the Bureau of Economic Analysis: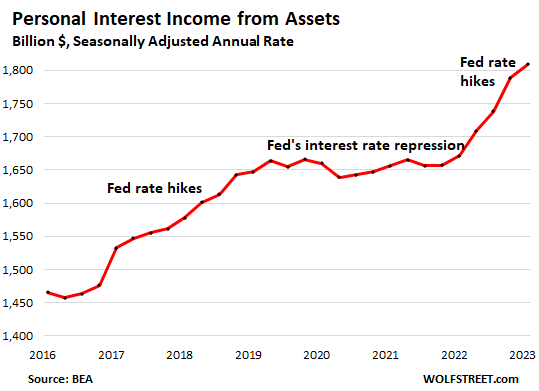 You can see the stagnating interest income from Q3 2019 through Q4 2021, when the Fed repressed short-term rates to eventually 0%. And you can see the increase in interest income from Q1 2017 to Q2 2019, during the Fed's prior rate-hike cycle.
Two different groups of people, with some overlap. People who earn interest income overlap partially with the people who make interest payments.
For example, many people financed or refinanced their home back when mortgage rates were around 3% even if they could pay cash for it. Those 3% mortgages are still out there in massive numbers. Many of these people also have assets that now produce interest income.
There are other people who now borrow to finance a home and/or a car, and some also owe some interest-bearing amount on their credit cards, HELOCs, personal loans, etc. And many of these people don't have significant interest-bearing assets or else they would have paid off their most expensive debts first, such as their credit cards.
So we're talking about two different groups of people here, and those two groups overlap to some extent. But in terms of the overall economy, it doesn't matter how it splits up since we're looking at overall income, overall interest payments, overall demand, and overall inflation.
Personal interest payments also jumped by $152 billion seasonally adjusted annual rate since the Fed started hiking interest rates, and by Q1 reached a seasonally adjusted annual rate of $435 billion.
We note once again with our pandemic-special forever-bedazzled grin how the pandemic-era's mortgage forbearance, still ongoing student-loan forbearance, and the free money that people used to pay down their credit cards have created a historic plunge in interest payments. That plunge started reversing in 2022 and has how shot above the multi-year trend line: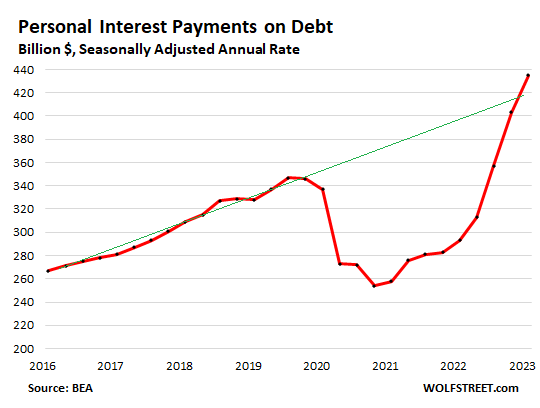 But interest income is always much higher than interest payments. Roughly one-third of households own their home free and clear and have no interest payments associated with their home. Over one-third of households are renters. Many of them are renters of choice," as they're called, that live in higher-end houses, rented condos, and higher-end apartment buildings, and many of them have plenty of assets and no debt. Then there is a smaller portion of the population that is up to their ears in debt.
So here on the same chart are interest income (red) and interest payments (green), for a sense of relative proportion. Both of them went up by the same dollar amount ($152 billion annual rate) since the start of the rate hikes.
So, the net of interest income minus interest expense is roughly unchanged since the Fed began hiking rates, at $1.37 trillion annual rate – meaning that consumers earned $1.37 trillion annual rate more in Q1 in interest income than they made in interest payments. And this net difference hasn't changed much since the end of 2021: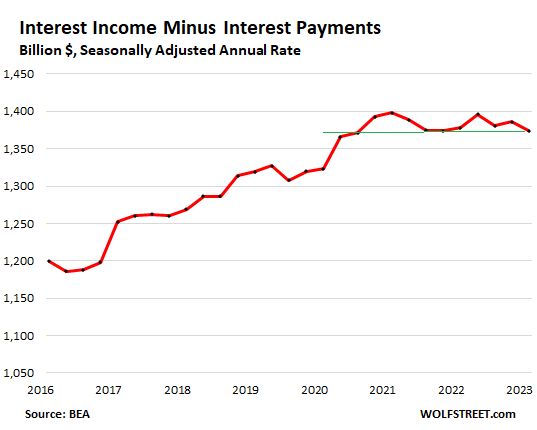 For people who have no debt but have interest-earning assets, the rate hikes just produce higher income, and they're loving it, and many of them are spending some of it.
For people who have a 3% fixed-rate mortgage and no other debt, and are not in the market for a car, they won't feel the higher rates either; and if they have fixed income assets, they're getting higher incomes from them – interest income whose rates now exceed their mortgage rate!
But people who now want to buy a home or a car will face much higher interest payments, and that's where the brunt of the rate hikes hits, and that's the angle where rate hikes push down demand because fewer people will buy houses and cars and other stuff that they fund with borrowed money.
Chipping away at this reduction in demand is the portion of increased interest income that people are now spending that they wouldn't have spent otherwise. Retirees are a big player in this category.
A retiree with $200,000 in T-bills or CDs or money market funds now earns $10,000 more per year than two years ago, and many retirees, after getting bludgeoned for years by the Fed's interest rate repression, are loving it and are spending a big part of that income. That's quite a bit of extra demand now washing over the economy.
But as more people buy homes and cars with 7% debt, interest payments will spiral higher, and they will have less money to spend on other stuff. At the same time, interest income growth will begin to slow as rates stabilize. So eventually, the downward pressure on demand from higher rates will become more noticeable. But not yet.
Enjoy reading WOLF STREET and want to support it? You can donate. I appreciate it immensely. Click on the beer and iced-tea mug to find out how:

Would you like to be notified via email when WOLF STREET publishes a new article? Sign up here.