"We are entering an EBITDA recession": S&P Global Ratings.
Inflation was supposed to be good for corporate profits, according to Wall Street lore, and it was until it wasn't – until the rising costs and falling revenues caught up with them.
Corporate profits before taxes in Q1 fell for the third quarter in a row, this time by 1.3% from Q4, after having dropped by 4.8% in Q4, and by 4.9% in Q3, according to today's release by the Bureau of Economic Analysis.
Over the three quarters from the peak in Q2 2022, corporate profits have now dropped by 10.7%, the steepest drop over three quarters since 2009. But back then, the economy was deep into the Great Recession. Now there's raging inflation: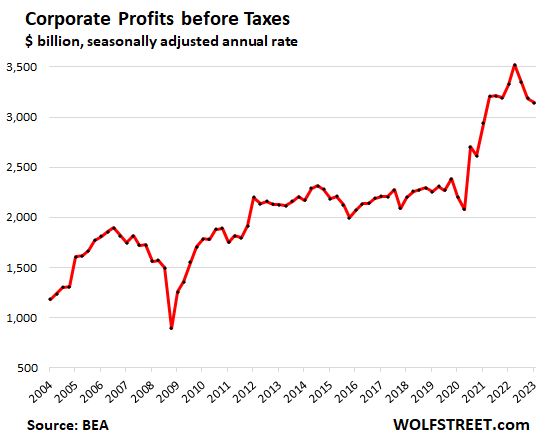 These pre-tax profits here are by all entities that are required to file federal corporate tax returns, including private corporations, LLCs, and S corporations, plus by some organizations that do not file corporate tax returns.
This measure of pre-tax corporate profits is called profit "from current production" because the profits exclude dividend income, capital gains/losses, and other financial flows to companies, and they also exclude some adjustments, such as deduction for "bad debt."
We note with forever-amazement in the chart above the huge artificially inflated spike in corporate profits from Q2 2020 through Q2 2022, when the trillions of dollars in pandemic money-printing and in fiscal stimulus spending washed over the land.
We remember with forever-amazement the huge direct payments to companies, such as the $50 billion that was handed in 2020 to the airlines, that ultimately wash through to income, and the $790 billion paid out in PPP loans, of which $757 billion were then forgiven, at which point they also became income. The magnificent spike in corporate profits from Q2 2020 through Q2 2022 is testimony to that largess.
But the profit spike is also testimony to the phenomenon of companies suddenly jacking up prices because they could, and they could because consumers and businesses, afloat in free money, were suddenly willing to pay whatever. Good times were had by all.
Now comes the hangover, with inflation, higher interest rates and funding costs, higher wages, and generally higher input costs, squeezed profits, and pressured revenues.
"Entering an EBITDA recession."
S&P Global Ratings, in its now up dated report for Q1 of rated nonfinancial companies, based on earnings reports so far, found that:
Revenues fell 0.6% year-over-year.
EBITDA fell 2.9% (earnings before interest, taxes, depreciation, and amortization). "We are entering an EBITDA recession," it said.
Excluding oil and gas, metals and mining companies, EBITDA fell year-over-year for the third quarter in a row.
Cash interest payments, after falling year-over-year for eight quarters in a row through Q2 2022, have started to surge, and in Q1 spiked by 15% year-over-year, "as interest rate rises feed through," it said.
"Margins are starting to compress but remain elevated with companies still retaining considerable pricing power," it said.
But Capex growth surged up 16% year-over-year, "with oil, gas, metals, and mining in particular ramping up investment."
So the Easy-Money party is over, in terms of profits. And the hangover is here, amid the bad breath of rising costs and pressured revenues.
Enjoy reading WOLF STREET and want to support it? You can donate. I appreciate it immensely. Click on the beer and iced-tea mug to find out how:

Would you like to be notified via email when WOLF STREET publishes a new article? Sign up here.