Bank of Japan clings to negative interest rate policy and yield curve control as inflation spreads across the economy.
As a clear sign that underlying inflation has spread across the economy, Japan's core Consumer Price Index – all items less fresh food and energy – spiked to a new 42-year high of 4.1% in April compared to a year ago, blasting past all the consumption tax hikes that had previously powered brief spikes in the CPI.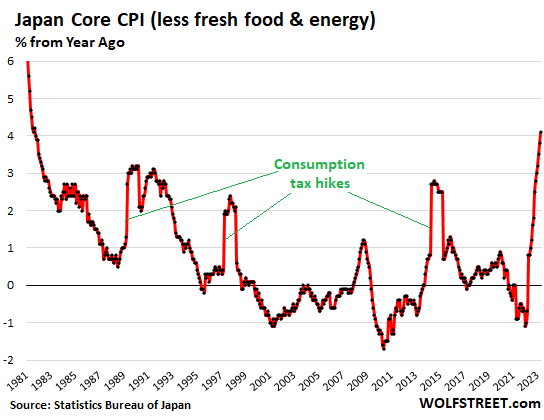 This newly re-energized spike of annual the core CPI was driven by month-to-month spikes of 0.7% in April (8.7% annualized), of 0.6% in March, and of 0.4% in February, according to data from Japan's Statistics Bureau today. The chart shows the three-month moving average of the month-to-month changes, which irons out some of the variability: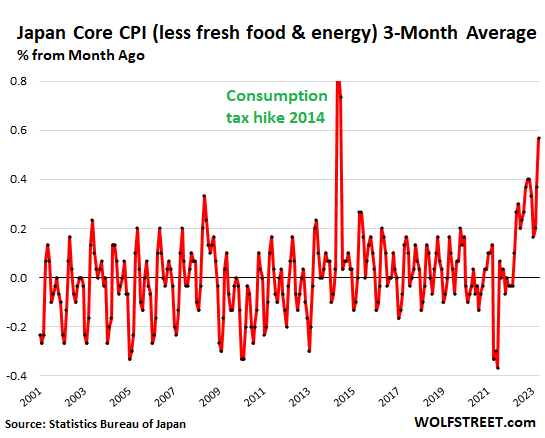 Energy prices have been plunging for months, as everywhere, and in April were down 4.4% from a year ago, having worked off the entire price spike since February 2022, and about one-third of the spike since January 2021.
But food prices spiked by 8.4% from a year ago, the worst inflation rate since 1980. On a month-to-month basis, the CPI for food spiked by 1.1% in April from March (annualized 14%), after 0.4% in March, 0.4% in February, and 1.4% in January.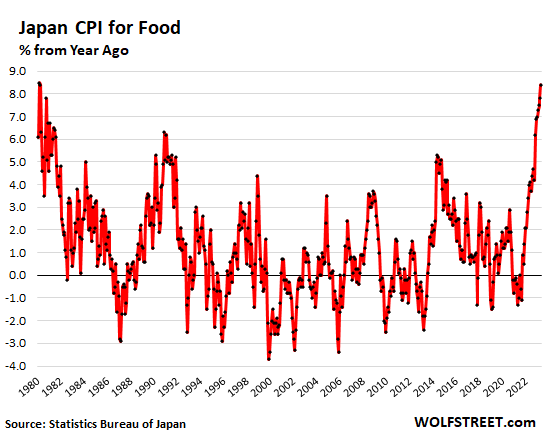 All-items inflation re-accelerated to 0.6% for the month, matching the jump in October last year, which had been the worst in years. But this time, the CPI jumped 0.6% month-to-month despite the drop in energy prices, as inflation has now spread deeply into the economy. On a year-over-year basis, the overall CPI re-accelerated to 3.5%. Inflation blew through the BOJ's inflation target in April 2022.
Major categories of inflation, year-over-year in April:
Food: +8.4%, worst since 1980. Fresh food: +5.3%. Food less fresh food: +9.0%.
Meals outside the home: +6.6%.
Housing less imputed rent: +4.3%
Repairs and maintenance: +7.6%
Energy (gasoline, electricity, piped gas, propane, kerosene): -4.4%
Household durable goods: +9.8%
Communication services: +7.8%
Clothing and footwear: +3.8%
Services related to clothing: 5.2%.
Governments hold down inflation where they control prices.
Healthcare inflation: In Japan's system of universal healthcare, the government largely decides what consumers have to pay:

Medical care: +1.7%
Medicines: +1.6%
Medical supplies and appliances: +5.7%
Medical services: +0.4%

Public transportation: +2.4%
Education: +1.3%
This inflation reversal was so bad that…
The new boss of the Bank of Japan, Kazuo Ueda, came out swinging, in favor of letting inflation rip, thereby letting inflation take care of Japan's huge government debt burden, and the Japanese people are just going to have to eat it, so to speak.
His comments were full of hypocritical central-banker-speak, perhaps purposefully deceptive to prevent the bond market from triggering a massive bond-selloff to front-run any changes to the BOJ's "yield curve control." Under its current yield curve control, the BOJ keeps the 10-year Japanese government bond yield repressed below 0.5% by threatening to buy unlimited amounts of long-dated bonds.
The next step of monetary tightening would be to raise the yield-curve target rate again. But that would have to come as a surprise, or else the bond market would massively attack those yields in advance with a big sell-off.
The BOJ already sprang that kind of surprise on the market in December 2022 when it raised the cap of its yield peg on the 10-year yield from 0.25% to 0.5%. But it left its short-term policy rate unchanged in the negative, at -0.1%.
So today, Ueda stuck to the surprise-strategy when he said in Tokyo: "The cost of impeding the nascent developments toward achieving the 2% price stability target, which are finally in sight, by making hasty policy changes would likely be extremely high."
By the phrase, "nascent developments," he means inflation that is beginning to rage across the economy. Everyone knows that letting this inflation rip is how Japan will resolve its government debt burden. Debt burdens by all governments that control their own currencies are ultimately resolved by raging inflation.
"It is appropriate to take time to decide on adjustments to monetary easing toward a future exit," he said.
"The bank will carefully support these nascent developments to mature and aim to achieve the price stability target of 2% in a sustainable and stable manner, accompanied by wage increases," he said.
By the phrase, "achieve the price stability target of 2% in a sustainable and stable manner," he means letting inflation rip well above 2% but not let it get completely out of control. That's what it looks like to me. And that may be the least-worst option Japan now has, after decades of overspending and money-printing.
Once upon a time, there was true price stability…
In the two decades until 2021, the all-items CPI remained in the same narrow range: the now bygone era when mild inflation and mild deflation alternated to produce true price stability. As this chart of the overall CPI as index value (not percentage change) shows, this era has now been superseded by US-style…
Enjoy reading WOLF STREET and want to support it? You can donate. I appreciate it immensely. Click on the beer and iced-tea mug to find out how:

Would you like to be notified via email when WOLF STREET publishes a new article? Sign up here.