New delinquencies way below the pre-pandemic lows. Bankruptcies at record lows. The OMG stuff in the media about household debt is funny.
A big to-do is being made out of total household debt in the first quarter rising to a new record and exceeded $17 trillion for the first time, OMG. But the burden of debt matters in relation to income, and these are inflationary times, and there has been a lot of inflation, including wage inflation, and incomes went up, and disposable income (income from all sources minus taxes and social insurance payments) went up, and it went up proportionately faster than household debt.
So hang on to your seat: Despite all the breathless OMG headlines about household debt, total household debt as percent of disposable income actually fell in Q1 to 86.5%, just a hair above the pre-pandemic lows of 85%.
This dip occurred because total household debt inched up 0.9% in Q1 from Q4, to $17.05 trillion, but disposable income jumped by 3.0%: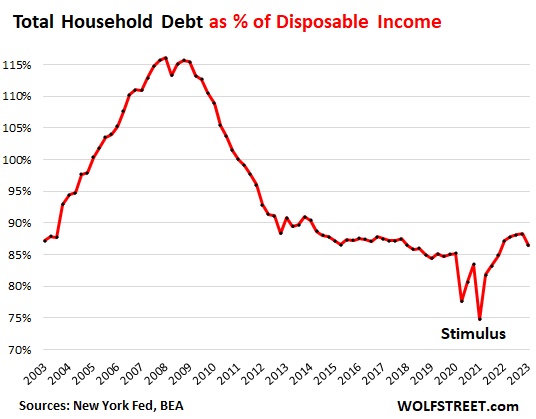 The household credit data is from the New York Fed. The disposable income data is from the Bureau of Economic Analysis.
Note the stimulus payments in 2020 and 2021 that for the quarters in which they occurred heavily inflated disposable income, and thereby pushed down household debt as percent of disposable income. This was the free-money era of the pandemic which caused delinquencies, foreclosures, and bankruptcies to plunge to record lows.
The record high burden of debt-to-disposable-income occurred in Q1 2008 at 116%, after a five-year-long steep run-up when consumers went binging on debt. The binge then came apart during the Great Recession and the debris got cleaned up during the years that followed. Recessions have that kind of cleansing function, where the mess from the excesses gets written off.
But this time around, consumers are relatively little indebt compared to their incomes.
We discussed this yesterday in detail with credit cards, with credit card debt burden having dramatically declined over the years, with delinquencies at around the Good Times lows before the Pandemic, and with third-party collections at record lows.
If we get carried away with these absolute numbers of debt levels in an inflationary world, we will be tempted to think that the consumer is "tapped out," and we will be tempted to underestimate to what extent consumers are able to spend and help drive inflation forward.
Total household debt includes mortgages, HELOCs, credit card balances, other revolving balances, auto loans, and student loans. Here is the OMG chart: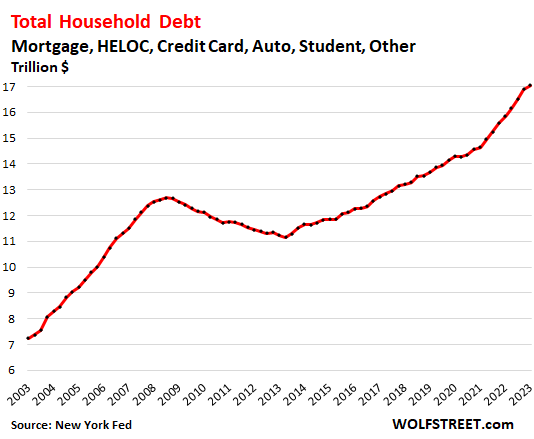 You may have read in the headlines that households are getting "stressed" because their delinquency rates have ticked up. But wait a minute…
Newly delinquent balances of total household debt crept up to 3.0%, but that was an increase from the free-money historic lows during the pandemic. The delinquency rate of 3.0% is still far below the pre-pandemic lows of 4.5%. During the Great Recession, it topped out at 12%.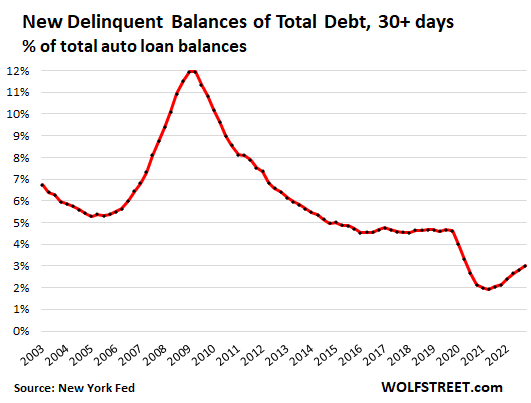 And consumer bankruptcies remain at historic lows. During the free-money era starting in 2020, the number of consumers with bankruptcy filings has fallen by half, from the Good Times level just before the pandemic of 200,000 to the current level of around 100,000:
It's almost funny how the financial media constantly wants to show that households are in trouble, that they're tapped out, that they're wrecked by huge piles of debt that they cannot deal with, etc. etc., and that consumers cannot possibly go on and keep spending, and keep fueling this inflation, when in fact consumers are just fine, they're loving the extra money they're making, and they have largely stopped grumbling about the rising prices and have gotten used to them and they're paying them.
Enjoy reading WOLF STREET and want to support it? You can donate. I appreciate it immensely. Click on the beer and iced-tea mug to find out how:

Would you like to be notified via email when WOLF STREET publishes a new article? Sign up here.