But freight rates only unwound one-third of their Pandemic Spike.
The Cass Truckload Linehaul Index, which tracks per-mile linehaul spot and contract rates and does not include fuel and other charges, fell for the 11th month in a row in April on a seasonally adjusted basis, and was down 12.3% from a year ago.
Everyone has long predicted that the enormous boom in goods during the pandemic would fade and return to trend as consumers shifted spending back to services, and that shipment volume would decline and return to trend. This has been happening, but later than expected – it started in mid-2022 – and much more slowly than expected, and hasn't yet returned to trend.
Note the boom in 2017 and 2018, when companies were trying to front-run the tariffs that the Trump administration was putting in place. The pre-tariffs boom reverted to trend in 2019. And then came the pandemic boom that is now reverting. But April's level remains above the peak of the boom during tariffs-front-run bonanza: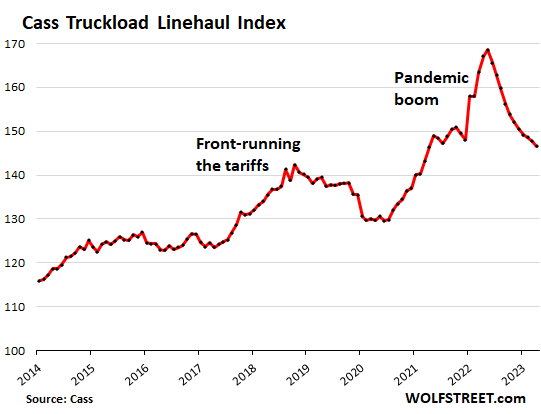 Trucking is now skidding down the other side of the pandemic boom that had been triggered by an explosion of demand for goods that caused all kinds of havoc – including price spikes – in the transportation industry and the goods-based sector of the economy.
The broader Cass Freight Index – which is concentrated on trucking but includes rail and other modes of transportation – also fell again in April (fat red line in the chart below) and is down 2.4% year-over-year. The index has now fallen below the Aprils of 2022, 2021, 2019, and 2018 (record April). But it's above April 2017 and 2016.
Truckload shipments represent over half of the dollar amounts in the Cass Freight Index, rail is in second place, followed by less-than-truckload shipments, parcel services (such as UPS and FedEx), and others. But it does not include bulk commodities.
Cass derives this data from the 36 million invoices and $44 billion in freight spending it processes annually for its client base of hundreds of large shippers.
Shipment volume includes goods that retailers sell and all kinds of other goods, equipment, components, and supplies that manufacturers, construction companies, other industrial companies, and services providers buy.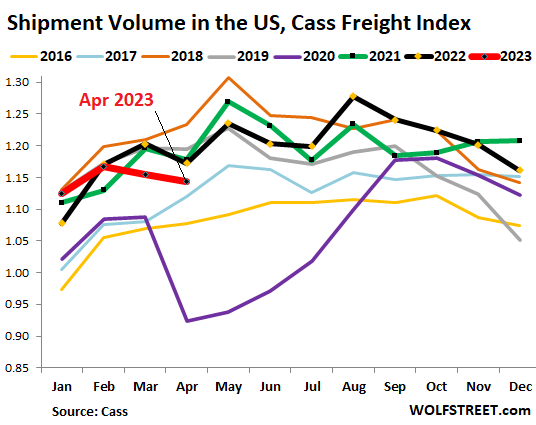 Freight rates have also come down.
Part of the decline of freight rates is due to trucking mileage rates that have come down, as we have seen above. They do not include fuel charges.
And the cost of fuel has plunged from the peak of the spike in 2022. The average price of diesel in the US is down 30% year-over-year and 33% from the peak in June last year, according to EIA data: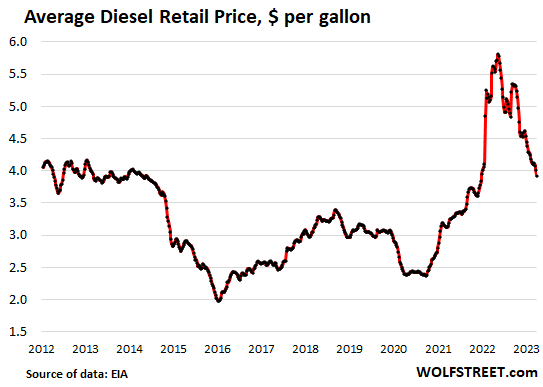 The Cass Inferred Freight Rates Index fell again in April "due to modal mix shifts, lower fuel prices, and market pressure," Cass said. "While fuel is a big factor, there's clearly also still market pressure on rates," Cass said.
The index includes fuel costs and is based on Cass's measures of freight volume and freight expenditures.
The index is now down 11.9% from April 2022, which was the peak of the Pandemic Spike. Even though freight rates have come down substantially, they have unwound only one-third of the spike during the Pandemic.
The red line represents the three-month moving average that irons out some of the dramatic month-to-month zigzags.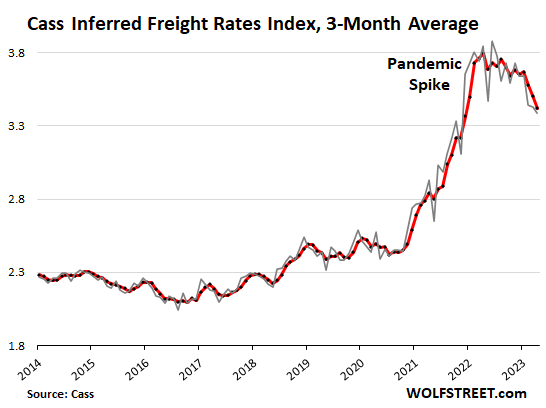 Enjoy reading WOLF STREET and want to support it? You can donate. I appreciate it immensely. Click on the beer and iced-tea mug to find out how:

Would you like to be notified via email when WOLF STREET publishes a new article? Sign up here.