FDIC Board Member McKernan laments "our country's bailout culture that privatizes gains while socializing losses."
First Republic Bank, after disclosing last week that it's a zombie, was shut down early today by the California banking regulator and handed to the FDIC as receiver, which then dismembered it and handed the pieces, after "a highly competitive bidding process," to JP Morgan Chase Bank. These pieces are "substantially" all of its assets — including $173 billion in loans and $30 billion in securities. And JP Morgan assumes all its remaining $92 billion in deposits.
Another bailout of uninsured depositors, including the big banks: All depositors, including uninsured depositors – including the $30 billion that 11 big banks, led by JP Morgan Chase, deposited at First Republic in March to prop it up – have access to their money today during regular business hours. All 84 branches reopen today as branches of JP Morgan Chase.
JP Morgan, in its press release, said that it will pay for it in part with a $50 billion five-year fixed-rate loan from the FDIC. I sorted through the details of what JP Morgan got and what it paid here.
And it said it would "recognize an upfront, one-time, post-tax gain of approximately $2.6 billion," and incur post-tax restructuring costs over the next 18 months of "approximately $2.0 billion."
The FDIC also entered into a loss-share agreement with JP Morgan under which the FDIC will share in the losses and potential recoveries on the single family, residential, and commercial loans that JP Morgan purchased from the FDIC's pile that was First Republic Bank.
Total cost to the FDIC insurance fund will be about $13 billion, including the costs of bailing out the insured depositors, according to FDIC estimates.
Stockholders got bailed in and wiped out. They'd already been mostly wiped out by Friday evening in one of the most spectacular stock plunges ever.
Holders of the unsecured subordinated bank notes got bailed in and wiped out just about entirely. This is a form of preferred stock. There were two issues, totaling $800 million. For example, the 4.625% bank notes, issued in 2017, traded at less than 2 cents on the dollar this morning, another spectacular plunge.
This was a bank resolution over a weekend with a minimum amount of drama and disruptions for bank customers that leaves all deposits and substantially all assets in the private sector – unlike the messy receiverships of Silicon Valley Bank and Signature Bank that involved a huge amount of drama over the deposits that was deemed to require the FDIC's emergency powers; and this mess is still dragging on with the FDIC still trying to sell the remaining assets.
"Our country's bailout culture that privatizes gains while socializing losses."
Very interestingly, in a separate statement about the First Republic resolution, FDIC Board Member Jonathan McKernan rebuked bank regulators, bank regulations, and the "bailout culture":
"I am pleased we were able to deal with First Republic's failure without using the FDIC's emergency powers. It is a grave and unfortunate event when the FDIC uses these emergency powers. Any decision to use the FDIC's emergency powers should be approached skeptically, taking into account the unique facts and circumstances of the time, and with careful attention to the implications for the future.
"The March 12 rescue of SVB and Signature's uninsured depositors was an admission that 15 years of reform efforts have not been a success. Many of the Dodd-Frank Act regulations were prescriptive, burdensome, and expensive. Yet still a failed bank's investors do not always bear the consequences of the bank's poor risk management. And yet still the banking system is not resilient to failures of bank supervision.
"More work remains to be done. We should avoid the temptation to pile on yet more prescriptive regulation or otherwise push responsible risk taking out of the banking system. Instead, we should acknowledge that bank failures are inevitable in a dynamic and innovative financial system.
"We should plan for those bank failures by focusing on strong capital requirements and an effective resolution framework as our best hope for eventually ending our country's bailout culture that privatizes gains while socializing losses."
Well said. But good luck.
Here is one of the two issues of the bailed-in subordinated unsecured notes, trading at less than 2 cents this morning, going to heck in a straight line, thereby violating the Wolf Street dictum that nothing goes to heck in a straight line (chart via Finra/Moringstar):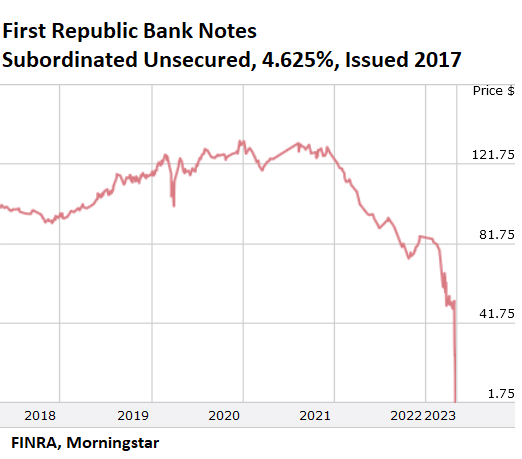 And here are the misbegotten shares [FRC] that also violated the Wolf Street dictum. The stock is halted and will be delisted. It may eventually trade over the counter for a while for a few cents. On Friday, after hours, it plunged to $1.90. Dip buyers who helped other investors unload this stuff should be thanked for their services. The shares don't represent anything anymore. Their fate is zero. And this fate is already included in the chart. And thereby another spectacular hero in my pantheon of Imploded Stocks bites the dust (data via YCharts):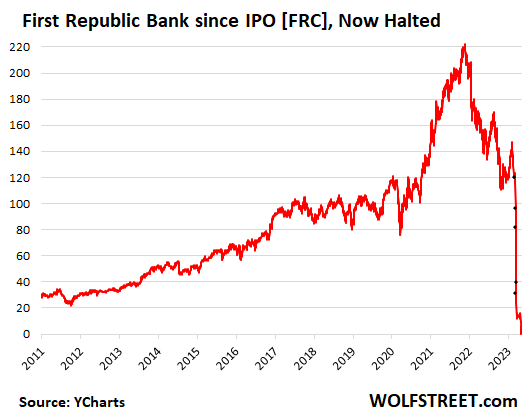 Enjoy reading WOLF STREET and want to support it? You can donate. I appreciate it immensely. Click on the beer and iced-tea mug to find out how:

Would you like to be notified via email when WOLF STREET publishes a new article? Sign up here.