Another Easy-Money hangover.
During the 14-year reign of Easy Money, which started in 2008 and ended in 2022, everything became possible, and there were no limits to asset prices and valuations because when money is free, price doesn't matter.
So the number of US-based unicorns that were created in the venture capital world each year soared from 9 in 2012 to 344 – or about 1.3 per business day – in 2021. November 2021 was the moment of peak Consensual Hallucination, as I call it. Since then, the Nasdaq has dropped 27%.
By mid-2022, the whole show started coming to an end. For the whole year 2022, "only" 185 unicorns were created, about 0.7 per business day. In 2023 through March 9, only 5 unicorns were created, about 0.1 per business day (data via PitchBook):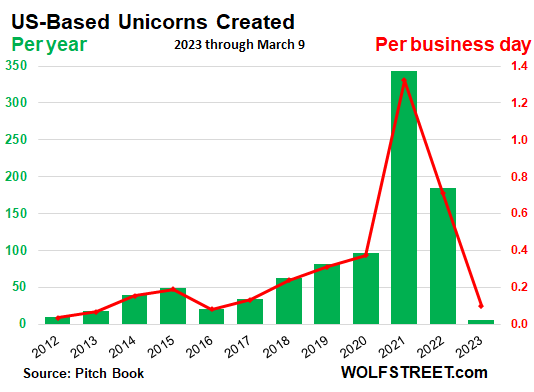 Unicorns are startup companies where behind closed doors a handful of investors during the latest round of funding agreed on a "valuation" of $1 billion or more.
Even though these deals are confidential, the $1-billion valuation is then dutifully leaked and hyped all over the financial media.
There was a time when a newly created unicorn would unleash a torrent of oohs and aahs. But by 2021, there were so many of them – 344 of them, or about 1.3 per business day – that people stopped paying attention.
So what are we going to do with all these unicorns?
The total number of US-based unicorns that are still active climbed to 704 unicorns by March 2023, representing a mind-boggling aggregate valuation of $2.36 trillion, with a T.
These are unicorns where startup investors were still not able or willing to exit via some kind of sale, either by selling it to the public via an IPO, or by selling it to a company with deep pockets.
During the Easy Money era, there was so much capital flowing into startups that they had so much funding that they could stay private for longer, despite burning profuse amounts of cash, and they didn't have to seek a buyer or an IPO, because they could always raise new cash to burn.
This trend to more late-stage funding and staying private longer created more unicorns and bigger unicorns, that were burning more cash, and then suddenly the music stopped.
That $2.36 trillion is a lot of money to be finding buyers for. In 2019, which had already been a big year, the aggregate valuation of the 223 then still active US-based unicorns was $652 billion, according to PitchBook data. Now, the aggregate valuation waiting to go public or find a buyer is nearly four times as much: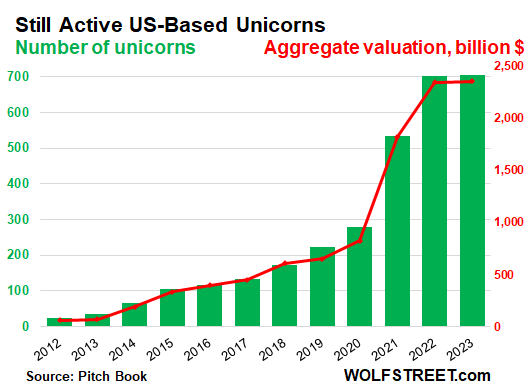 Late-stage funding into startups has come to a crawl. Many startups have approaching out-of-money dates. So there is pressure on these companies now to figure out how to burn less cash to extend their runway so that they can hopefully outwait this investor liquidity crunch.
For investors, cashing out is tough without Easy Money.
"Some unicorns may be faced with the reality of searching for exit opportunities, particularly through M&A, in an incapable or unwilling market," PitchBook said in its report, "The Decline of Unicorn Acquisitions in a Conservative M&A Market."
One way for startup investors to cash out is via IPOs, during which shares become publicly traded, and investors can then sell their shares during the IPO and over time to the public.
With freshly minted IPO stocks and SPAC stocks crashing left and right starting in 2021 and continuing through 2022 and into 2023 – I tracked some of them in my pantheon of Imploded Stocks – it became difficult for startups to engineer IPOs, and IPO volume collapsed in Q1 2022 and has remained low ever since (IPO data via Renaissance Capital):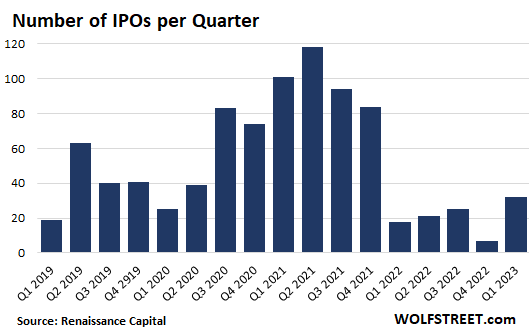 The other way for startup investors to cash out is to sell the unicorn to a big corporation with deep pockets that wants to get rid of the budding competitor, or wants the technology, or the consumer data,  or whatever, and they're willing to pay no matter what for it. But that's getting tough too.
"Unicorns are likely to face significant challenges when sourcing potential acquirers due to limited buyer interest, and the recent decline in M&A activity coincides with the current economic downturn," PitchBook said in the report.
"Only $39.6 billion in US acquisition value has occurred since the beginning of 2022, which makes it the least active year since 2015," PitchBook said.
"Our data shows a mere five unicorn acquisitions in 2022, compared with 24 and 17 in 2021 and 2020, respectively," PitchBook said.
"Additionally, many public corporations are opting to buy back company shares to appease shareholders and signal confidence in the company's future. So far, share buybacks have been favored over M&A, with buyback announcements hitting a record high of $1.2 trillion in 2022," PitchBook said.
Additionally, the current "antitrust crackdown on the tech sector has put increased pressure on large tech companies, such as Meta, which is currently being sued by the FTC for antitrust violations related to its acquisition of WhatsApp and Instagram. This crackdown is likely to continue, affecting cash-starved unicorns seeking acquisition by large corporations."
In "the frozen exit environment" since 2022, exit value plunged by 87%, from the record $768 billion in 2021 to only $79 billion in 2022 and early 2023.
This "liquidity crunch" has limited the "return potential for investors and is restricting the flow of capital back into the venture ecosystem," PitchBook said.
"This dearth of capital is further exacerbated by the languid pace of fundraising observed through Q1 2023, as well as an exodus of nontraditional investors that, in recent years, have played a major role in providing the large amounts of funding upon which unicorns are heavily reliant," PitchBook said.
End of Easy Money. Hangover time.
The end of Easy Money ended many miracles and after the raucous party is now bringing them back to some sort of reality. This reality may be tough for a sector that has gotten hooked on an endless flow of money that made unicorns a paragon of this era.
Enjoy reading WOLF STREET and want to support it? You can donate. I appreciate it immensely. Click on the beer and iced-tea mug to find out how:

Would you like to be notified via email when WOLF STREET publishes a new article? Sign up here.