Retail supply of used cars and trucks dropped for second month in a row. Dealers bid up prices to replenish their inventories.
More trouble brewing beneath the surface for inflation. Used vehicle wholesale prices at auction jumped 4.3% in February from January, seasonally adjusted, the biggest month-to-month jump for any February since 2009, and the third month in a row of increases, with hefty price increases across all eight vehicle segments, according to Manheim, the largest auto auction house in the US and a unit of Cox Automotive. Not seasonally adjusted, wholesale prices jumped by 3.7%, to $20,652, second month in a row of increases.
Both metrics of wholesale prices are adjusted for changes in the mix and mileage. These auction prices show that dealers have to pay more to restock their inventory. And they're going to try to pass on the increased costs to their retail customers.
The Consumer Price Index for used vehicles (based retail prices) usually picks up changes in wholesale prices within two to three months:
Price increases month-over-month in February from January:
Seasonally adjusted: +4.3% (after +2.5% in January; +0.8% in December).
Not seasonally adjusted: +3.7%, (after +1.5% in January).
All eight vehicle segments showed big price increases between 3.3% and 5.9%.
Rental vehicles sold by fleets at auction: +5.0% (after +2.8% in January).
Three-Year Old index: +2.4% (after +1.2% in January).
These price increases "were not typical" for February, Manheim said.
The year-over-year price decline was reduced to -5.6%, not seasonally adjusted, from peak-decline of -13.1% in December. Rental risk units rose 0.5% year-over-year, after the big month-to-month jumps in January and February.
Sellers had more pricing power than typically seen this time of year: The average daily sales conversion rate jumped to 64.3% in February, from 59.4% in January, both of them well above normal for this time of the year.
Used vehicle retail sales fell 5% month-to-month and 9% year-over-year, on a same-store basis, according to initial estimates based on data from Dealertrack, a service of Cox Automotive. This came after the jump in sales in January (+16% month-over-month and +5% year-over-year) that had pushed supply of vehicles down.
Wholesale supply fell to 24 days at the end of February, from 26 days in January, 32 days in December, and 29 days in February a year ago.
Retail supply at dealers fell for the second month in a row, to 41 days by the end of February, down from 48 days in January, and from 57 days in December, based on vAuto data, a service of Cox Automotive. This declining supply explains why dealers were more eager to buy at auctions – to replenish their inventories for spring selling season – and they bid up prices in the process.
These two consecutive months of dropping supply into the spring selling season (tax refund season) suggests that there will be more pricing pressures going forward: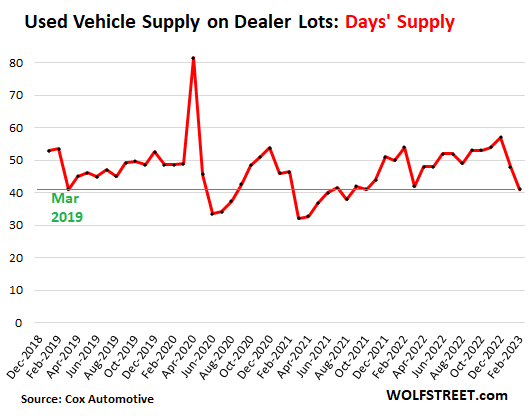 When will wholesale price jumps show up in CPI?
The Consumer Price Index for used vehicles peaked in January 2022 and then fell, and by January 2023 had dropped by 11.6%. The CPI for February will be released next week. With the typical lag of about two to three months from wholesale prices, I expect the CPI for used vehicles to slow or halt the month-to-month decline at that point, and start showing the first increases in the CPI released in mid-April.
The used-vehicle CPI is a big component of "core" CPI (CPI without food and energy). And the big drop of used vehicle prices in 2022 helped put a lid on core CPI. But now we're looking at the second month in a row this year when renewed inflation trouble is brewing beneath the surface – and we will see it bubble to the surface pretty soon.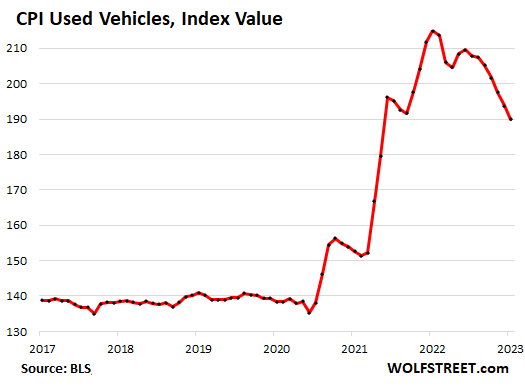 Enjoy reading WOLF STREET and want to support it? You can donate. I appreciate it immensely. Click on the beer and iced-tea mug to find out how:

Would you like to be notified via email when WOLF STREET publishes a new article? Sign up here.