Market is still frozen, potential sellers sit on vacant properties, hoping this too shall pass. Cash Buyers, investors, second-home buyers pull back further.
Spring selling season begins with 7% mortgage rates? In terms of closed sales, December and January usually mark the low-point of the year for the housing market, reflecting deals made over the holiday period in November and December. But the spring selling season starts now.
In January, mortgage rates had dropped on hopes of a quick Fed pivot and steep rate cuts asap, yes please, with mortgage rates diving back to 3%, or whatever, but that dream is now fizzling.
The average 30-year fixed mortgage rate today rose to 6.87%, according to Mortgage News Daily. The 10-year Treasury yield is moving in on the 4% mark – currently at 3.96%. And these rates are going to dog the spring selling season.
"And this too shall pass" has been the guiding principle for potential sellers, as they're waiting for the Fed to slash its interest rates so that mortgage rates could plunge back to 3% so that they could sell their properties for March 2022 prices. So potential sellers are not putting their vacant properties on the market unless they have to, and buyers are not buying at March 2022 prices. And the market remains essentially frozen.
For deals to be made, potential sellers need to get realistic about the price at current mortgage rates. Those that listed their properties and made a deal months ago at whatever unpalatable price, they're now way ahead of the game.
Sales of previously owned houses, condos, and co-ops fell by another 0.7% in January from December, to a seasonally adjusted annual rate of sales of 4.0 million homes, according to the National Association of Realtors today. This was the 12th month in a row of month-to-month declines on this seasonally adjusted basis. Sales dropped by 37% year-over-year, below the lockdown low of May 2020, to the lowest since 2010 during Housing Bust 1.
Actual sales in January – not seasonally adjusted, and not as annual rate – fell to 231,000 properties, down 34% from a year ago (historic data via YCharts):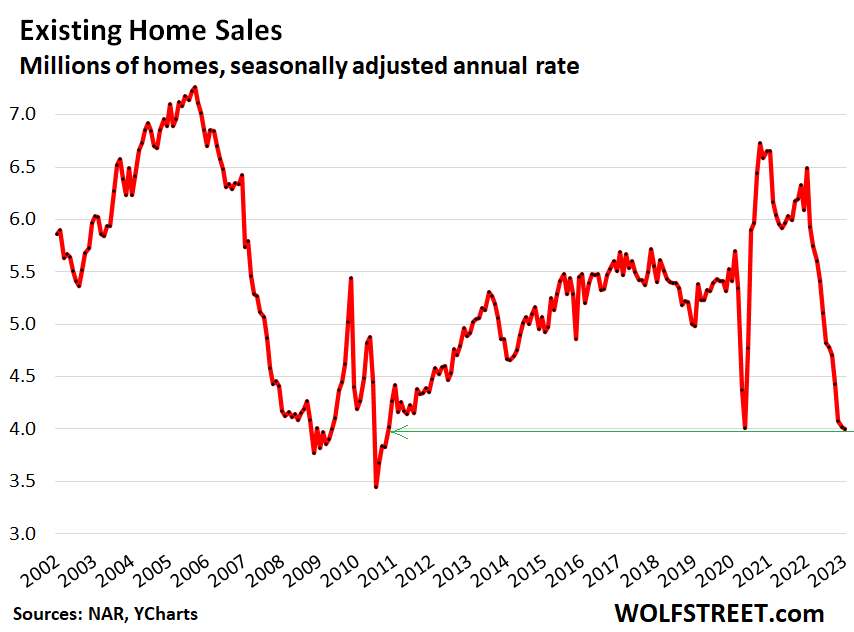 Sales of single-family houses fell by 0.8% in January from December, and by 36% year-over-year, to a seasonally adjusted annual rate of 3.59 million houses.
Sales of condos and co-ops were roughly unchanged from December, but plunged by 43% from January a year ago, to a seasonally adjusted annual rate of 410,000 units.
Sales plunged in all regions. Year-over-year percent change (NAR map of regions):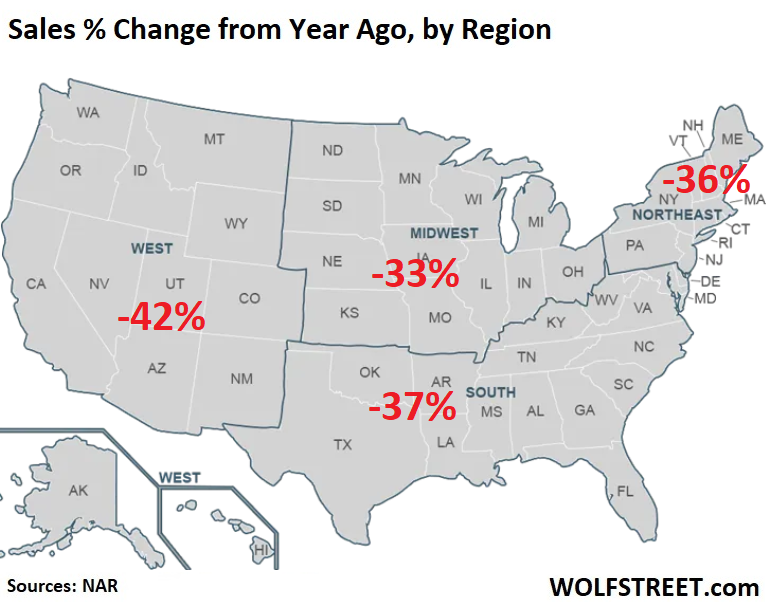 The median price of all types of homes fell for the seventh month in a row, to $359,900, down 13.2% from the peak in June. This drop further reduced the year-over-year gain to just 1.3%.
What portion of this June-December price drop is seasonal? The average June-January decline over the eight years before the pandemic was 8.0%. Including the pandemic, the average June-January drop over the past 10 years was 6.5%. This shows that seasonal declines made up only a portion of the 13.2% drop since June (historic data via YCharts).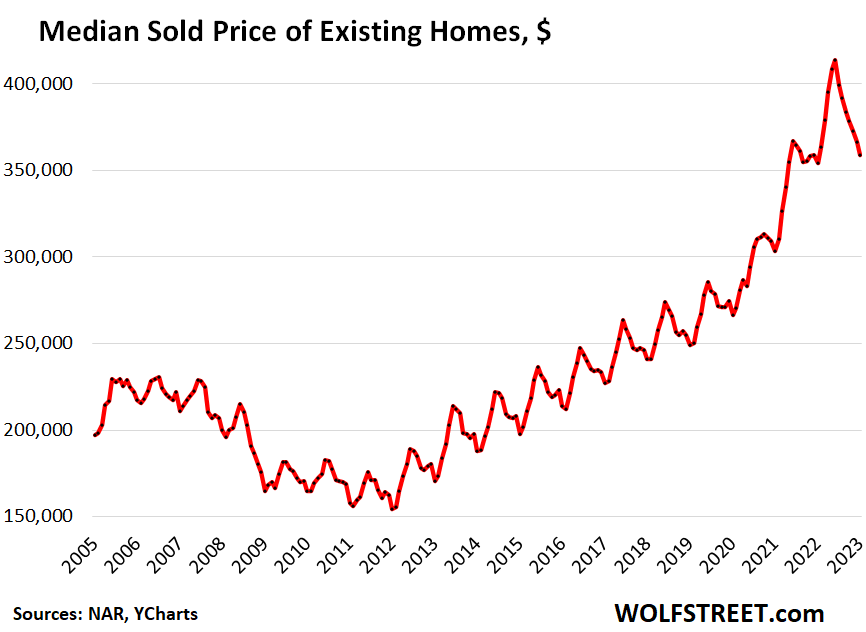 Some markets in the US are holding up better, but others are leading the downturn, including the San Francisco Bay Area, where the median price plunged by 35% from the crazy peak in March 2022 and by 17% year-over-year, according to data from the California Association of Realtors.
The rapidly disappearing year-over-year price gain in the national data, down to just 1.3% in January, provides additional confirmation that much of this decline was not seasonal. For 23 months, from August 2020 through June 2022, the year-over-year gains were over 10%, and for several months during that time were over 20% (historic data via YCharts):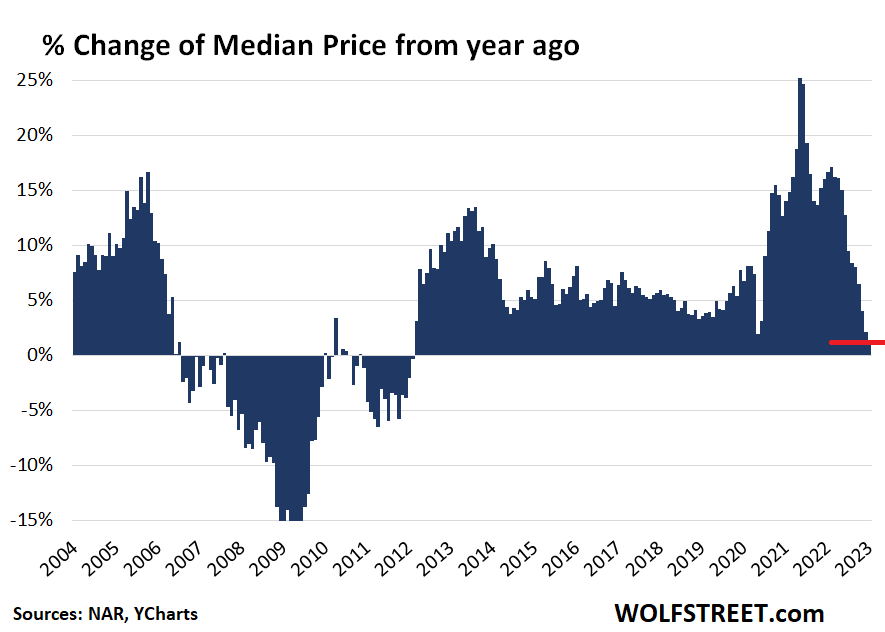 All-cash buyers, investors, and second home buyers pulled back further. All-cash sales plunged by 29% year-over-year, to 67,000 properties, down from 95,000 in January 2022. Sales to individual investors or second home buyers collapsed by 52% to 37,000 properties, from 77,400 in January 2022.
Inventory is low, buyers are scarce, market is frozen.
Active listings (= total listed inventory minus properties with pending sales) jumped by 65% from a year ago, to 626,000 properties in January. But they remained low by historical standards as potential sellers are still convinced that this too shall pass, and they're not putting their vacant properties on the market (data via realtor.com):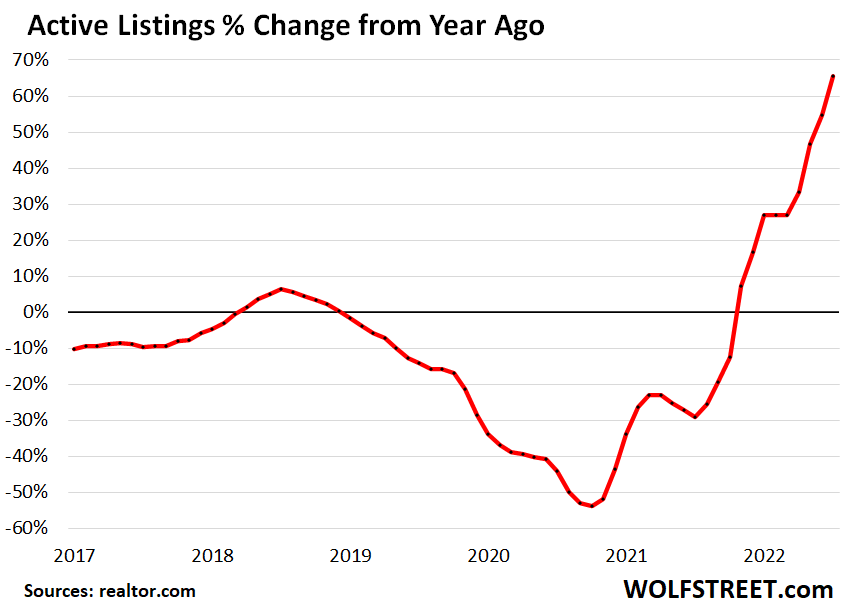 How many vacant properties are being held off the market? The actual vacancy rate for the entire housing stock was 10.4% in Q4, or 14.55 million housing units, of which nearly 11 million housing units were vacant year-round, according to Census data. Of them, 6.7 million vacant housing units were being held off the market for a variety of reasons. If just 10% of these vacant properties being held off the market suddenly show up on the market, active listings (currently 626,000) would more than double.
Median days on the market, before the frustrated seller pulls the property off the market, or before the property is sold, jumped to 75 days, the highest since February 2020 (data via realtor.com):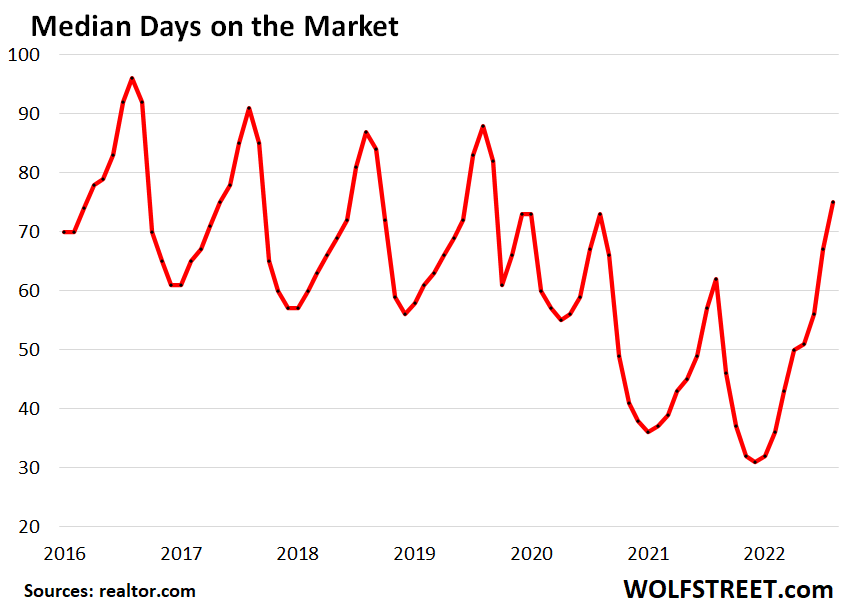 Price reductions: The number of listings with price reductions jumped by 170% year-over-year, to 190,000 listings, the most for any January since January 2020, according to data from realtor.com.
Priced right, just about any property will sell. Not enough sellers are wanting to price their properties right yet, but more are trying: Of all active listings, 30% had price reductions in January, by far the largest portion for any January in the data going back to 2016. This shows that the seller's willingness to explore the market clearing price has increased, which is a good sign in terms of unfreezing the market.
Enjoy reading WOLF STREET and want to support it? You can donate. I appreciate it immensely. Click on the beer and iced-tea mug to find out how:

Would you like to be notified via email when WOLF STREET publishes a new article? Sign up here.