Are we seeing the psychological effects of layoff-stories everywhere that replaced labor-shortage-stories, though the labor market overall hasn't changed much?
The jobs report released today by the Bureau of Labor Statistics depicted a still growing labor market, constrained by the far-below-trend growth in the labor force, along the same lines as in prior months, and not particularly impacted by the Fed's rate hikes, or its efforts to slow the economy.
But there is starting to be a new trend on wages – and this has been confirmed by private-sector payroll data, and when we get to it in a moment, we're going to venture into some speculation as to why.
First some basics in the jobs report today.
The total number of workers, including the self-employed, as reported by households, jumped massively in December (+717,000), reversing the declines of the prior two months. For the past three months combined, the total number of workers rose by 394,000 to a record 159.2 million, for the first time beating the pre-pandemic record. But it remains well below pre-pandemic trend (green line):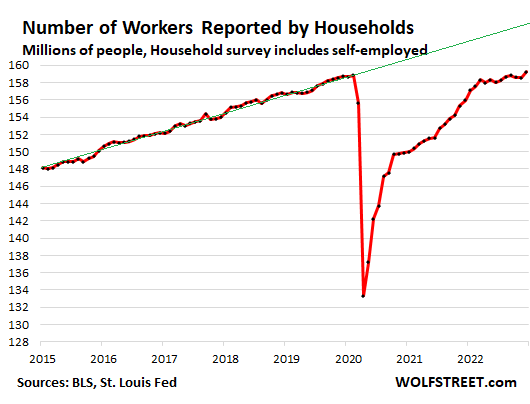 The labor force – people who either have jobs or are actively looking for jobs – jumped by 439,000, more than reversing the decline in the prior month, to a record 165.0 million. Over the past three months combined, the labor force increased by 347,000. But it remains woefully below pre-pandemic trend: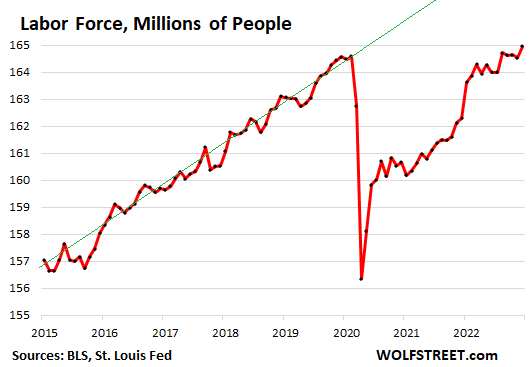 The labor force participation rate – the labor force as a percent of the working-age population 16 years and older – has barely improved this year. In December it ticked up to 62.3%, same as earlier this year, and up just a smidge from January (62.2%):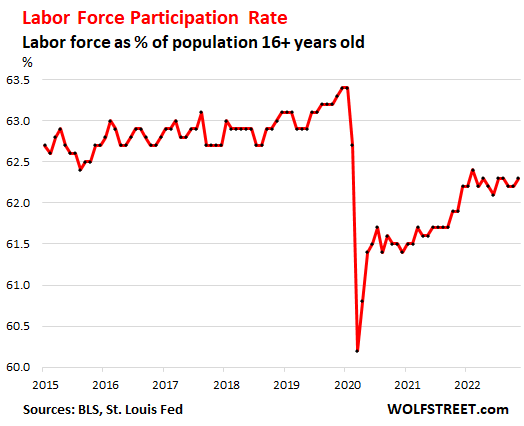 The prime-age labor force participation rate – people between 25 and 54 years old, which eliminates the effects of retiring boomers — ticked up to 82.4% in December, but that's down from where it had been earlier in the year. And it doesn't look great either: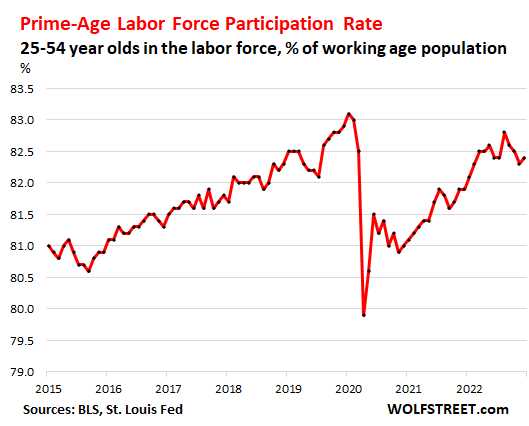 The number of unemployed and looking for a job fell to 5.72 million, about level with the pre-pandemic low. This is the portion of the labor force that is actively looking for a job but doesn't have a job: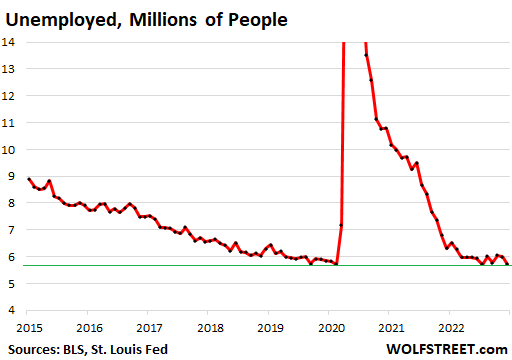 The number of employees on regular payrolls rose by 223,000 in December, and by 742,000 over the past three months, to 153.7 million employees, which is up by 1.24 million from February 2020, according to the survey of employers. Here too, below pre-pandemic trend and not catching up in recent months, but just growing in parallel: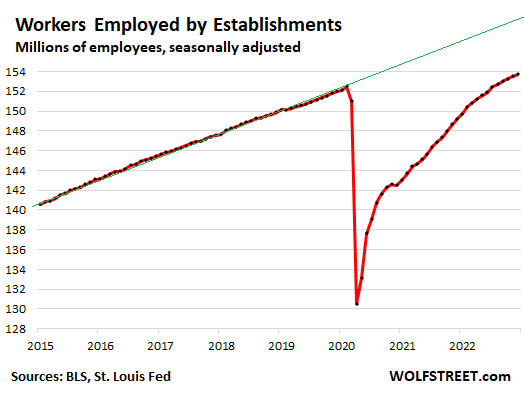 This is the same labor market we've had all year: growing, constrained by the tight labor force, which has been putting massive upward pressures on wages, as employers have struggled to hire and retain workers.
Similar data has been provided by payroll processing company ADP throughout 2022, as have other data sets. They all confirm the same scenario: A growing labor market, constrained by the labor force, which is putting pressure on wages, amid large-scale churn in the labor market as workers quit jobs to take better-paying jobs somewhere else, thereby spreading wage pressures throughout the economy.
But wage pressures are now abating.
Average hourly earnings of production and nonsupervisory employees – engineers, teachers, bartenders, technicians, drivers, retail workers, etc.  who do not manage other people – rose by just 0.2% in December from November, the smallest increase in two years, and now in the middle of the range of the years before the pandemic.
But note: This was a very large drop from the prior months, and such large drops in this volatile month-to-month data tend to get reversed at least partially in the following months. So my bet is that we will see at least a partial reversal over the next few months to a higher month-to-month growth rate:
On a year-over-year basis, average hourly earnings of production and nonsupervisory employees rose by 5.0%, well above pre-pandemic growth rates, but the smallest increase in two years: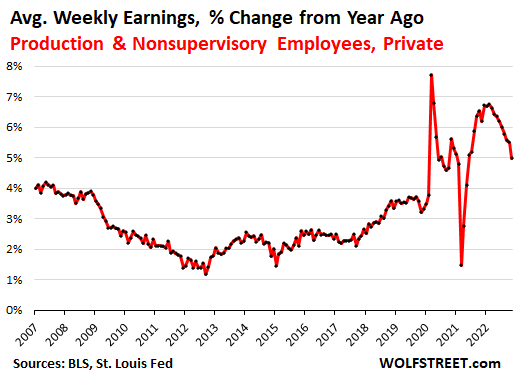 Annual pay increases per payroll processor ADP showed similar trends, based on payroll processing data from its client base. ADP splits the pay increases for workers who stay in their jobs, and for workers who change jobs.
Workers change jobs to make more money. The widening gap in wage increases for these "job changers" over "job stayers" has shown just how pressured employers are to hire people.
That gap widened as pressure increased in the labor market, from a gap of 3-4 percentage points in late 2020 and early 2021, to 8.8 percentage points at the peak in April 2022.
But it has since then backed off some: in December the difference was 7.9 percentage points, with job changers getting a median annual pay increase of 15.2%, while job stayers got a median annual pay increase of 7.3%.
These are still huge pay increases, but they're also down some from the even bigger increases earlier this year (data via ADP National Employment Report):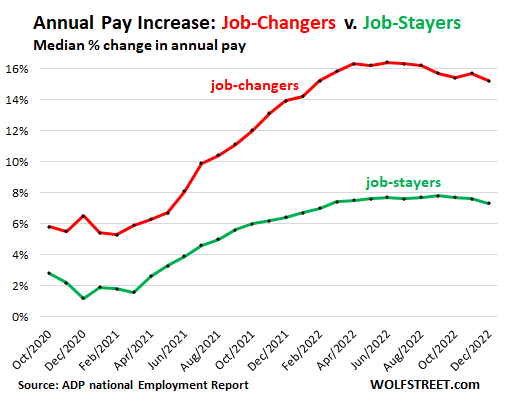 On a month-to-month basis, for job changers, the median annual pay remained flat in December from November, and barely ticked up from October.
But for job stayers, on a month-to-month basis, the median annual pay rose 0.5%, the biggest increase since July, and both of them were the biggest increases since the mega-increases in December 2021, and in January and February 2022.
These month-to-month changes are volatile, and we don't want to read too much into them. But they show:
Convincingly that the huge pay increases of late 2021 and early 2022 are not happening anymore.
Less convincingly that companies are still willing to give big raises to retain people but that the premium for changing jobs may be in the process of reverting to something more normal-ish.
Why?
The stories of layoffs at tech and social media companies, whose names everyone knows, are starting to have a psychological effect on both, employers and workers, it seems.
In the media, the theme of "layoffs" has replaced the theme of "labor shortages." There isn't a day when there isn't some story about some layoffs somewhere; but the headlines about "labor shortages" have essentially vanished.
The irony is that both exist:
There are significant layoffs at tech and social media companies, after a massively huge hiring boom over the past two years – like Amazon, it hired 800,000 people globally in two years and now announced global layoffs of 18,000.
And there are still labor shortages in other fields, including healthcare, and there are still teacher shortages in various districts, etc. But they don't show up in the media anymore. That too changes the psychology.
And there are lots of companies that are not in tech and social media but are aggressively trying to hire tech workers, and this includes the EV divisions of the legacy automakers and all kinds of industrial companies. But they may not pay what Meta used to pay, including the stock compensation packages. And they might not be all that flexible about working from anywhere. And so their job offers might have pay packages that former Meta employees might sneer at, at least for now. Maybe after a few months of not finding anything better, they might give it a second thought.
These kinds of psychological factors – currently the effects of layoff-stories everywhere and previously the effects of labor-shortages-news everywhere – are just as important to the labor market as psychological factors are to consumer price inflation, house price inflation, and stock market craziness.
Enjoy reading WOLF STREET and want to support it? You can donate. I appreciate it immensely. Click on the beer and iced-tea mug to find out how:

Would you like to be notified via email when WOLF STREET publishes a new article? Sign up here.