In addition to logistical difficulties of selling a home in the era of social distancing, there is the explosion of a historic unemployment crisis.
By the end of April, there will be 4.2 million mortgages in forbearance, or 7.6% of all mortgages, the American Enterprise Institute estimated in a note, based on forbearance data through April 19 released by the Mortgage Bankers Association yesterday.
These homeowners whose mortgages are in forbearance will not make any mortgage payments for some months, as spelled out in the forbearance agreement they have entered into with their mortgage lenders or servicers. The missed mortgage payments will be added to the remainder of the mortgage, so it's not free.
But the cash – interest and principal payments – of those mortgages has stopped flowing up the chain. Mass forbearance of this type has thrown the entire mortgage market into chaos – and what keeps it from imploding is the US government, which is purchasing or guaranteeing most mortgages written, and the Fed which is buying mortgage-backed securities issued by these government entities.
The government is on the hook for this forbearance: As of April 27, 5.9% of the mortgages on the books of Government Sponsored Enterprises Fannie Mae and Freddie Mac were in forbearance, according to the AEI, and 10.5% of the mortgages on the books of government agency Ginnie Mae were in forbearance.
March deals plunge.
Pending home sales – signed contracts that haven't closed yet – are an indication of closed sales a month or two down the road. These contract signings on existing homes in March plunged by 20.8% from February, and were down 16.3% from March last year, according to the National Association of Realtors today.
But this decline is an average of the first half of March which was likely in the normal range, and the second half of March, when the lockdowns were implemented, and when sales volume plunged more steeply. Nevertheless, it took the index back to the 2010-2011 housing-crisis range. And many of these contracts might not close; failure rates can be high even in good times, and are likely higher now.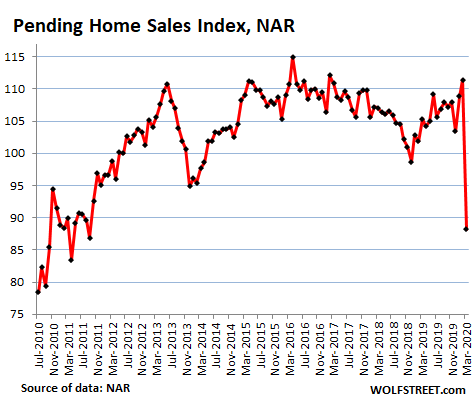 April deals plunge.
The number of mortgage applications to purchase a home in the US during the week ended April 24 ticked up from the dismal levels of the prior three weeks, but were down 20% from a year ago, and were down 34% from the peak at the end of January, the Mortgage Bankers Association reported today. It was the sixth week in a row of year-over-year plunges. For the first four weeks of April, the index has plunged 31% compared to the same period last year.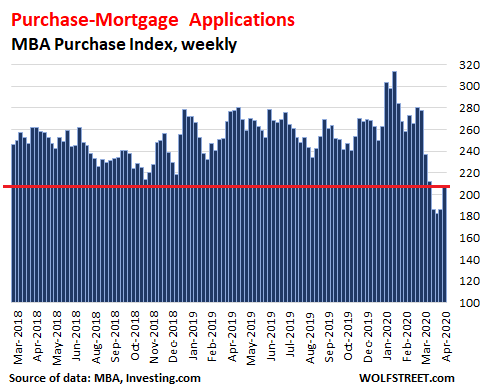 The purchase mortgage applications data – based on weekly surveys of banks, nonbanks, and thrifts that cover three-quarters of all residential mortgage applications – is an early indication of demand by regular people who need or want a mortgage to buy a home.
But this does not include demand by buyers who don't need a mortgage from a lender in the US, including some formerly prolific buyers that have now pulled backed and their disappearance is not reflected in the mortgage data:
Nonresident foreign investors who bring cash or finance their purchase overseas; they have largely been locked out due to travel restrictions.
Large US buy-to-rent investors that fund purchases at the institutional level; they're now struggling with turmoil in the lending markets and uncertain demand for rental housing.
But the drop in demand from these buyers is not reflected in the mortgage application data. This drop in demand will show up later in the home sales data.
New York, Washington, California.
In the states that kicked off the virus-control measures first, mortgage applications dropped earlier and more than the national average, according to the MBA.
Of the three states – California, New York, and Washington – purchase mortgage applications plunged the most in New York, with year-over-year declines that reached 60% in the week ending April 3. Since then, the year-over-year declines have backed off a tad, but remain huge: -50% in New York, -37% in Washington, and -34% in California: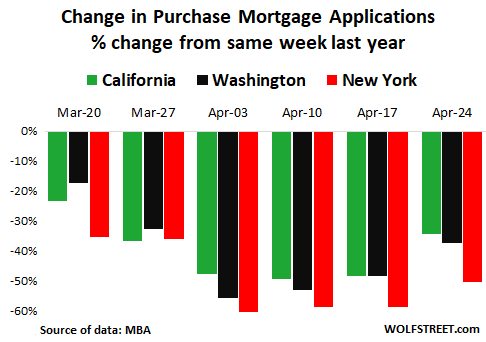 Refis not quite as hot, but still hot.
Low mortgage rates have motivated homeowners with existing mortgages to refinance their mortgages in past weeks, but the enthusiasm of early and mid-March has waned a bit.
Applications for refi mortgages in the week ended April 24 ticked down from the prior two weeks and were down 39% from early March, but were still triple the volume of the same week last year. Refis accounted for 72% of all mortgage applications.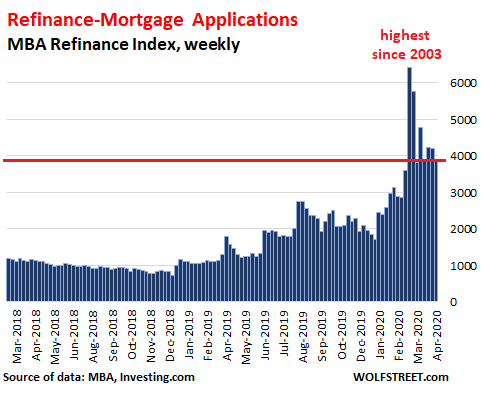 Real estate brokers and their potential customers are now trying to use online tools to the extent possible in the sales process, with virtual open houses, e-signings, and the like. And some deals are being made.
But for many people, this just isn't a great time to buy a home: Initial unemployment claims have already reached 26.5 million over the past five weeks and will reach 30 million over the next couple of weeks; and many people who've lost their income are not eligible to file for unemployment and are not in the unemployment claims data.
Other people are looking at their jobs that they still have and that used to be promising and are confronted with layoff news that keep rippling across the screen, such as those now at Uber and Lyft. People whose jobs have vanished – even if it's presumed to be temporary, and even if the income will be replaced by unemployment insurance – and people who are in the process of losing their jobs, just aren't going to buy a home, and even if they wanted to, they wouldn't qualify for a mortgage.
In addition to the logistical difficulties of selling a home and closing a deal in the era of social distancing, there is the issue of economic uncertainty and the explosion on the scene of a historic unemployment crisis. And that explains the volume declines we're now seeing in the various preliminary measures of the housing market in the range of -20% to -50%.
Unsecured bonds of Macy's, the largest still existing department store in the US, crashed 53% since Feb 14. But Macy's has been living off its real estate portfolio of "owned boxes" for years by selling them. Read... Can Macy's Survive this Crisis Without Filing for Bankruptcy?
Enjoy reading WOLF STREET and want to support it? You can donate. I appreciate it immensely. Click on the beer and iced-tea mug to find out how:

Would you like to be notified via email when WOLF STREET publishes a new article? Sign up here.