Q4 is falling apart before everyone's astonished eyes, and a "technical recession" beckons.
"Unexpectedly," German industrial production fell 3.9% in December 2018 compared to December 2017, after having fallen by a revised 4.0% in November, according to German statistics agency Destatis Thursday morning. These two drops were steepest year-over-year drops since 2009.
Even during the European Debt Crisis in 2011 and 2012 – it hit Germany's industry hard as many European countries weaved in and out of a recession, with some countries sinking into a depression — German industrial production never fell as fast on a year-over-year basis as in November and December: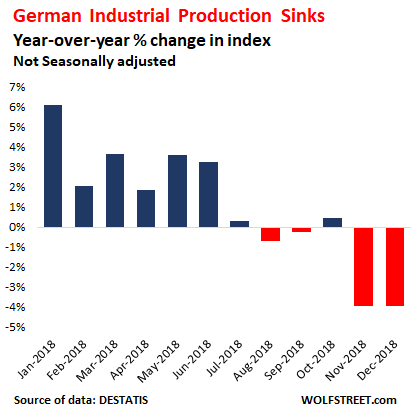 The declines on a year-over-year basis were broad: Without construction, industrial production fell 3.9% year-over-year in December, after having fallen 4.5% in November. And just manufacturing production, which includes mining and quarrying, fell 4.0% year-over-year in December, after having fallen 4.6% in November.
On a longer-term scale, the industrial production index peaked in May 2018 and has since fallen 4.6%. It is now back where it had first been in February 2017: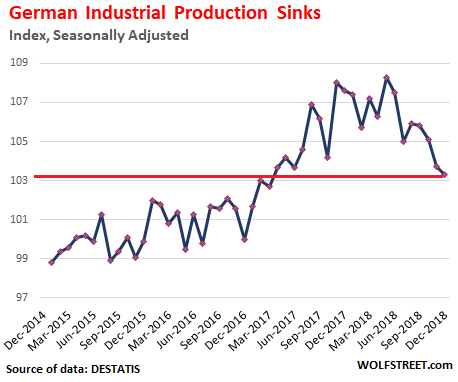 And industrial production is not getting a whole lot better any time soon as new orders for the manufacturing sector have plunged – according to data released by Destatis on Wednesday.
New orders dropped 7.0% year-over-year in December (adjusted for calendar differences), after having fallen 3.4% in November and 3.0% in October. In fact, orders have fallen seven months in a row on a year-over year basis in ever larger drops. The chart below shows the decline in each month compared to the same month a year earlier — with a sharp deterioration at the end of the year: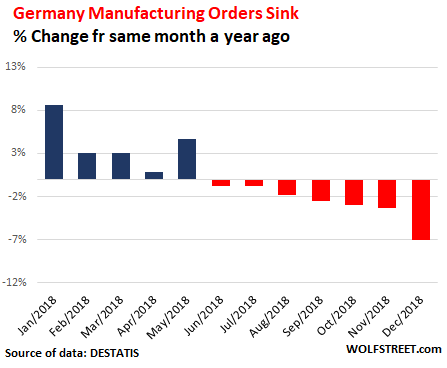 Orders from within Germany aren't the biggest problem: They fell by "only" 2.6% year-over-year, though it was the fifth straight month of year-over-year declines.
The real problem is this: Orders from foreign countries plunged by 9.7% year-over-year in December, and within that group orders from non-euro countries fell 8.5%, while orders from the euro countries plummeted 11.6% year-over-year in December. It's the Eurozone again. Note that the chart above and the chart below are on the same scale: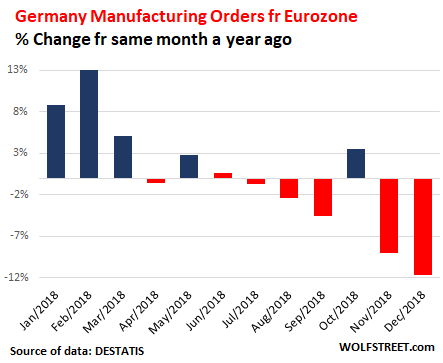 This puts Germany's fourth quarter GDP one step closer to a "negative growth" number, which would be the second quarter in a row of declines, and thus a "technical recession." Hopes are resting on consumers and services – but they too have been weakening toward the end of 2018.
The German government has already serially lowered its projections for GDP growth for the whole year 2018 to just 1.0%, after a solid first half. But with Q3 already on the books as a decline and Q4 falling apart before everyone's astonished eyes, the government's projection may still be too optimistic.
A big problem within that bunch is the vast and coddled German auto industry — the automakers and their suppliers in Germany. The German auto industry has been hit hard by the plunge in auto sales in China in Q4, and by the serious drop in auto sales in Europe over the last four months of the year. Read…  4 Months of Carmageddon in the EU Wipe Out Gains for 2018
Enjoy reading WOLF STREET and want to support it? Using ad blockers – I totally get why – but want to support the site? You can donate. I appreciate it immensely. Click on the beer and iced-tea mug to find out how:

Would you like to be notified via email when WOLF STREET publishes a new article? Sign up here.

Classic Metal Roofing Systems, our sponsor, manufactures beautiful metal shingles:
A variety of resin-based finishes
Deep grooves for a high-end natural look
Maintenance free – will not rust, crack, or rot
Resists streaking and staining
Click here or call 1-800-543-8938 for details from the Classic Metal Roofing folks.