Ford is big loser, Hyundai-Kia big winner, and Opel is someone else's problem.
Sales in the EU of passenger vehicles dropped 8.4% in December compared to a year earlier. It was the fourth month in a row of sharp year-over-year declines that wiped out the growth of the first eight months of 2018:
Sep: -23.5%
Oct: -7.3%
Nov: -8.0%
Dec: -8.4%
The ACEA (French acronym for European Automobile Manufacturers Association), which reports the EU registration data, blamed this debacle on the "introduction of WLTP in September." This is the new emissions and fuel-economy testing procedure for automakers in the EU.
There was a tsunami of discounting by automakers over the summer to get the maximum number of vehicles registered before September 1, when WLTP would become effective.
For example, in August, VW warned that only about half of its major VW models in Germany, such as the Golf, were compliant with the new testing regime. And the non-compliant units had to be either sold before September 1, or recertified under the new regime.
Hence the herculean efforts by automakers to boost registrations by hook or crook before the September 1 deadline. This included the common strategy in the EU of automakers registering their own units as sold to pump up the numbers and beat the September 1 deadline. This had pulled a lot of sales forward. So in June registrations rose by 5.2% year-over-year, in July by 10.5%, and in August by a whopping 31.2%.
The noncompliant vehicles that were not delivered before September 1 had to be recertified under the new standard. So after front-loading registrations, which had pumped up the numbers over the summer, there was a hangover in September, when registrations plunged 23.5%.
But in early October, most of the recertification problems had been solved. For example, VW announced October 5 that all its bestsellers were compliant with the new regime. And yet, sales continued to drop every month since.
After these four months of steep declines that followed the front-loading over the summer, registrations in the year 2018, including the units automakers registered in their own names to beat the deadline, eked out a gain of just 0.1%, to 15.16 million vehicles across the EU. The industry can now claim a fifth year in a row of growth: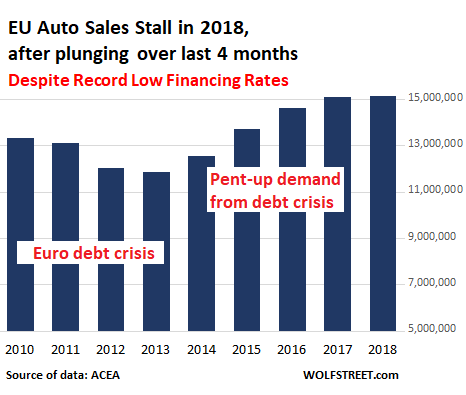 The Big Five markets in the EU – with the smallest of them, Spain, selling more vehicles than the combined sixth and seventh largest, Belgium and Poland – presented a mixed picture for 2018, with registrations falling in Germany, the UK, and Italy, but rising in France and Spain:
Registrations by Country in 2018
Germany
-0.2%
3.44 million
UK
-6.8%
2.37 million
France
3.0%
2.17  million
Italy
-3.1%
1.91 million
Spain
7.0%
1.32 million
Demand growth was driven by Central European countries where new car registrations rose by 8.0% in 2018. In tiny Lithuania, registrations soared by 25.4% (to 32,447 for the entire year). In Poland, registrations jumped 9.4% to 531,900. Registrations also soared in Bulgaria by 9.9%, in Hungary by 17.4%, in Croatia by 18.7%. In Southern Europe, registrations in Greece jumped by 17.4%. But many of these markets were also hit by sales declines at the end of the year.
VW Group – Volkswagen, Skoda, Audi, SEAT, Porsche – nudged up its market share in the EU to 23.8% in 2018, far ahead of number two, PSA Group, which now includes Opel-Vauxhall. Total registrations of 3.61 million vehicles inched up less than 1% from the prior year: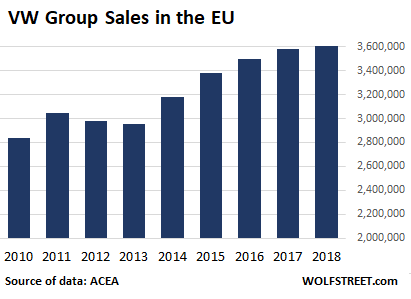 By contrast, Ford, which has been struggling in the US and is getting crushed in China, is also facing difficulties in the EU, with sales dropping for the second year in a row. They're now down 5.5% from 2010! Over the same period, Ford's market share swooned from 8.1% to 6.4%: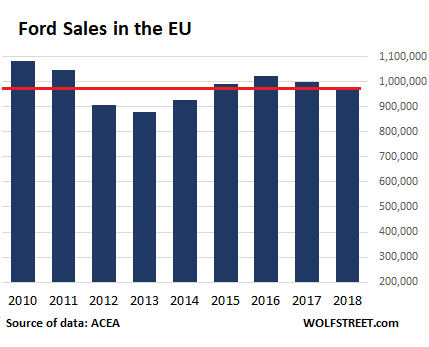 Then there is the story of Opel, which until 2017 was GM's problem, and which is now the problem of French automaker PSA. During the transition year, sales collapsed, and there was some reshuffling. But 2018 should give an indication where this is going: registrations were down 11% from 2016 and 12% from 2010! Market share dropped from 7.4% in 2010 to 5.4% in 2018: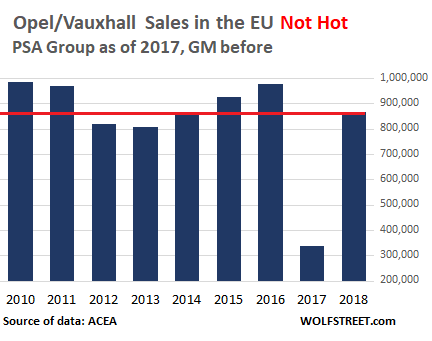 At the other end of the spectrum, in terms of success, is the Korean automaker Hyundai-Kia whose sales growth barely slowed down even during the euro debt crisis. Combined sales have surged 68% since 2010 and in 2018 exceeded 1 million units for the first time ever, leaving both Ford and Opel/Vauxhall in the dust. Market share has jumped from 4.5% to 6.7% over the nine years.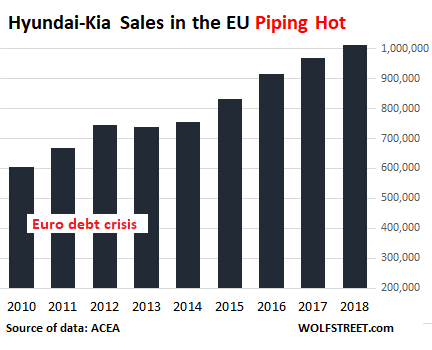 2018 was marked by record low interest rates on consumer loans, thanks to the ECB's interest rate repression that consisted of its negative-interest-rate policy and QE. These low interest rates might have boosted purchases over the past few years. But toward the end of 2018, they no longer seemed to have any magic in them. Also the pent-up demand from the euro-debt crisis – it had pushed sales down sharply from 2011 through 2013 – helped sales over the past few years, but that demand too seems to have been exhausted.
Enjoy reading WOLF STREET and want to support it? You can donate. I appreciate it immensely. Click on the beer and iced-tea mug to find out how:

Would you like to be notified via email when WOLF STREET publishes a new article? Sign up here.