But freight rates remain red hot.
Freight shipment volume across all modes of transportation – truck, rail, air, and barge – in December declined about 1% from a year earlier, according to the Cass Freight Index, the first year-over-year decline since the transportation recession of 2015 and 2016, and the latest mark that the phenomenal mind-bending transportation boom with its double-digit surges has ended. The index covers shipments of merchandise for the consumer and industrial economy but does not include bulk commodities, such as grains or chemicals.
The chart below shows how freight volume changed from the same month a year earlier. This year-over-year comparison eliminates the noise caused by seasonal fluctuations. But it does show the notorious cyclicality of the business, including the extraordinary surge in volume in late 2017 and in the first half of 2018 with 12% jumps in January, March, and May. But the last four months of 2018 unwound that boom: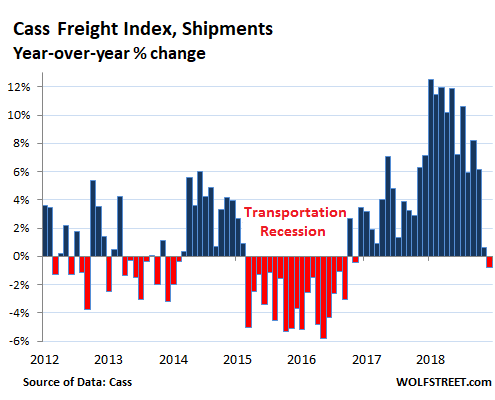 A good barometer for the industrial sector is demand for flatbed trailers. They haul equipment and supplies for construction, manufacturing, oil-and-gas drilling, etc. Demand for flatbed trailers surged in early 2018 as capacity suddenly tightened. This was in part due to the newly required use of Electronic Logging Devices (ELDs), and in part due to a sharp increase in demand.
As a result, the Flatbed Monthly Load-to-Truck Ratio by DAT, which tracks demand-capacity imbalances, skyrocketed off the chart. Then as the industry figured out how to deal with ELDs just as a slowdown in the industrial sector set in, particularly oil & gas, the average load-to-truck ratio plunged back to earth and was down 41% from December a year ago, before the spike had even occurred: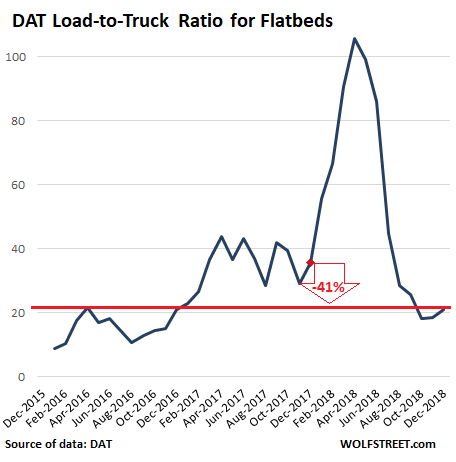 Despite the slowdown in shipments, freight rates and surcharges continued to rise in December. The Cass Truckload Linehaul Index, which tracks per-mile full-truckload pricing and does not include fuel or fuel surcharges, rose 7.2% in December compared to a year ago. But a year ago, it had already risen sharply. The double-digit spike in truckload pricing around July and August had been the largest year-over-year increases in the data going back to 2005: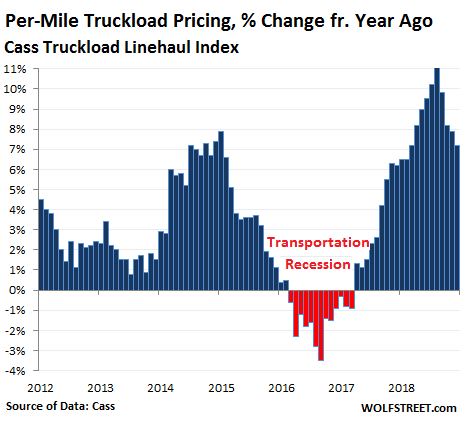 Yet, the average price of diesel at the pump, according to EIA data, has declined 13% from the cycle peak in October to $2.96 per gallon in the latest reporting week, dipping below where it had been a year ago: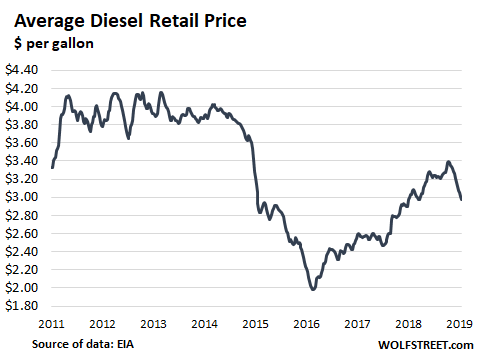 And the Cass Intermodal Price Index, which does include fuel prices and fuel surcharges, rose 8.6% in December compared to a year ago, after six double-digit increases in a row! Intermodal freight in the US is a combination of truck and rail, such as containers hauled by truck and then transferred to rail, or semi-truck trailers that piggyback on special rail cars: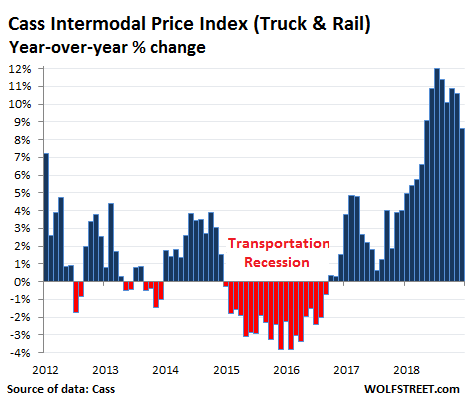 The total amount companies spent on shipping their merchandise via all modes of transportation – by truck, rail, air, and barge – jumped by 10% in December compared to a year ago. This is the result of slightly lower shipment volume and much higher prices. Over the past 15 months, the index booked double-digit year-over-year increases in all but one of them: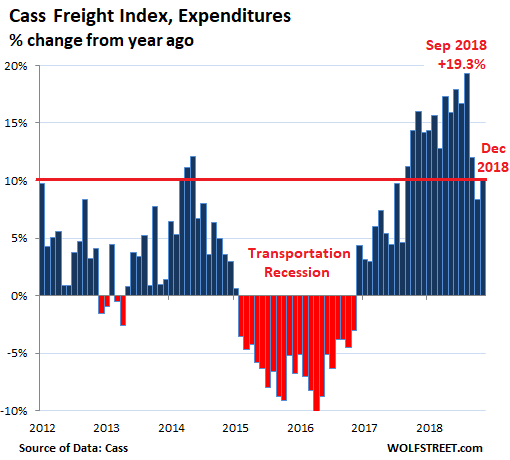 But declining volume – meaning slightly lower demand for transportation services – in addition to the planned capacity addition in trucking, as evidenced by the record number of Class 8 truck orders through last summer, makes me think that these surging prices will self-correct soon.
The transportation industry faces the consequences of large buildup of inventories that companies undertook perhaps to front-run a spate of tariffs, or that built up because sales of goods were just a little less than expected month after month. When these companies respond to the inventory situation by reducing their orders, they will also need less transportation services. This is one of the factors that makes this industry so cyclical. And this is why this industry is a useful barometer of the goods-based economy.
In December, orders for new Class-8 trucks plunged by 43% from a year ago, to just 21,000 orders, the lowest since August 2017, and down by 60% from August 2018. Read…  Trucking Boom Ends, Next Phase in Cycle Starts
Enjoy reading WOLF STREET and want to support it? You can donate. I appreciate it immensely. Click on the beer and iced-tea mug to find out how:

Would you like to be notified via email when WOLF STREET publishes a new article? Sign up here.