But first-time buyers cling to hope.
Sales of newly built detached houses in Australia plunged 6.7% in December 2018 from November, to just 4,622 houses, according to the Housing Industry Association (HIA), easily whizzing by the prior record low of 4,769 sales in August (chart via TradingEconomics.com):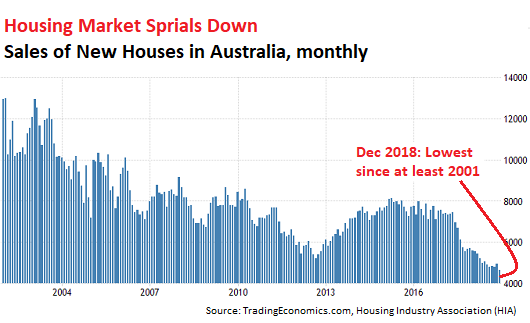 In the fourth quarter of 2018, sales plunged 14.9% compared to the fourth quarter in 2017. On this year-over-year quarterly basis, sales fell in all states and territories. Here are the results for the most populous states:
Queensland: -26.5%
New South Wales: -18.8%
Victoria: -10.9%
Western Australia: -7.9%
South Australia: -0.3%
The HIA report blamed "regulatory interventions" – in other words, the long overdue regulatory crackdown on mortgage fraud, the Royal Commission investigation into wrongdoing at the banks, and a crackdown on excessive housing speculation – for the decline:
Regulatory interventions in the lending market restricted access to credit for some home buyers and this was the catalyst for the broader housing market slipping into the contractionary phase, characterized by a softening in prices and a drop in the number of property transactions.

The tighter credit environment has been a factor in the reduction in new home sales, but the deterioration in the broader housing market has also dented household confidence.

Would-be new home buyers are far more cautious and this translates into weaker demand for new housing.
And this time it's not rising interest rates that have caused the downturn: Mortgage rates in Australia are near record lows, and the policy rate of the Reserve Bank of Australia is stuck at a record low 1.5%.
Instead, the downturn was triggered by sky-high prices in one of the world's most fabulous housing bubbles that smacked into a regulatory crackdown on some of the elements that had made those sky-high prices even possible: Mortgage fraud, bank wrongdoing, reckless lending, and excessive property speculation aided and abetted by the banks.
And so, as a consequence, the housing market in Australia, particularly in Sydney and Melbourne metros, has started spiraling down viciously.
And given these price drops – in Sydney, prices have already fallen by the double digits – and the regulatory crackdown, investors no longer have the hots for speculating in this market, and banks no longer have the hots for lending to them.
Interest-only mortgage were a favorite with investors. Then regulators limited the big banks in terms of what portion of their originations could be interest-only mortgages, and banks looked at speculators with greater scrutiny. And now, according to CoreLogic, interest-only mortgages have plunged from 45.6% of purchase-mortgage originations in 2015 to just 16.1% at the end of 2018.
This is by far the lowest investor share in the data going back over a decade. Even in 2008, during the Financial Crisis, interest-only mortgages bottomed out at a share of 27%.
New mortgage commitments to investors in December plunged by 17.9% year-over-year, according to CoreLogic, and are down nearly 33% from the speculative peak in 2015, before the crackdowns started. But wait…. Investors are still very active – just somewhat less so. The share of purchase-mortgage commitments to investors dropped to a still high 41.6%, but that's down from the speculative peak in 2015 of nearly 55% (chart via CoreLogic):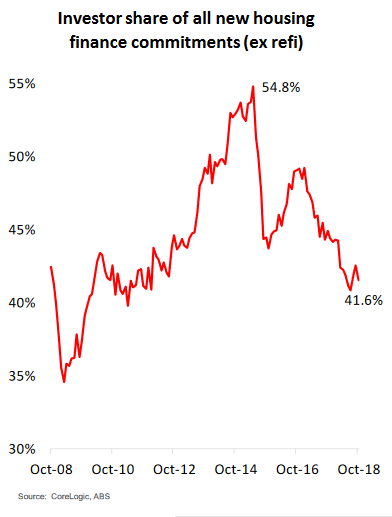 But first-time buyers are still trying to buy, and demand from them has increased in 2018, according to CoreLogic, "on the back of incentives, falling investor demand, and falling values in the largest cities." But in the big cities, they're mostly limited to buying lower-end condos, and not single-family detaches houses.
So for now, much of the impetus for the deflation of the housing bubble comes from a portion of investors and speculators that are trying to stay out of the way of the steamroller.
While prices at the low end — realm of the first-time buyers — are hanging on, prices of more expensive homes are falling at a rapid clip. But it wasn't the central bank that pricked the bubble. Read....  The Housing Bust in Sydney & Melbourne, Oh My!
Enjoy reading WOLF STREET and want to support it? You can donate. I appreciate it immensely. Click on the beer and iced-tea mug to find out how:

Would you like to be notified via email when WOLF STREET publishes a new article? Sign up here.