Wall Street's hope for a dovish Fed may not be entirely fulfilled, it seems.
Wall Street has been abuzz about a "dovish" turn by the Fed — or even a "U-turn." So, today the Fed released the minutes of the FOMC meeting on December 18-19, during which it voted for the fourth rate hike in 2018, and the ninth in this cycle, bringing its target for the federal funds rate to a range between 2.25% and 2.50%. The WOLF STREET Fed hawk-o-meter checks the minutes for signs that the Fed believes the economy is strong and that "accommodation" needs to be further removed by hiking rates.
The hawk-o-meter measures how many times the minutes use the word "strong," "strongly," and "stronger." In the December meeting minutes, released this afternoon, the mentions of "strong," "strongly," and "stronger" edged down for the third meeting in a row, this time by two points, to 25. But even in this range, the hawk-o-meter is still redlining: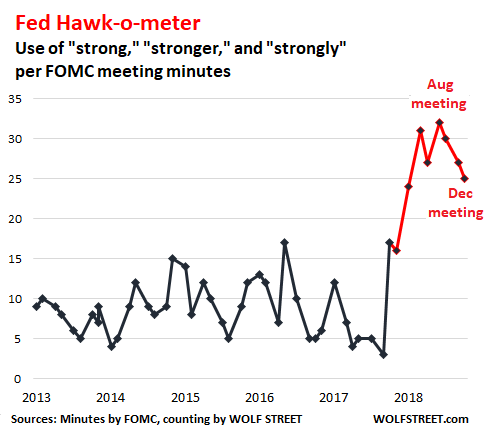 There was one fake strong, so to speak, in the minutes, which happens occasionally, and I removed it from the tally. But this one was interesting because it showed what some or the Fed's new concerns are: "Equity markets in AFEs [advanced foreign economies] posted notable declines, and Europe-dedicated bond and equity funds reported strong outflows."
The average frequency of "strong," "strongly," and "stronger" between January 2013 and December 2017, before the hawk-o-meter started redlining, was 8.7 times per meeting minutes. In the December meeting minutes, the 25 mentions were still 187% higher than that non-redline average.
The average over the past six meeting minutes when the hawk-o-meter redlined (May, June, August, September, November, December) inched down to 28.7 times (from 29.4 after the November meeting).
"Strong," "strongly," and "stronger" appeared in phrases like these:
"Real GDP growth was strong"
"Job gains were strong"
"Household spending continued to increase at a strong pace"
"CRE [Commercial Real Estate] loan growth remained strong at banks"
"With some stronger-than-expected incoming data on economic activity"
"The staff continued to expect that real GDP growth would be strong in the fourth quarter of 2018, although somewhat slower than the rapid pace of growth in the previous two quarters"
"The labor market had continued to strengthen and that economic activity had been rising at a strong rate"
"Participants generally characterized real PCE [Personal Consumption Expenditures] growth as remaining strong"
"The economy was evolving about as anticipated, with real economic activity rising at a strong rate, labor market conditions continuing to strengthen, and inflation near the Committee's objective."
There were also references to "moderated," for example:
"The pace of gross equity issuance through both seasoned and initial offerings moderated, consistent with the weakness and volatility in the stock market"
"Growth of business fixed investment had moderated from its rapid pace earlier in the year"
"Reports from business contacts and surveys in some other Districts suggested some moderation in inflationary pressure"
"Though financial conditions had tightened and global growth had moderated, members generally anticipated that growth would remain above trend"
"Gross issuance of corporate bonds also moderated in November, driven by a significant step-down in speculative-grade bond issuance, while institutional leveraged loan issuance also slowed in November."
And a new world: "patient."
The minutes introduced a new phrase that Fed governors have in recent days also used repeatedly in their speeches: "patient" – as "many participants" thought that the FOMC "could afford to be patient about further policy firming."
They're going to let the dust settle before hiking rates further in order to assess:
"How the risks that had become more pronounced in recent months might unfold and to what extent they would affect economic activity
The effects of past rate hikes "which were likely still working their way through the economy."
That last phrase concerning the effects of the past rate hikes "still working their way through the economy" refers to the well-documented lag between changes in monetary policies and actual tightening of financial conditions.
But future rate hikes are not off the table.
Changes in monetary policy have no impact unless they're transmitted to the markets. This transmission takes time. In a rate-hike cycle, the policy changes are being successfully transmitted once "financial conditions" begin to tighten. This shows up, for example, in widening spreads between Treasury yields and junk-rated corporate bond yields. Historically, the lag was 12-18 months. But in this rate-hike cycle, the lag was around 32 months. So, from this point of view, it's better to wait until the new scene fully unfolds.
But future rate hikes are not off the table. FOMC meeting participants "generally judged that some further gradual increases" would "likely" be appropriate. Yup, that hawk-o-meter is still redlining, just a little less so.
Enjoy reading WOLF STREET and want to support it? You can donate. I appreciate it immensely. Click on the beer and iced-tea mug to find out how:

Would you like to be notified via email when WOLF STREET publishes a new article? Sign up here.