With Seattle's economy still strong, the downturn isn't caused by layoffs & defaulting mortgages. The fabulous bubble has run out of steam on its own.
Inventory of houses and condos for sale in King County – which includes Seattle and Bellevue but does not include Tacoma – surged 148% in December, compared to December last year, to 4,017 active listings, according to data by the National Association of Realtors.
Active listings started piling up in the spring 2018 when levels were still very low. By July, when active listings reached the highest level since October 2014, the underlying dynamics of the housing market in King County had clearly changed direction. Since then, active listings exploded higher. This chart shows the year-over-year percentage changes, with the red bars denoting the new era of bubble trouble (all data via the National Association of Realtors at realtor.com):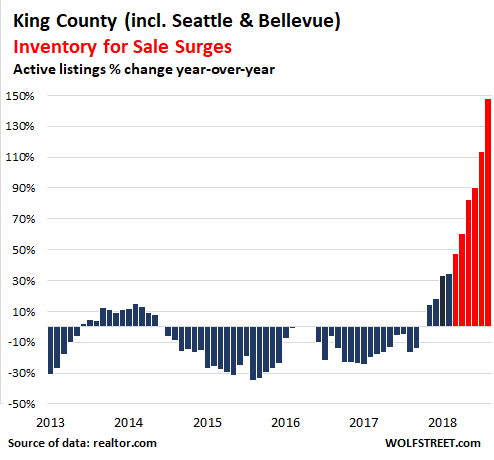 Surging inventories mean that sellers have to actually compete for buyers, rather than just trying to fend off jostling buyers during crazy bidding wars, which are now a quaint memory of the past. And motivated sellers compete by trying to get the price to where the buyers are. When the price is right, the property will sell quickly. But when the price is based on some aspirations from yesteryear, the property will sit. So the game of cutting listing prices has commenced.
The listing price is the advertised price of the property. And in December, price cuts exploded, skyrocketing by 372% from December 2017. This chart shows the year-over-year percentage change for each month. Bubble trouble in red: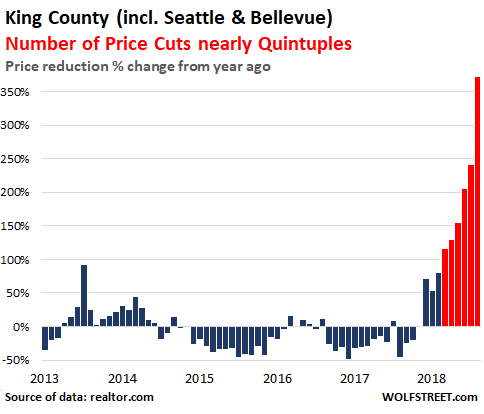 December can be a squirrely month for real estate, with the two holiday weeks mucking up the normal process of business. Sellers pull properties off the market. Buyers are scarce because they have other things to do, etc. So it's important to compare December to December. And we do.
And these price reductions impact the median listing price – the dividing line, where half the properties are advertised for more, and half for less. It differs from the median selling price which is determined by closed home sales.
In King County, the median listing price peaked in May at $742,000. It then dropped six months in a row and ticked up one notch in December, to $668,550, just above where it had first been in May 2017. It is down $73,450 or 9.9% from the peak: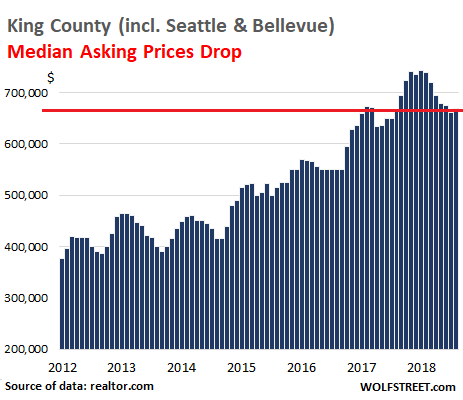 The double-digit year-over-year increases in asking prices during the heyday of the bubble were whittled down months after month. By December 2018, the year-over-year increase was down to almost nothing (0.5%):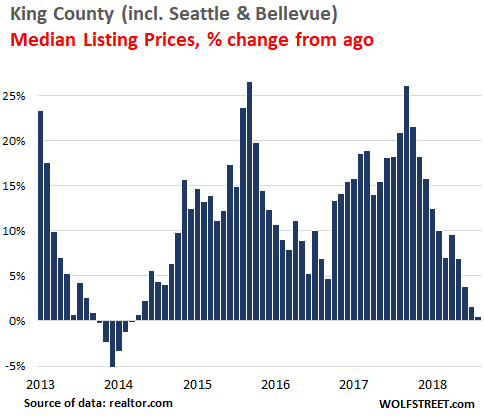 And the time it takes to sell a property has spiked to 61 days in December, up 30% from 47 days in December 2017, and the longest period for any month since January 2015. Note the strong seasonality with December generally being the slowest month: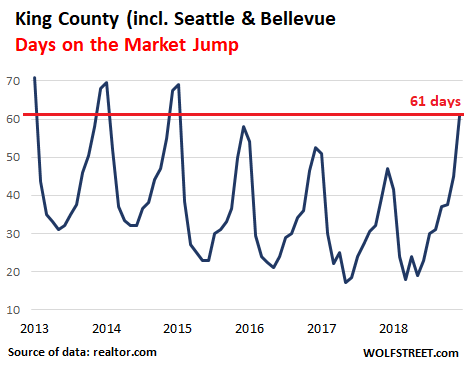 These dynamics have made an impact on selling prices – the prices at which properties are actually sold and the sales are closed. Even the Case-Shiller Home Price Index, which is a rolling three-month average and lags about three months, is showing that impact. The most recent reading, released on December 26, covers August, September, and October. After spiking for months into June, prices turned around and dropped 4.4% in four months, the biggest four-month drop since December 2011 during Housing Bust 1: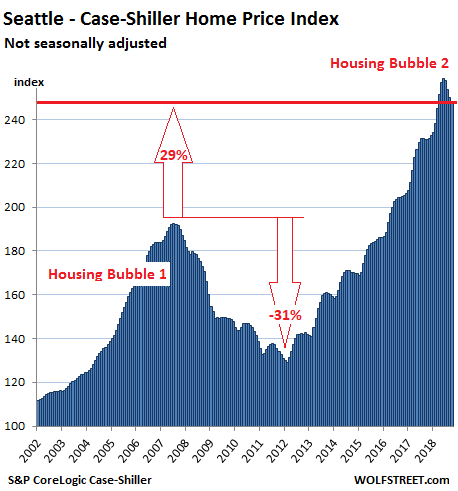 But in Seattle, as in the Bay Area, the economy is still strong, and this housing downturn has not been caused by people losing their jobs and defaulting on their mortgages. Instead, this fabulous housing bubble is just running out of steam on its own, after having outrun household incomes for years. It's weighed down too by higher mortgage rates – though, ironically, given the deterioration in the housing market, mortgage rates have been inching down for two months.
In Silicon Valley and San Francisco, the housing downturn commenced over the summer, but this time it's not a result of a tech bust. That tech bust hasn't happened yet. Read… Housing Bubble Trouble in Silicon Valley & San Francisco
Enjoy reading WOLF STREET and want to support it? You can donate. I appreciate it immensely. Click on the beer and iced-tea mug to find out how:

Would you like to be notified via email when WOLF STREET publishes a new article? Sign up here.