Bottom fishers were taken out the back and shot.
It just doesn't let up with Deutsche Bank — or with European banks in general. A new day, a new scandal, a new historic low in the share price that has been in a death-spiral for over 10 years. Deutsche Bank shares plunged 7% today in Frankfurt, to a new historic low of €7.00, after briefly threatening to close at an ignominious €6.99. Its market cap is now down to just €14 billion. The stock has plunged 56% so far this year: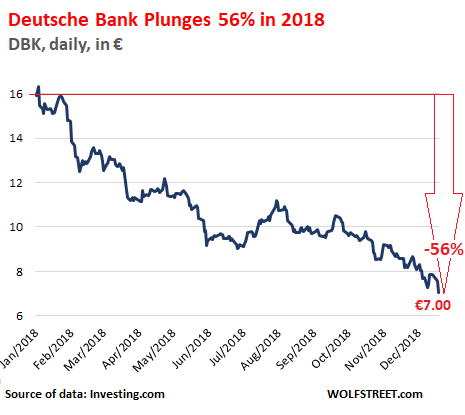 The European Commission — the executive branch of the EU — after nearly three years of investigating this, announced today that is suspects four unnamed banks of colluding to manipulate the vast market for US-dollar-denominated government-backed bonds between 2009 and 2015.
"The European Commission has informed four banks of its preliminary view that they have breached EU antitrust rules by colluding, in periods from 2009 to 2015, to distort competition in secondary market trading in the EEA of supra-sovereign, sovereign and agency (SSA) bonds denominated in US Dollars," the statement said.
The Commission has "concerns" that the four banks "exchanged commercially sensitive information and coordinated on prices…," it said. "These contacts would have taken place mainly through online chatrooms."
Deutsche Bank and Credit Suisse confirmed that they are among the four.
This is just the latest in an endless series of allegations of wrongdoing and costly settlements of such cases. This is in addition to the bank's bulging portfolio, so to speak, of operational and financial problems.
Deutsche Bank's contingent convertible bonds — designed to be bailed in when the bank's regulatory capital falls below a certain level — are a measure of what the market thinks about the chances of such an event. They're unsecured perpetual bonds that can be canceled when regulators think the bank needs more capital to avoid toppling. In this event, stockholders and Co-Co bond holders would likely get wiped out by taking the first loss. Other creditors might get a haircut. And taxpayers would be shanghaied into paying for further capital if needed.
With these risks, Co-Cos have a fairly high coupon payment to begin with, to make them attractive. And now the 6% Co-Cos are at it again, giving their opinion about the chances of a bail-in – they have been plunging, closing today at 83.6 cents on the euro: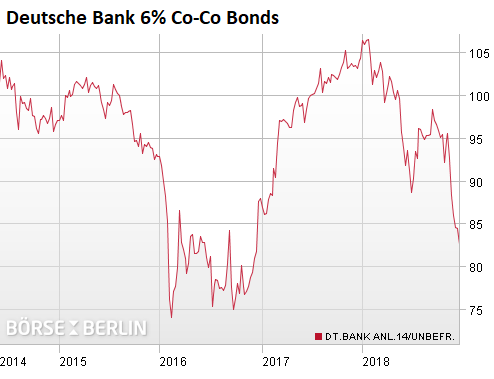 Deutsche Bank's stock has been in a death-spiral since 2007, following an intense price bubble that ensued as the once conservatively run bank for Germany Inc. and German retail customers transitioned to becoming a global player in just about everything that has caused banks to collapse. Bottom fishers were regularly taken out the back and shot.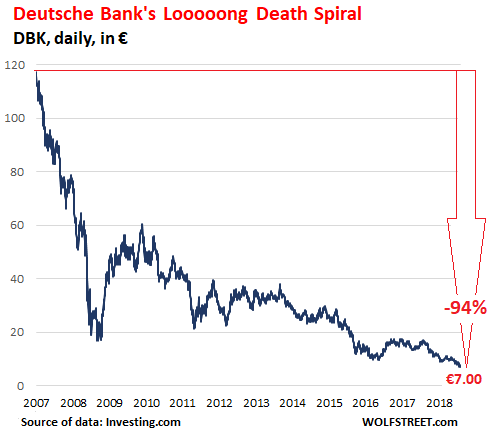 But it's not just Deutsche Bank. The outfit is an example of a broader development in Europe where the years following the financial crisis, the years of zero-interest-rate policy and negative-interest-rate policy — ZIRP and NIRP — weren't used to rebuild bank capital and clean up balance sheets and get rid of non-performing loans, but were instead used to prop up the sovereign debt of euro countries whose governments can't handle a hard currency they can't devalue, such as Greece, Italy, Spain, and Portugal. Propping up government debts worked.
But the banks, the financial infrastructure of an economy, are a massive unfixed risk. Under the new rules, bailouts would now wipe out, or at least crush, shareholders and some junior creditors, such as Co-Co bondholders, before taxpayers will be shanghaied into cleaning up the rest.
Today the stocks of European banks, as depicted by the Stoxx 600 Banks index, dropped 2.5%. The index has plunged 33% from its 52-week high in January: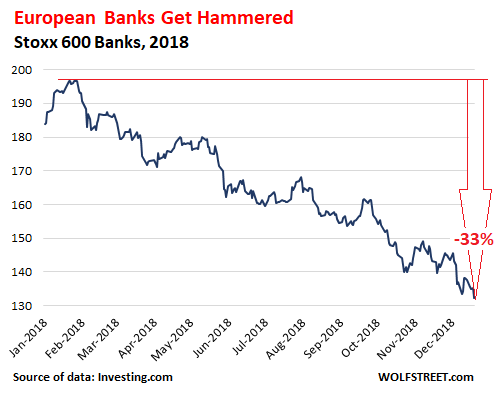 But going back a decade, this 33% plunge is just a dimple, compared to the epic 75% collapse since the European bank peak in 2007 that rivals the Nasdaq-collapse of 78% in 2001-2003. The Nasdaq has more than recovered, while the European banks are just bumping along from hopeless to hope and back to hopeless: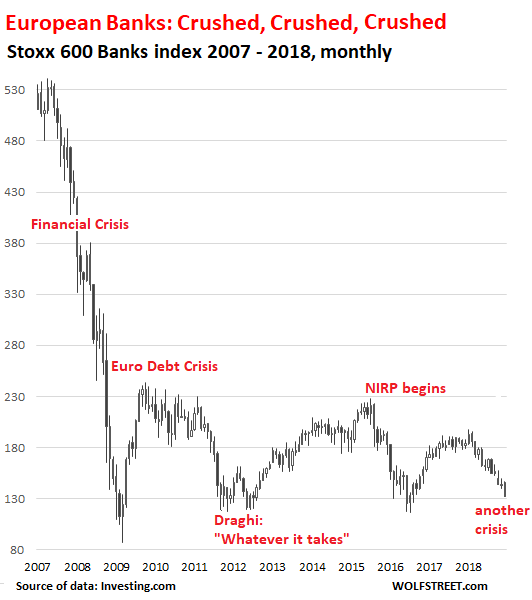 Clearly, the market sees these European banks as a mess that will remain a mess and has a superb chance of getting a lot messier.
Enjoy reading WOLF STREET and want to support it? You can donate. I appreciate it immensely. Click on the beer and iced-tea mug to find out how:

Would you like to be notified via email when WOLF STREET publishes a new article? Sign up here.