Soaring rents outran tenant wages, which can't last.
Spain's residential rental market has been on a bit of a roll of late. Over the last 45 months, median rents have risen year-on-year in all but one of them: August 2018. In the hottest markets, such as Barcelona, Madrid and the Balearic Islands, rents are now higher than they were even at the dizzying peak of Spain's madcap real estate boom. But the boom may be coming to an end.
In November, median rents fell 0.5% from October, according to the real estate agency Fotocasa. On a year-by-year basis, rent increases eased to a meager 0.6%. Note the year-over-year gains of around 10% in 2017 (chart via Fotocasa):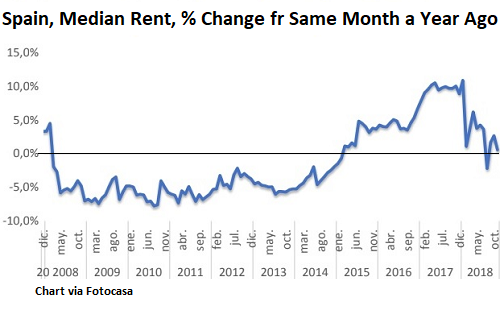 "The Fotocasa Price Index continues to show a clear tendency toward a stabilization of rents across large swathes of the country," says Beatriz Toribio, Fotocasa's director of research. "A year ago the median rent was rising on a year-on-year basis in all 13 autonomous regions. Now it only does so in two."
Those two regions are Madrid, where rents rose 1.3% year-over-year in November, and the Basque Country (0.5%). In four regions, rents slumped between 4.4% and 5.1%: Castilla y Leon, Extremadura, Navarre, and La Rioja. Even in the prime markets of Catalonia and the Balearic Islands, rents fell: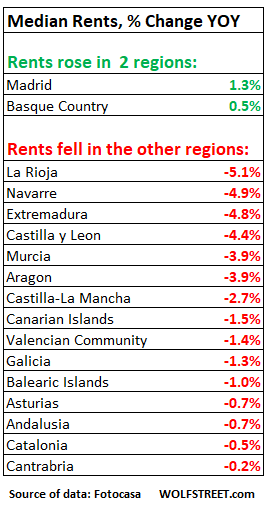 In Madrid the rental market remains relatively buoyant, with year-on-year rises across 18 of the city's 21 districts. Barcelona is still Spain's most expensive city, with an average cost of 16€ per square meter (m2), but Madrid is snapping at its heels (15€/m2). For Spain as a whole, the median rent in November was €8.18/m2, its highest level since October 2010. But it's still a full 19% off this century's peak of €10.12/m2, registered way back in May 2007, just before the air began hissing out of Spain's mind-boggling real estate bubble.
The last four years of soaring rents have been a bane for tenants, particularly in core markets like Barcelona, Madrid, Ibiza and Majorca where rents have surged 50% or more since 2012 while salaries have all but stagnated, squeezing tenants, and making for some lucrative deals for landlords.
Renting out real estate is by far the most profitable way to invest money in today's Spain, according to data published by the Bank of Spain. In 2018, landlords earned an average gross accumulated profit of 4%. But that's just one part of the gains available. Throw in the rising levels of rents plus the capital gains accumulated on the properties being rented and average annual returns shoot up to 10.9%.
To put that in perspective, it's 7.5 times more than the amount an investor could have earned on a ten-year Spanish bond and 110 times more than the risible interest available on bank deposits. That's not to mention, of course, Spanish equities, which are down 12.5% year to date.
In other words, investing in rental properties in Spain has been a virtual no-brainer for yield-starved investors both large and small, foreign and domestic, over the last few years. But that could be about to change. The first rental market to burn red hot, Barcelona, is already showing signs of fatigue, with prices dropping in the most expensive neighborhoods. "People can no longer pay the asking prices," says Toni, a real estate agent with operations in the city center.
To try to tame soaring rents, the Spanish government this week unveiled a raft of reforms aimed at offering added security for tenants. The reform includes a measure that will extend the minimum duration of rental contracts from three to five years for private landlords and from three to seven years for institutional landlords. This will significantly hamper the ability of private-equity landlords like Blackstone to turf out the existing tenants of newly acquired properties as quickly as possible in order to jack up rents for new ones.
In addition, the proposed law will limit the amount landlords can ask as a deposit from tenants to two months' rent. It will also make it harder for landlords to rent to tourists, which is often blamed for soaring rents in popular tourist cities like Ibiza, Malaga, Palma de Mallorca and Barcelona. If the law is passed, for vacation-rental sites like Airbnb to be able to operate in any given building, three quarters of that building's residents will have to approve their entry.
The law has sparked a fierce backlash from institutional investors, many of whom accuse the government of discriminating against them by forcing them to sign longer rental leases. They also warn that the new reforms could have the opposite of the intended effect — i.e, rents could rise rather than fall if investors/landlords exit the market.
"Who will want to have a savings product that is completely illiquid for five years (let alone seven) and who can not take advantage of market increases during that time?" asked Javier Rodríguez Heredia, a partner of the Spanish real estate management fund Azora. Claudio Boada, senior advisor of Blackstone's Spanish subsidiary — Spain accounts for roughly one-fifth of Blackstone's global real estate investments since the financial crisis — warned that the reforms could "increase rents, decrease supply and reduce investment in this asset class." But if rents continue to "stabilize" and the government's new reforms get passed in some form, the juicy returns could begin to erode. By Don Quijones.
But will the big European banks play along? Read… ECB Just Launched "Better Than Blockchain" Instant Payments System
Enjoy reading WOLF STREET and want to support it? You can donate. I appreciate it immensely. Click on the beer and iced-tea mug to find out how:

Would you like to be notified via email when WOLF STREET publishes a new article? Sign up here.