After the blood has been let, the feeding frenzy subsides, which is also brutal. 
The price of natural gas futures (January Nymex NGF19) gapped lower at the open this morning and plunged 7.8% as of this afternoon to $3.53 per million Btu. Everyone blamed the weather, specifically a new forecast this morning of warmer-than-normal temperatures across much of the US for December 22 through 26.
But it's not just this weather forecast. Over the last six trading days since December 10, natural gas futures have plunged 21%. Since the 50% spike during the first two weeks of November, culminating on November 14 with an intraday high of $4.93 [WTF Just Happened with Natural Gas?], natural gas futures have now given up 28%. It has been a wild ride back to where the price had been on November 8 (daily open, high, low, and close, data via Investing.com):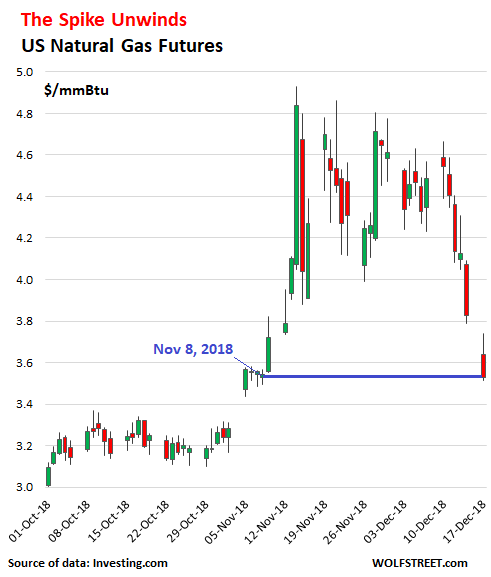 When natural gas spiked in early and mid-November culminating in the phenomenal one-day 20% surge on November 14 to an intraday high of $4.93, a hedge fund — OptionSellers.com — that specialized in writing commodities options for a few hundred high net-worth clients and that had promoted selling "naked" options in books and articles, blew up unceremoniously, and its trading accounts at the brokerage INTL FCStone that cleared the trades were liquidated.
Writing ("selling") naked options in the volatile natural gas market is like placing your first-born in the middle of a busy freeway and praying that the worst won't happen. It might work out for a while, but then suddenly it doesn't. To communicate the collapse, the hedge fund founder and owner James Cordier lamented on YouTube the fate of his clients who had lost their entire account balance in the blow-up, after having paid him hefty fees for years. And not only that, but they could also owe additional funds to the brokerage that cleared the trades. This will wend its way through the courts.
Natural gas has a tendency to blow up hedge funds. OptionSellers.com was small fry compared to the now legendary Amaranth Advisors, a hedge fund that collapsed at the end of September 2006 after losing $6 billion on natural gas futures, or about 65% of the $9 billion in assets under management.
The Amaranth collapse ended in all kinds of allegations and charges, including by the Commodity Futures Trading Commission (CFTC) and by the Federal Energy Regulatory Commission (FERC) that charged Amaranth and some individuals with market manipulation. In other words, this was a mess.
Natural gas is infamous for gigantic, irrational one-day moves that can wipe out speculators in no time. But the fundamentals in natural gas play out over years, except for the impact of the weather. Demand, which has been rising for years regardless of the weather, boils down to these factors:
Residential and commercial customers – demand heavily impacted by winter weather (heating)
Power generators – demand impacted by the weather in winter (electric heating) and in summer (AC). Over the past 20 years, power generators have transitioned more and more from coal to natural gas, and demand for natural gas has steadily increased.
Industrial users
Exports via pipeline to Mexico and to Canada
Exports via LNG to Mexico and the rest of the world, which is surging with each new export terminal that becomes operational.
Supply is powered by the fracking boom that has caused natural gas production to surge by 75% over the past 12 years:
The US also imports some natural gas from Canada. Over these 12 years, the US has become less and less reliant on these imports, even as demand in the US and exports from the US have risen.
And in 2017, the US became a natural gas net exporter for the first time ever, where exports via pipeline and LNG exceed imports from all sources. In 2018, the trend has steepened: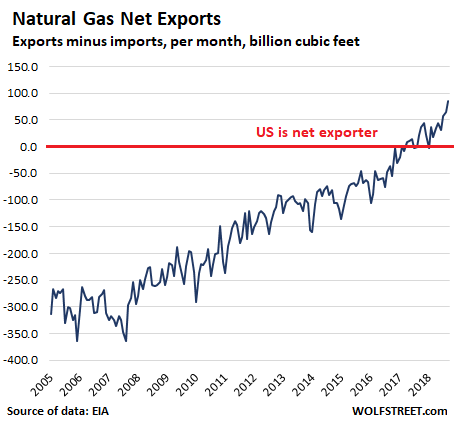 Speculators deal with these long-term implications of production, consumption, imports, and exports as well as with the short-term conditions of weather and natural gas in storage, all the while, and more than anything else, exposing themselves to the vagaries of other speculators.
And when these speculators see a hedge fund in trouble that has to liquidate a position, a feeding frenzy ensues. This can get brutal, as the clients of OptionSellers.com have found out the hard way. And then, after the blood has been let, the frenzy subsides, which also can be brutal as the winddown of the spike shows.
Enjoy reading WOLF STREET and want to support it? You can donate. I appreciate it immensely. Click on the beer and iced-tea mug to find out how:

Would you like to be notified via email when WOLF STREET publishes a new article? Sign up here.