The inflection point was July. Conditions have deteriorated since.
Active listings of houses and condos for sale in October in King County – which includes Seattle and Bellevue but does not include Tacoma – nearly doubled compared to October last year, jumping 91% to 5,749 listings, according to data by the National Association of Realtors. This was the largest inventory for sale since the end of Housing Bust 1 going back to 2012.
Inventory for sale started surging off low levels in the spring. In July, it reached the highest level since October 2014; and it continued to soar from then on. By this measure, July marked the inflection point of the housing market in King County. An inflection point is the beginning of the downturn in a market. It's when the rising line representing the market bends (inflects) and starts going downward. The red bars in the chart mark the months following the inflection point (all data below via realtor.com):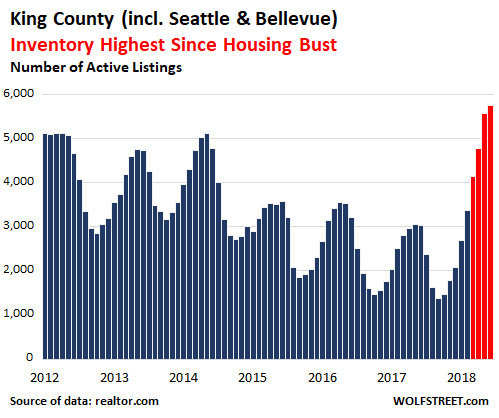 And cuts in asking prices explode. When inventory piles up and sales cannot keep up because potential buyers aren't buying, motivated sellers roll up their sleeves and see what it takes to move the house or condo, and what moves it are price reductions that are deep enough to meet the market. The market is where buyers are, but they have retreated and sellers are now having to find them. Gone are the price wars when buyers jostled for position for their chance to drive the price even higher.
The chart below shows the number of price cuts per month in King County. By this measure too, the inflection point occurred in July, when price cuts reached the highest point since October 2014. And over the following months, price cuts blew through the roof: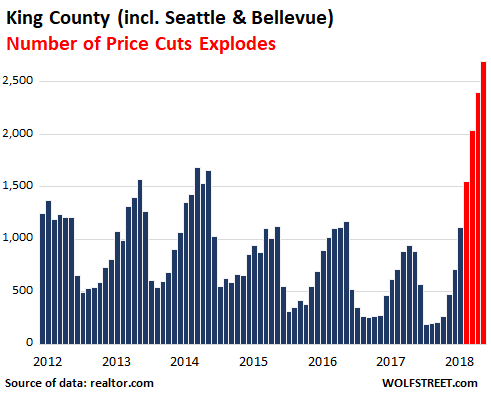 In terms of percentage change from a year ago, in October these price reductions more than tripled (up 205%) from October last year: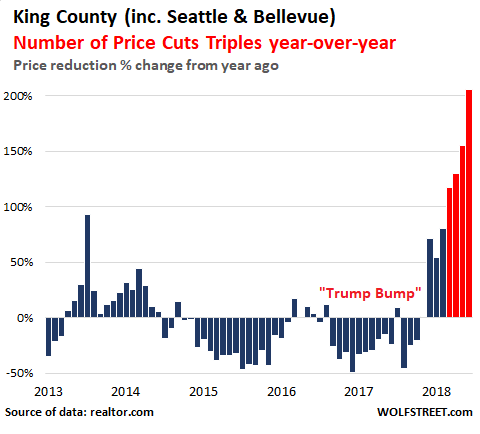 So what's happening to listing prices? These are the prices that sellers are asking for. They're not the prices that sellers might obtain if and when the unit is actually sold (that would be a measure of selling price). In King County, the median listing price peaked in May at $742,000. This means half of the properties listed for more and half listed for less. The median asking price has since dropped every month, falling to $675,000 in October. This marks a 9%, or $67,000 drop from the peak.
Some of this drop is normal seasonality, as asking prices in the county typically peak in June or July and then drop through January or February. Year-over-year, the median listing price remains up 3.9%.
But that year-over-year increase of 3.9% is a far cry from the double-digit increases that reigned since Housing Bust 1, topping out at 26% during the final throes of the fever in January this year.
Ironically, the "Trump Bump" had a large effect on real estate though President Trump isn't exactly the most voted-for politician in King County – he got 21% of the popular vote in 2016. I found this to be true also in other metros that are decidedly not in the Trump-zone, such as in San Francisco and Silicon Valley: He got 9% of the popular vote in San Francisco County, 18% in San Mateo County, and 21% in Santa Clara County. But when it comes to home prices in these liberal bastions, the "Trump effect" made property owners a ton of money – if they're able to get out in time.
In King County, before the 2016 election, the subcutaneous metrics of the market were already losing steam. But after the election, asking prices surged year-over-year, as if sellers had suddenly picked up some magic cues, and bedazzled buyers chased them higher. But that too has now petered out: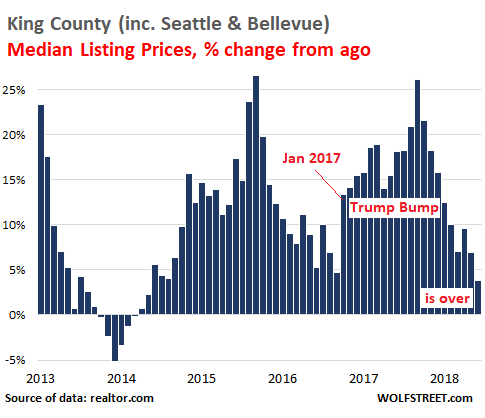 The impact on selling prices – the prices at which properties are actually sold – is already visible, even in the Case-Shiller Home Price Index which lags about three months by design (the data released at the end of October was a rolling three-month average for June, July, and August). After spiking for months into June, prices turned around and dropped 2% in July and August, the sharpest two-month drop since Housing Bust 1: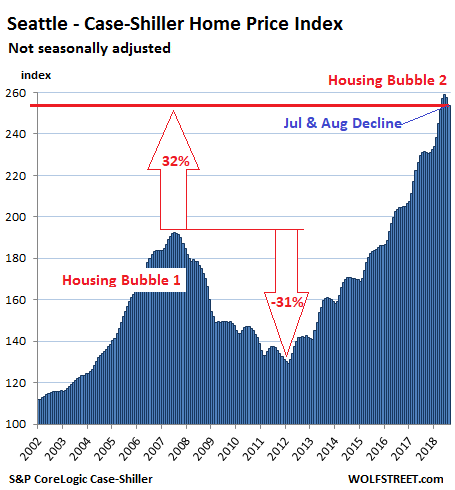 The Seattle metro is a prime example. But prices ticked lower in some of the biggest housing bubbles in the US. Something is afoot. Read… Declines Hit the Most Splendid Housing Bubbles in America
Enjoy reading WOLF STREET and want to support it? You can donate. I appreciate it immensely. Click on the beer and iced-tea mug to find out how:

Would you like to be notified via email when WOLF STREET publishes a new article? Sign up here.