The inflection point: sellers got the memo and cut prices.
The area of Silicon Valley and San Francisco – comprised of the counties of San Francisco, San Mateo, and Santa Clara – is one of the most expensive housing markets in the US. Atherton, a town in the heart of Silicon Valley, has been named the single most expensive zip code in the US. And when that housing market gets tough, the tough start cutting prices.
And that's what's happening.
Sales have slowed. Buyers have lost their enthusiasm, and they're taking their time. Mortgage interest rates have surged, making home purchases even more expensive. And everyone has figured that the situation on the ground has been a housing bubble accompanied by a tech and social media bubble peppered with all kinds of other specialty bubbles, such as the various "sharing" bubbles, and that they won't last.
So it's time to unload. Sellers are putting their homes on the market, and active listings in those three counties combined – San Francisco, San Mateo, and Santa Clara, which cover the area from San Jose to San Francisco – surged by 76% in October compared to October last year, to 4,149 listings, according to the National Association of Realtors.
The red bars in the chart mark the inflection point for this housing market. Note the "Trump Bump" — the phenomenon that caused the already teetering housing bubble in the Bay Area to become re-energized after the election in 2016, with listings drying up and prices surging one more time. But that is over now (data via realtor.com).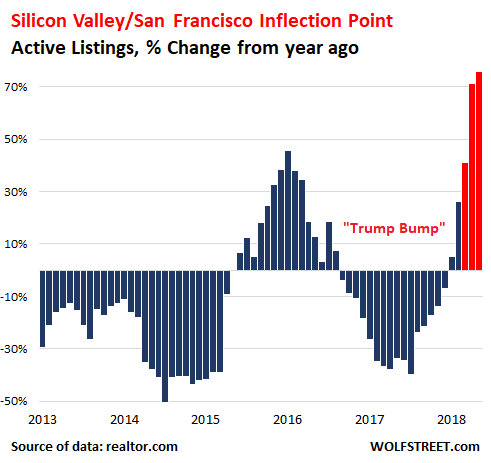 Suddenly, there is plenty of inventory on the market. This follows the well-established pattern: there is a perceived and much hyped "housing shortage" during boom times, but when the market slows, suddenly, all kinds of inventory comes out of the woodwork. In other words, eager sellers show up, and that's good. Having eager sellers is one half of the market. Now if there just were eager buyers.
Despite the surge in inventories, sales across the Bay Area declined by 3% compared to the already low levels last October. Back then, the low sales were blamed on lack of inventory, ironically, and sky-high prices not so ironically. Now there is plenty of inventory, but the median selling price has ticked up too, and sales have slowed further, as inventories are piling up.
What's the next step? Cutting asking prices.
And so the price cutting has started. In the counties of San Francisco, San Mateo, and Santa Clara, the number of price reduction started seriously jumping in August, hit a post-housing-bust record in September, and blew through the roof in October, nearly quadrupling year-over-year to 1,312 properties with price reductions: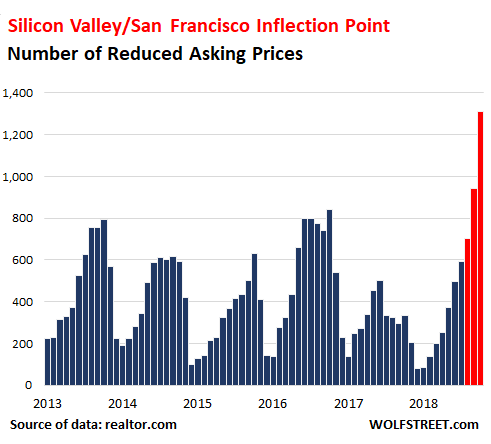 In percentage terms, this move becomes even clearer. In September, price cuts surged by 218% from September last year and in October by 295%. This is what an inflection point in one of the most overpriced housing markets in the US looks like – it's when sellers begin to get the message: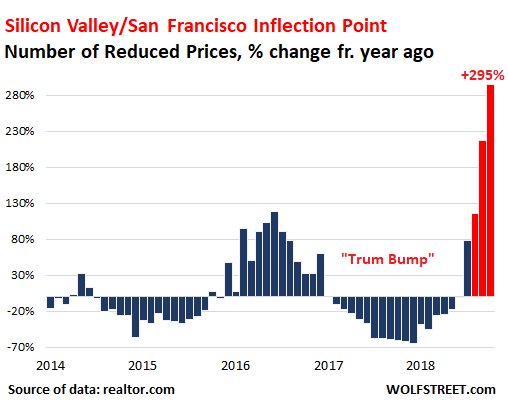 Even as inventories pile up and sales slow down, the median price across the entire Bay Area rose 7.9%, according to the California Association of Realtors. But in Silicon Valley and San Francisco, the price increases are petering out.
In San Francisco, the median price of single-family houses rose just 0.4% year-over-year to $1.6 million and the median condo price rose 3.7% to $1.275 million. "Median" means that half of the homes sell for more and half sell for less. In San Mateo County, the median house price rose 4.3% to $1.588 million, and in Santa Clara County, it rose by 3.2% to $1.29 million.
Given these big prices, even a 10% cut in the asking price of the median home represents a $160,000 reduction in San Francisco and San Mateo and a $127,000 reduction in Santa Clara County. And this is just the beginning – the inflection point of a long slow process. Sellers are still lagging the market, and by the time they finally catch up with the market, the market will have moved lower.
Mortgage rates are climbing faster than the 10-year Treasury yield. Read…  Mortgage Rates May Hit 6% Sooner, as Fed Sheds Mortgage-Backed Securities, But What Will that Do to Housing Bubble 2?
Enjoy reading WOLF STREET and want to support it? Using ad blockers – I totally get why – but want to support the site? You can donate. I appreciate it immensely. Click on the beer and iced-tea mug to find out how:

Would you like to be notified via email when WOLF STREET publishes a new article? Sign up here.

Watch as our sponsor, Classic Metal Roofing Systems, discusses the benefits of using products they manufacture.
Product information is available at Classic Metal Roofing Systems, manufacturer of beautiful metal roofs.