For investors there is little clarity through the smoke and haze. 
The common shares of Pacific Gas & Electric [PCG] plunged nearly 22% to $25.59 on Wednesday and are now down 47% since November 8, when the "Camp Fire" began near the city of Paradise, Butte County, in Northern California.
This repeats and continues a scenario that commenced in the fall of 2017, with the wildfires that ravaged parts of the countries of Sonoma and Napa, north of San Francisco. At the time, the shares plunged from around $70 on October 11 to about $38 by February 8. Then they recovered some until the next fire hit (data via YCharts):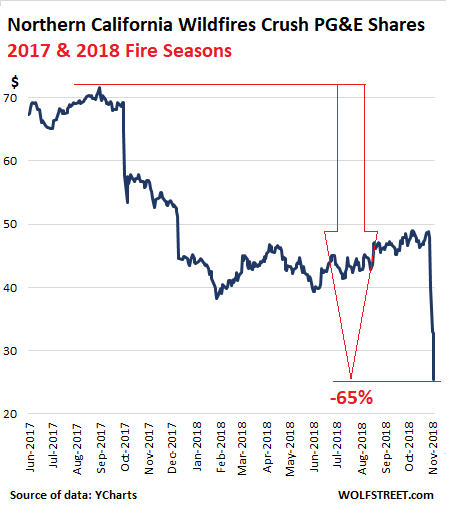 The reason for today's stock decline is now apparent. In an 8-K filing with the SEC yesterday, the company listed several sources of potential concern for PCG's investors.
First, both the utility and the holding company fully drew down their revolving lines of credit of $3.0 billion and $300 million, respectively. They now sit on a cash hoard of about $3.4 billion which they coyly described as being "for greater financial flexibility, general corporate purposes and upcoming debt refundings."
This is a big red flag. Solidly investment grade corporations should be able to access US capital markets virtually at will. This action suggests that PCG's management fears something will impede that market access. This action is akin to a ship's captain lowering the lifeboats and not simply for practice.
Second, later on in the 8-K, the company states: "While the cause of the Camp Fire is still under investigation, if the Utility's equipment is determined to be the cause, the Utility could be subject to significant liability in excess of insurance coverage that would be expected to have a material impact on PG&E Corporation's and the Utility's financial condition, results of operations, liquidity, and cash flows."
Their wildfire liability insurance coverage totals $1.4 billion extending from August 2018 through July 2019. Doesn't seem like much given the still growing immensity of destruction and loss of life.
Why is the company so concerned? Their 8-K also listed under "Other Events – Camp Fire" that their 115 kv Caribou-Palermo transmission line experienced an outage on November 8 in the vicinity of the fire's origins.
From an investor's perspective how should we think about this unfortunate turn of events?
In a previous 8-K document filed with the SEC in late June, PCG's President and CEO, Geisha Williams, claimed that fire "liability regardless of negligence undermines the financial health of the state's utilities and has the potential to materially impact the ability of utilities to access the capital markets." She blamed the state's policy of inverse condemnation for the utility's difficulties.
According to the utility, California is one of the few states where courts have applied the principle of inverse condemnation liability associated with investor-owned utility equipment. In this instance, a utility remains liable for all property damages and attorneys fees related to a wildfire even if all inspection and safety protocols have been observed rigorously.
The prospective liabilities from wildfires presently underway probably total amounts far in excess of PCG shareholders equity. Will the company have to file for bankruptcy protection?
In a way this ceases to be about finance and enters the realm of politics. What does the state legislature want? Do they want vibrant, healthy investor owned electric utilities? If so, then appropriate legislative remedies are needed, and fast.
On the other hand, if legislators bankrupt California's investor-owned utilities, for the second time in recent memory we should point out, the politicians would be more directly and transparently responsible for utility services under a municipal structure. California is interesting in that it has both investor-owned and municipal utilities operating side by side in state.
In terms of the dividend, the damage has already been done. PG&E suspended its dividend on December 20, 2017, citing "uncertainty related to causes and potential liabilities associated with the extraordinary October 2017 Northern California wildfires." The new set of troubles and potential liabilities aren't going to help matters.
A company that needs to conserve cash in the manner demonstrated cannot entertain the possibility of restarting a robust dividend policy.
To us this is an odd situation. The company's fate is in the hands of the courts or the legislature. The state's regulators appear to be bystanders at this point. This Camp Fire tragedy poses a difficult question for California. Should we bankrupt our utilities in pursuit of fire related liability claims? Today's turmoil in the utility equity markets shows that for investors there is little clarity through the smoke and haze. By Leonard Hyman and Bill Tilles for WOLF STREET
Fears the bull market died sent people & algos scrambling out of the way. Read…  FANGMAN Come Re-Unglued. Debacles Sink Goldman Sachs, Apple, and — Oh Gosh, Not Again — GE
Enjoy reading WOLF STREET and want to support it? You can donate. I appreciate it immensely. Click on the beer and iced-tea mug to find out how:

Would you like to be notified via email when WOLF STREET publishes a new article? Sign up here.