And some of the rot is oozing to the surface.
The sell-off on Tuesday didn't weigh on the scale of sell-offs: The Dow, the S&P 500, and the Nasdaq were down only around 0.5%, give or take a little. But in the broader sense, declines of individual stocks were widespread, and this situation has been going on for months.
On the surface, it still looks hunky-dory. For the 52-week period, the Dow is up 7.5%, the S&P 500 is up 6.7%, and the Nasdaq is up 12.7%.
Yet, even as major indices rose so nicely over the 52-week period, 496 individual stocks of those on the New York Stock Exchange dropped to new 52-week lows today, while only 8 reached 52-week highs. How many stocks are listed or traded on the NYSE depends on who you ask. The WSJ data section shows 2,080; others go over 2,400. If there are 2,080 stocks actively traded on the NYSE, this means near a quarter hit new 52-week lows today.
And according to my own math, 176 stocks on the NYSE have by now plunged at least 50% from their 52-week highs.
Despite the small drop on Tuesday of the major indices, here is what a random page in alphabetical order of the NYSE listings looks like in terms of red for the day – there is a lot of it, and it doesn't even include Caterpillar, which dropped 7.6%: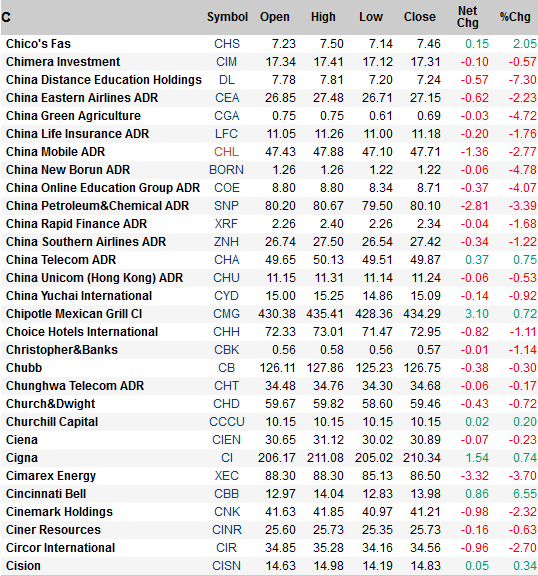 In terms of the S&P 500 – which tracks the largest stocks in their industries, regardless of what exchanges they trade on – a whopping 353 stocks are down at least 10% from their 52-week highs, and 179 of them (that's over a quarter) have dropped by at least 20%.
Why are the overall indices not down more? Well, Apple is a big reason.
The bunch I call FANGMAN stocks – Facebook, Amazon, Netflix, Google's parent Alphabet, Microsoft, Apple, and NVIDIA – sported a market cap of $4.63 trillion at the end of August. Since then, they have dropped 7.8%, which is just another dimple (data via YCharts):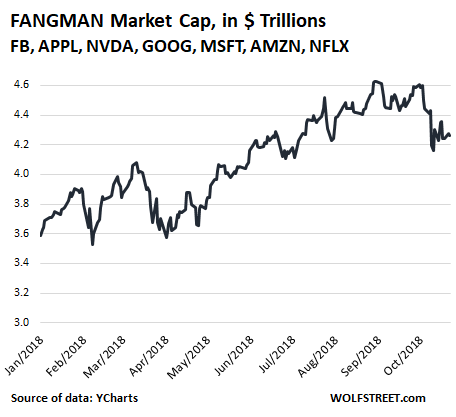 But individually, some of these declines are not so sanguine anymore. This is how these seven stocks performed since their 52-week highs:
FB: -29%
NVDA: -25%
NFLX: -21%,
AMZN: -14%
GOOG: -13%,
MSFT: -7%
AAPL: -4.7%
So three of the seven have plunged over 20% from their recent peaks, and another two are down 13% and 14%.
But Apple, by far the largest among the FANGMAN in terms of market cap (still over $1 trillion), is down only 4.7%. This covers up a lot of bloodletting in the smaller stocks. And Microsoft, the third largest with a market cap of $830 billion, is down only 6.7%.
Those two stocks – AAPL and MSFT – make the FANGMAN bunch look reasonably well-behaved, and they soften the drop of the rest of the market.
For another view on the same scene, check out the small-cap stocks, the hottest performers until recently that barely even dipped during the January and February sell-off. Since August 31, the Russell 2000 index, which tracks them, has dropped 12%. And it's down 1.6% for the year: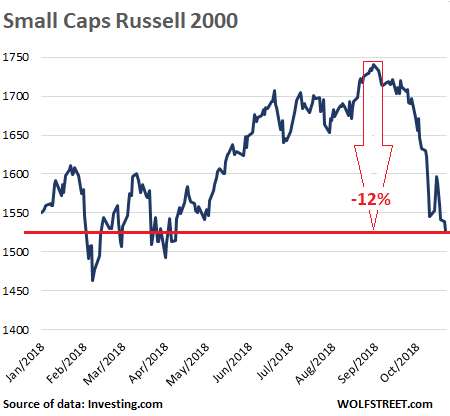 These are the hallmarks of a market that is rotting "gradually," as the Fed would say, at every corner underneath the covers – the covers being a few large stocks, such as Apple, that have held up reasonably well. But they can no longer cover the rotting process.
Why? Why now? There are many theories. Four of the most basic theories are:
The stock market is ludicrously overpriced, and that sort of thing eventually and invariably unravels.
Interest rates are rising, and funding for these credit-dependent companies is going to get scarcer and more expensive, and so investors are re-doing their math.
Risk is being repriced, and investors are demanding to be rewarded more for taking those risks.
Yield investors, long drawn to dividend stocks in a ZIRP world, can now get better yields in Treasury securities, without having to take the risks associated with stocks.
On Monday, I discussed US bank stocks. The KBW banks index, which tracks the largest US banks, dropped some more on Tuesday and is now down 17% from its peak in January. But even that peak didn't quite make it to the peak before the Financial Crisis. So that's a big drop from very lofty highs. But EU bank stocks got crushed during the Financial Crisis, and then they got crushed and crushed, and now they're getting crushed again. Read… It's the Banks Again
Enjoy reading WOLF STREET and want to support it? You can donate. I appreciate it immensely. Click on the beer and iced-tea mug to find out how:

Would you like to be notified via email when WOLF STREET publishes a new article? Sign up here.