Moody's: It "will exacerbate already material fiscal challenges on the horizon." If unaddressed, "social tensions will continue to rise."
Credit-analysis firm Moody's Investors Service is sounding the alarm bells over "rising inequality" as the gap widens between America's rich and poor, potentially threatening the country's AAA rating.
So much for that vision of a newly emboldened American working class …
Instead, Trump's $1.5 trillion in tax cuts, according to Moody's, have helped make the rich richer, putting more of the onus of repaying the country's debt on the poor.
"Since 1995, the top 10% of US income earners have experienced an overall median net worth increase of close to 200%, while the bottom 40% of income earners have seen a decline. There has been a particularly sharp increase in wealth and income inequality ratios since the global financial crisis," Moody's noted in a report released on Monday.
"The global financial crisis exacerbated the effects of these trends by disproportionately affecting poorer overleveraged households and by reducing the mobility of households with negative home equity and, oftentimes, negative net wealth as a result," says Moody's Vice President William Foster. "Wealthier households with a higher concentration of equity market holdings in retirement savings plans and personal portfolio investments have disproportionately benefited from the significant gains in the US and global stock markets since the global financial crisis."
In turn, that rising inequality "will exacerbate already material fiscal challenges on the horizon," Moody's continued. "Should inequality go unaddressed, social tensions will continue to rise, leading to a more fractious political landscape that increases political risk, and with it a less predictable policy environment."
But it's not just about taxes, either. Everything from globalization, automation, technological advancements requiring advanced job skills, elevated premium on education and the increasing costs associated with education have played a role in widening inequality.
So what does it mean for the U.S.' AAA rating? According to Moody's Vice President William Foster, the widening gap between rich and poor is a threat, but the U.S. government, of course, has other aspects supporting the rating—at least in the medium term (2-5 years). Chief among them is the debt denominated in dollars.
Still, Moody's cites rising inequality as the U.S.' weakest rating factor. Why? It's simple math: The wider the income gap becomes, the more the government will have to spend in order to support lower-income households. These costs, Moody's notes, "are unlikely to be offset by revenue raising measures following recent tax cuts".
At the end of the day, even though the economy is chugging along nicely—nicely enough, in fact, for everyone to ignore rising inequality that will contribute to widening fiscal deficits and a growing debt burden.
The credit-ratings agency is also concerned about the "increasingly less predictable policy environment" and the potential for an even "more fractious political landscape" as a result of rising inequality.
Writing for The Hill, Scott Sumner, emeritus professor of economics at Bentley University, notes that the reason median wages have lagged behind GDP growth is that "more of the pie is going to workers at the top, in places such as Wall Street, Silicon Valley and Hollywood".
But the U.S. is the only place where rising inequality is becoming alarming, of course. However, Moody's notes that the extent of that inequality is greater than that of developed European economies. The credit-ratings agency said the U.S. "stands out for particularly high inequality".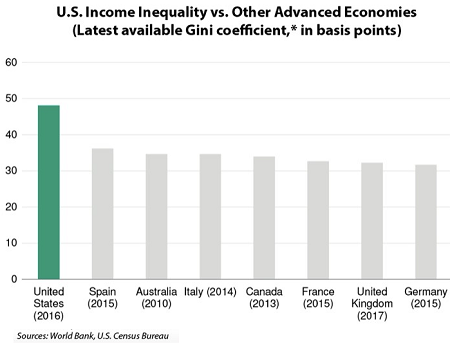 *Gini coefficient tracks the distribution/concentration of a country's income. 0 is when everybody has the same income; 100 when one person has all the income.
The biggest threat then to the U.S. credit rating is inequality that Moody's fears will further polarize the country. By Fred Dunkley, Safehaven.com
But wait — these are the Boom Times! Read… US Gross National Debt Jumps by $1.27 Trillion in Fiscal 2018, Hits $21.5 Trillion
Enjoy reading WOLF STREET and want to support it? You can donate. I appreciate it immensely. Click on the beer and iced-tea mug to find out how:

Would you like to be notified via email when WOLF STREET publishes a new article? Sign up here.