Construction boom, flood of new high-end apartments, not enough demand, rising vacancy rates, and the biggest concessions since the Great Recession.
The Seattle metro has enjoyed strong job growth in recent years and soaring housing costs. Developers have responded with a multiyear construction boom that started in about 2014. As high-rise condo and apartment towers have been sprouting like mushrooms, "crane counting" has become a thing. Now there is the prospect that the new supply is outgrowing demand, and that this supply is mostly high-end, further crimping demand for those units.
In the five years from 2014 through 2018 so far, over 46,000 apartment units in buildings with over 50 apartments – not counting condo projects, apartments in smaller buildings, or single-family homes – have been constructed, according to data by multifamily property data provider Apartment Insights. This is an increase of 110% from the prior five-year period (2009-2013) and nearly four times the number of units built in 2004-2008:
In terms of annual totals, in 2018 as of Q3, 8,731 apartment units have been constructed, below the recent records in 2015 and 2016 of close to 10,000 units. The all-time record occurred during the last building boom in 1989 with 10,056 units: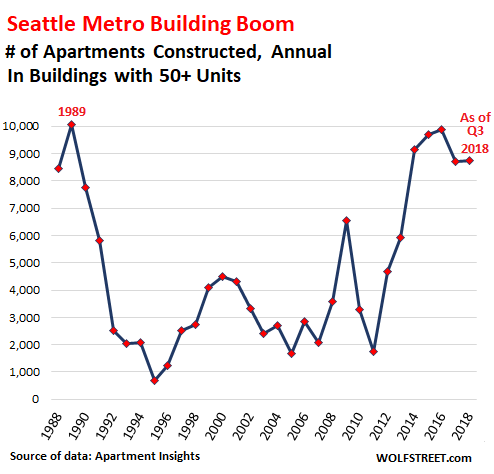 Over the past five years, the new supply of apartments in buildings of 50+ units averaged 9,236 apartments per year.
And demand? Over the current 12-month period, occupancy in the segment of those buildings increased by 6,816 units. So vacancy rates are rising. And there are a lot more units coming.
Just counting apartment buildings with over 50 units – and not counting condo towers though some of those units may end up on the rental market – in the third quarter, there were about 63,000 units in the pipeline, according to the Q3 report by Apartment Insights:
Nearly 24,000 units were either under construction or scheduled for construction
Almost 7,500 units achieved "Final Plan Approval."
Over 32,000 units are further up in the pipeline, with the vast majority in the review stage.
"With Absorption remaining rather steady, however, as we are headed for the seasonally challenging 4th quarter soon, we are anticipating a potential hike in vacancy," Apartment Insights writes in its Q3 report.
Among these big apartment projects there are two types of vacancy rates:
"Stabilized": the vacancy rate that includes only buildings where developers have largely succeeded in renting out most of the units. This vacancy rate does not include projects that have just come on the market and that are still largely empty.
And the vacancy rate of all big projects that have been completed, whether stabilized or not. This is a significantly higher number.
The vacancy rate of "stabilized" properties in the Seattle metro rose to 5.2%, the highest 3rd quarter rate since 2010.
Concessions kept this vacancy rate from going even higher – such as one-month free rent, gift cards, move-in allowance, or whatever. In Q3, these concessions amounted to the largest average for a 3rd quarter since 2010. And they're having an impact on "rents net of concessions." Apartment Insights:
Generally a leading or contributing leading indicator of the market, Rents Net of Concessions (NR), collapsed this quarter by 128 basis points. Interestingly, this is the second time in just one year that this metric has fallen by over 125 bps from quarter to quarter.

It is hard to imagine that this is the new normal for NR, as this level of volatility has not been seen in this fundamental measure before.  Perhaps we have entered a new plane for volatility levels of NR that have likely been introduced by rent pricing programs, and the stress on demand exerted by elevated levels of new supply.
And the next two quarters might get a little tougher for landlords, according to Apartment Insights:
Thus, we may anticipate a slowing in Absorption in the near term, and using historic norms we would experience an increase in occupied units of only 2,895 for the coming 4th and 1st quarter of 2019.  Given that we predict estimated dates for when projects under construction will open, we can, therefore, estimate the Vacancy Rate for All Properties as of the 1st quarter of 2019.
The report projects that, "if all of the units are completed and the projects brought to market as anticipated, we could see a vacancy rate of 9.2%."
This would be the worst-case scenario for Q1 2019. The best-case scenario, as Apartment Insights sees it, given the estimated demand, is a vacancy rate of 7.8%, with a mid-point of 8.4%.
This growing vacancy rate is occurring despite Seattle's hopping economy and employment growth. No one at the moment is figuring into the scenarios that there might ever be an economic slowdown, despite rising interest rates designed to produce one, and that this employment boom might ever subside, or reverse.
Millennials are settling in urban centers. In many ZIP codes, they're already the majority. And they spend their money on rent. Read…  How Millennials Are Shifting the Housing Market
Enjoy reading WOLF STREET and want to support it? You can donate. I appreciate it immensely. Click on the beer and iced-tea mug to find out how:

Would you like to be notified via email when WOLF STREET publishes a new article? Sign up here.