Nightmare scenario for the markets? They just shrugged. But homebuyers haven't done the math yet.
There's an interesting thing that just happened, which shows that the US Treasury 10-year yield is ready for the next leg up, and that the yield curve might not invert just yet: the 10-year yield climbed over the 3% hurdle again, and there was none of the financial-media excitement about it as there was when that happened last time. It just dabbled with 3% on Monday, climbed over 3% yesterday, and closed at 3.08% today, and it was met with shrugs. In other words, this move is now accepted.
Note how the 10-year yield rose in two big surges since the historic low in June 2016, interspersed by some backtracking. This market might be setting up for the next surge: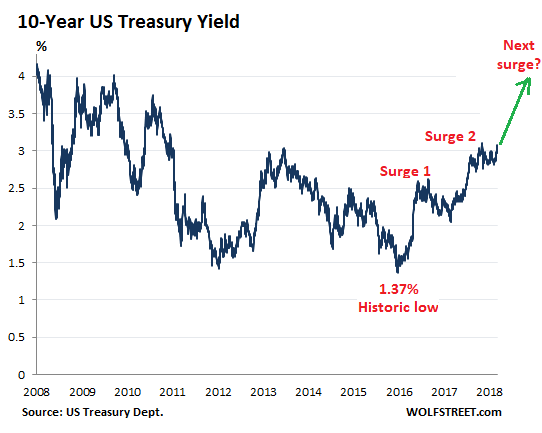 And it's impacting mortgage rates – which move roughly in parallel with the 10-year Treasury yield. The Mortgage Bankers Association (MBA) reported this morning that the average interest rate for 30-year fixed-rate mortgages with conforming loan balances ($453,100 or less) and a 20% down-payment rose to 4.88% for the week ending September 14, 2018, the highest since April 2011.
And this doesn't even include the 9-basis-point uptick of the 10-year Treasury yield since the end of the reporting week on September 14, from 2.99% to 3.08% (chart via Investing.com; red marks added):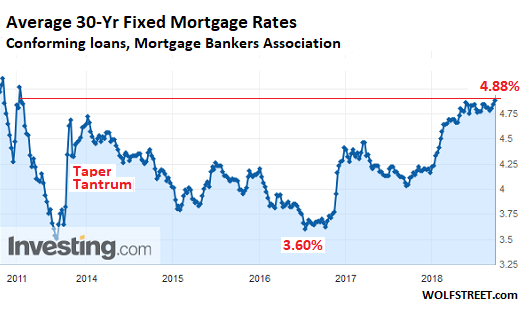 While 5% may sound high for the average 30-year fixed rate mortgage, given the inflated home prices that must be financed at this rate, and while 6% seems impossibly high under current home price conditions, these rates are low when looking back at rates during the Great Recession and before (chart via Investing.com):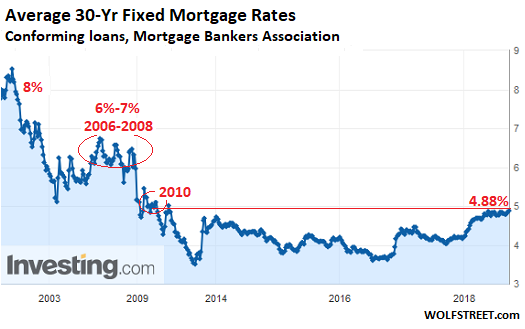 And more rate hikes will continue to drive short-term yields higher, even as long-term yields for now are having trouble keeping up. And these higher rates are getting baked in. Since the end of August, the market has been seeing a 100% chance that the Fed, at its September 25-26 meeting, will raise its target for the federal funds rate by a quarter point to a range between 2.0% and 2.25%, according to CME 30-day fed fund futures prices. It will be the 3rd rate hike in 2018.
And the market now sees an 81% chance that the Fed will announced a 4th rate hike for 2018 after the FOMC meeting in December (chart via Investing.com, red marks added):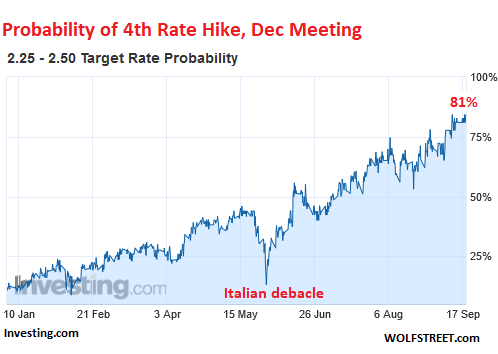 The Fed's go-super-slow approach – everything is "gradual," as it never ceases to point out – is giving markets plenty of time to prepare and adjust, and gradually start taking for granted what had been considered impossible just two years ago: That in 2019, short-term yields will be heading for 3% or higher – the 3-month yield is already at 2.16% — that the 10-year yield will be going past 4%, and that the average 30-year fixed rate mortgage will be flirting with a 6% rate.
Potential homebuyers next year haven't quite done the math yet what those higher rates, applied to home prices that have been inflated by 10 years of interest rate repression, will do to their willingness and ability to buy anything at those prices, but they'll get around to it.
As for holding my breath that an inverted yield curve – a phenomenon when the 2-year yield is higher than the 10-year yield – will ominously appear and make the Fed stop in its tracks? Well, this rate-hike cycle is so slow, even if it is speeding up a tiny bit, that long-term yields may have enough time to go through their surge-and-backtracking cycles without being overtaken by slowly but consistently rising short-term yields.
There has never been a rate-hike cycle this slow and this drawn-out: We're now almost three years into it, and rates have come up, but it hasn't produced the results the Fed is trying to achieve: A tightening of financial conditions, an end to yield-chasing in the credit markets and more prudence, and finally an uptick in the unemployment rate above 4%. And the Fed will keep going until it thinks it has this under control.
Investors are buying anything to get higher yields. Today's megadeal, the ninth-largest ever, is one of the riskiest, and reminiscent of the deals in 2006 and 2007. And they're still blowing off the Fed. Read… Just How Wildly Exuberant is the Junk-Credit Market?
Enjoy reading WOLF STREET and want to support it? You can donate. I appreciate it immensely. Click on the beer and iced-tea mug to find out how:

Would you like to be notified via email when WOLF STREET publishes a new article? Sign up here.