Refinancing activity plunges to the lowest level since 2000.
On its way to 5% and higher: The average interest rate for 30-year fixed-rate mortgages with conforming loan balances ($453,100 or less) and a 20% down-payment rose to 4.84% for the week ending September 7, 2018, the Mortgage Bankers Association (MBA) reported this morning.
Mortgage rates – which move roughly in parallel with the 10-year Treasury yield – surged in two big bouts in this rate-hike cycle: First, from the near-historic low in July 2016 to March 2017; and after backtracking some, from September 2017 to mid-May 2018, when MBA's measure of the average 30-year fixed rate hit 4.86%. Since then mortgage rates have vacillated in the same range – the highest since May 2011 (chart via Investing.com; red marks added).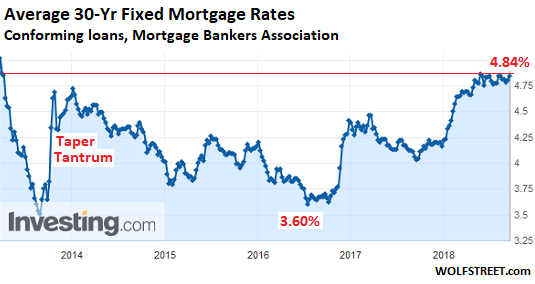 The MBA obtains this data from weekly surveys of over 75% of all US retail residential mortgage applications handled by mortgage bankers, commercial banks, and thrifts.
The rising interest rates make it more challenging for potential homebuyers to be able to afford the inflated home prices prevailing in many US housing markets. These higher rates have already begun impacting the housing market, but only barely, and only at the margins. The real pain threshold is likely north of 5% and perhaps closer to 6% by the MBA's measure.
But there is another impact of rising mortgage rates: Refinancing activity — whether as cash-out refinancing to fund some sorely needed consumption, or as an effort to lower monthly payments via a lower rate.
The MBA reported today that its Refinance Index, which covers applications to refinance existing mortgages, fell this week to the lowest level since December 2000. At 884, the index has plunged about 65% from the prevailing range in early to mid-2016 (chart via Investing.com; red marks added):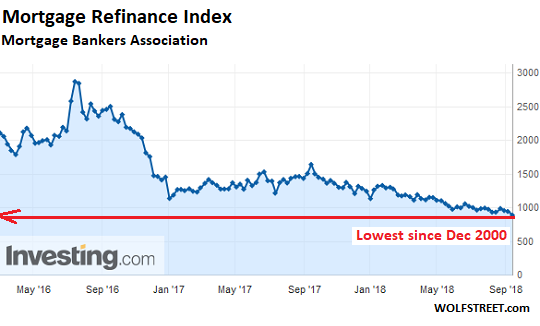 The chart below (via Investing.com) shows the long-term view of the Refinance Index going back to 1999. There are a number of factors at work to produce this type of spiky behavior, including:
Refinancings spike when interest rates drop sharply or are low, in combination with rising home prices, such as in the post-2002 period leading to Housing Bubble 1 and Housing Bust 1.
On the other hand, refinancings decline when interest rates rise.
Broadly declining home prices also make refinancings difficult.
Then there is the fear of approaching higher interest rates that motivates homeowners to refinance to lock in a lower rate before it's too late.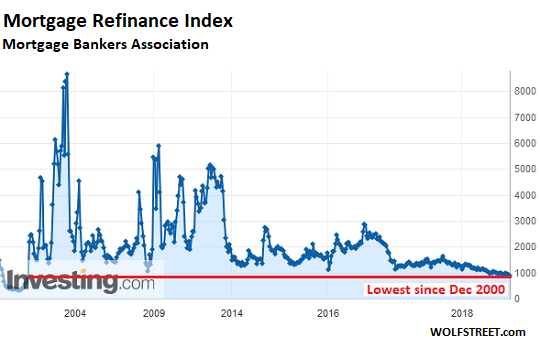 This has implications.
For mortgage lenders, refinancing existing mortgages is a big and profitable part of their business. In the reporting week, the share of refinance activity versus all mortgage originations fell to a very low level, but that share was still 37.8% of all mortgage originations.
Wells Fargo – until last year, the largest mortgage lender in the US and now behind Quicken Loans, the largest of the "shadow banks," – has been going through a series of layoffs in its mortgage units in response to the decline in refinancing activity. Other lenders too have trimmed their mortgage divisions – though purchase mortgage activity has remained stable.
For homeowners, rising rates make refinancing tougher. Cash-out refinancing, driven by surging home prices and low rates, has fueled some portion of consumer spending but is now starting to burn out. Refinancing to obtain a lower payment as mortgage rates have dropped over the past years has been helpful to household budgets. But this too is getting more difficult to pull off.
Even very gradually rising interest rates – rising slowly enough to where the economy can easily adjust without shock, which is the Fed's stated plan – impact the economy in a variety of ways, in bits and pieces spread out over time. But eventually, homeowners, mortgage bankers, and all other participants in the economy can feel these rising rates.
How? Take a look. 9 charts. Red indicates the moves since the inflection point in June. Read… Anatomy of a Housing-Bubble Inflection Point in the Bay Area's Sonoma County
Enjoy reading WOLF STREET and want to support it? You can donate. I appreciate it immensely. Click on the beer and iced-tea mug to find out how:

Would you like to be notified via email when WOLF STREET publishes a new article? Sign up here.