Why is anyone still lending this government any money?
Today the Argentina peso plunged another 5.5% against the US dollar. It now takes ARS 27.7 to buy $1. Over the past 16 years, the peso has gone through waves of collapses. This collapse began on April 20. The central bank of Argentina (BCRA) countered it by selling $1 billion per day of scarce foreign exchange reserves and buying pesos. The peso fell more quickly. The BCRA responded with three rate hikes, to finally 40%! On May 8, the government asked the IMF for a bailout. On May 16, after a chaotic plunge of the peso, the BCRA was able to refinance about $26 billion in maturing peso-denominated short-term debt (Lebacs) at an annual interest of 40%, and the peso bounced.
It was a dead-cat bounce, however, and the peso plunged another 13% against the dollar through today. Since April 20, the peso has plunged 27.5%. The annotated chart shows the daily moves of the collapse, and the various failed gyrations to halt it (the chart depicts the value of 1 ARS in USD):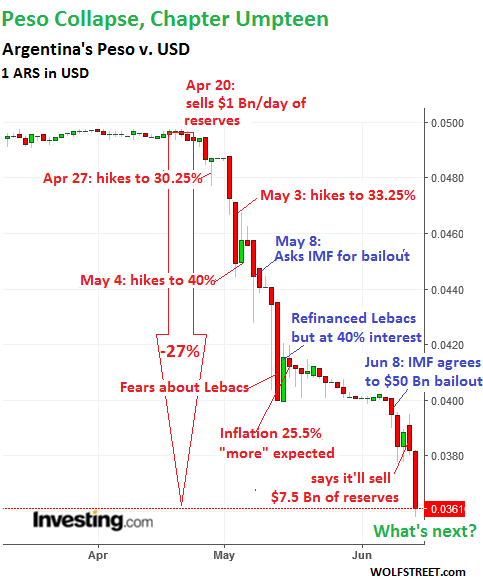 The collapse of the peso comes despite an endless series of measures to halt it. Just this week so far: On Tuesday, the BCRA decided to keep its key interest rate at 40%; and on Wednesday, the Ministry of Finance announced it would hold daily auctions to sell $7.5 billion in foreign exchange reserves and buy pesos, to prop up the peso. But it was apparently the only one buying pesos.
With inflation at 25.5% and heading to 27% by year-end, according to government estimates, with a rising budget deficit, a surging current account deficit, soaring borrowing costs, and burned investors, what else is there to do?
Yesterday, IMF Managing Director Christine Lagarde responded to the government's Letter of Intent and Memorandum of Economic Policies. This is the plan Argentina and the IMF worked out and that the government would have to implement in return for a $50 billion credit line, called a stand-by arrangement.
Among the goodies:
A hiring freeze by the federal civil service for two years
Phasing out gas and transportation subsidies
Foregoing non-crucial public works
Delaying planned tax cuts to bring the fiscal deficit down to 1.3% of GDP in 2019
Room for some new anti-poverty measures
Vows to maintain a minimum of social assistance to protect "society's most vulnerable."
And a special tidbit: The government committed to granting the BCRA some financial autonomy and will submit a new BCRA charter to Congress by March next year.
Part of Argentina's problem is that the BCRA isn't a central bank in the modern sense. It was nationalized in 1946 and has become a de-facto department of the Ministry of Finance. Successive administrations used its peso-printing press (more recently the digital version) to fund government spending and political goals. It's very convenient. You can buy a lot of votes that way.
If the BCRA had been an independent central bank, and had acted with a modicum of tough love, the peso wouldn't have lost 96.5% of its value against the dollar in 16 years and inflation wouldn't have ranged between 20% and 40% over the years.
But it will be tough to turn off the spigot of increasingly worthless pesos that vote-buying politicians have come to depend on.
The letter — which admitted that economic growth in 2018 would be near 0.4%, and not 3.0% as previously projected — said the policies should be "adequate to achieve the macroeconomic and financial objectives of the program," but promised that "we will take any additional measures that may be appropriate for this purpose."
The government requested 30% of the $50 billion bailout loan as soon as the deal is approved. The IMF's executive board will vote on it on June 20 and the way things are going, will likely approve it. Then Argentina will have succeeded in shanghaiing another set of international investors into lending it money. This is one thing Argentina excels at. But no one should ever lend money to Argentina unless the yield is so huge that it makes a near-certain default worthwhile.
Emerging market countries like Argentina that borrow in dollars to gorge on cheap money have another problem. And gone are the kid gloves. Read… This Fed Grows Relentlessly More Hawkish
Enjoy reading WOLF STREET and want to support it? You can donate. I appreciate it immensely. Click on the beer and iced-tea mug to find out how:

Would you like to be notified via email when WOLF STREET publishes a new article? Sign up here.