Gone are the kid gloves.
"The economy is in great shape," Fed Chairman Jerome Powell said today at the press conference after the FOMC meeting. Inflation as measured by the Fed's preferred low-ball measure "core PCE" has hit the Fed's target of 2%, and the Fed expects it to hit 2.1% by year-end. Inflation as measured by CPI jumped to 2.8%. "Job gains have been strong," today's statement said. The "unemployment rate has declined," while "growth of household spending has picked up," and "business fixed investment has continued to grow strongly."
This is no longer the crisis economy of yore. But the interest rates are still low and stimulative, befitting for a crisis economy. So something needs to be done, and it's getting done, if "gradually."
There were all kinds of intriguing elements in the FOMC's increasingly hawkish but "gradual" hoopla today.
By unanimous vote, the FOMC raised its target for the federal funds rate by a quarter percentage point to a range between 1.75% and 2.0%. This was expected; what's intriguing is the unanimous vote, unlike prior rate hikes.
Four rate hikes in 2018 (two more this year) are now gradually being baked in, according to the median expectation of the 15 members of the FOMC, per the infamous "dot plot" with which the Fed tries to communicate potential rate moves: One member expects 5 rate hikes in 2018; seven members expect 4 hikes; five members expect 3 hikes, and two members expect no more hikes. At the March meeting, four rate hikes had appeared in the dot plot as a real but more distant possibility.
Two more hikes this year would bring the top end of the target range to 2.5% by year-end. This shows the 2018 section of the dot plot: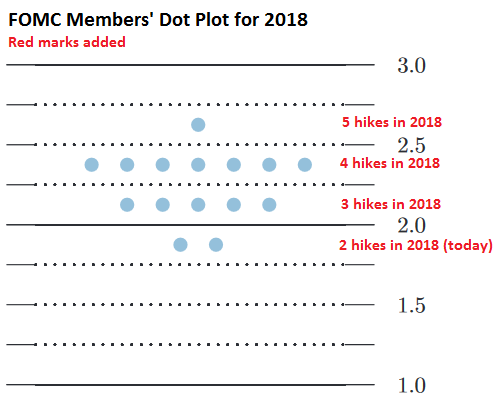 Rates are expected to continue to rise, three times in 2019 and once in 2020, nudging the federal funds rate to nearly 3.5%.
A presser after every meeting – oh boy. During the press conference, Powell said that, starting next January, there will be a press conference after every FOMC meeting. This idea has been mentioned a couple of times recently to prepare markets for it. Now it's official. As in every Fed announcement, it's no biggie, really, trust us. The move is designed to "explain our actions and answer your questions," Powell said. It was "only about improving communications." It didn't mean at all that the Fed would be speeding up its rate hikes, he said.
Here's the thing: The Fed has fallen into a habit in this cycle of only hiking rates at a meeting that is followed by a press conference. There have been four meetings with press conferences scheduled in the year, along with four meetings without press conferences. By this logic, the maximum number of rate hikes the market expects is four per year. By adding press conferences to all meetings, and thus doing away with this four-rate-hike-per-year limitation, the market will have to start expecting the unexpected – that seems to be the message.
"Gradual" but relentless. "We've been very, very careful not to tighten too quickly," Powell said. "I think we've been patient. I think that patience has borne fruit, and I think it continues to. We had a lot of encouragement to go much faster, and I'm really glad we didn't, but at this time, continuing on that gradual pace continues to seem like the right thing."
Interest paid to the banks on excess reserves gets a makeover. Banks have about $1.89 trillion in "excess reserves" on deposit at the Fed: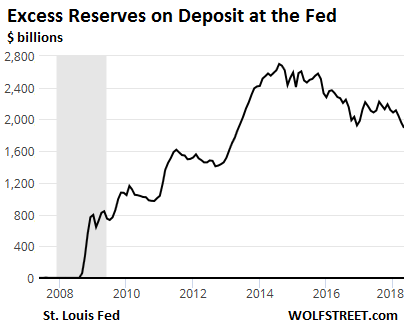 The Fed has been paying banks interest on these excess reserves at a rate that was equal to the top of the Fed's target range – so 1.75% since the last rate hike, which amounts to an annual rate of $33 billion of easy profits for the banks. In theory with today's rate hike, the FOMC would also have increased the rate it pays on excess reserves to 2.0%.
But this didn't happen. The Fed hiked this rate to only 1.95%. This move is "intended to foster trading in the federal funds market at rates well within the FOMC's target range."
It's supposed to solve a problem: The Fed has trouble keeping the federal funds rate in the middle of its target range. For example, yesterday the effective federal funds rate was 1.70%, when the Fed's target range was 1.50% to 1.75%. The federal funds rate should have been in the middle, so around 1.625%. This has been a problem for months. The Fed is worried the federal funds rate might go over the top of its target range. So it hopes that by lowering what it pays on excess reserves in relationship to its target range, it can nudge the federal funds rate back to the middle of the target range.
Some dovish language disappears from the statement, including:
Gone is the line: "Market-based measures of inflation compensation remain low."
Also gone is the line that the federal funds rate is "likely to remain, for some time, below levels that are expected to prevail in the longer run."
Step by systematic step, the Fed is "gradually" getting more hawkish. Its stated purpose is to tighten "financial conditions." This means pushing up yields and widening spreads, and thereby pushing down bond prices, especially at the riskier end of the spectrum; making raising money, including in the stock market, more expensive; and inciting investors to be more risk averse, thereby tamping down on asset prices of all kinds.
This rate-hike cycle is different. It has now been going on for two-and-a-half years, during which the Fed hiked rates by 1.75 percentage points. The last rate-hike cycle lasted only two years, but the Fed pushed up rates by 4.25 percentage points to 5.25% by July 2006. The fact that this rate-hike cycle is so gradual allows the economy and markets, asset prices, and yields to adjust gradually – that's what Powell pointed out when he said this "patience has borne fruit." And it allows the Fed to keep going relentlessly.
And the riskiest bonds have are still dreaming in la-la-land. Read…  Riskiest Junk Bonds Completely Blow Off the Fed, Face "Sudden" Reckoning
Enjoy reading WOLF STREET and want to support it? You can donate. I appreciate it immensely. Click on the beer and iced-tea mug to find out how:

Would you like to be notified via email when WOLF STREET publishes a new article? Sign up here.