Plenty of homes for sale, at ludicrous prices for what you get. But asking prices are now getting "reduced."
Zillow sends me a daily email with 18 "recommendations" about what kind of home to buy in San Francisco. These 18 recommendations are different each time. These emails identify the problem in the San Francisco housing market – and that it's not easy any longer to maintain this crazy bubble.
What its emails say over and over again are three things:
There are plenty of homes to buy.
You have to have or earn a lot of money because most homes larger than a small 1-bedroom condo have asking prices over $1 million, and in plenty of cases multiples of $1 million. The cheapest unit on the list has an asking price just under $700,000, which is about half of the median home price in San Francisco.
Asking prices are now being "reduced" fairly frequently because those homes haven't sold.
As is typical in San Francisco, most of the homes on this list are condos since the majority of homes sold are condos. Practically all new construction in San Francisco in recent decades has been condo and apartment buildings, including many towers.
So let's see what kind of homes Zillow is trying to draw my attention to today, in order of how they appeared in the email. All prices are "asking prices":
$5 million – to be precise $4,999,000: 2 bedroom, 2.5 bath 1,993-square-foot condo in a high-rise building:
The Penthouse at 333 Bush showcases iconic views spanning 270 degrees – incl. the Golden Gate Bridge, San Francisco Bay, Pacific Ocean, Twin Peaks & East Bay. Designed by Form4 Architecture to imbue striking, modernist interiors & infrastructure systems, the Living Room, Kitchen, and Bedrooms feature floor-to-ceiling sliding glass panels enabling indoor/outdoor living. HOA dues include doorman, utilities of water and refuse disposal & HOA Insurance.
Zillow estimates that a 30-year fixed-rate mortgage would run $20,282 a month, after a down payment of $1 million, plus $2,030 in home owner association fees (HOA) a month. I'd have to also figure in around $5,000 in property taxes a month, tack on insurance, and after a down payment of a million bucks, I could live there for less than $30,000 a month.
"People like you liked this home," Zillow says. People like me?!? What does Zillow know about me that I don't? But OK, this is a nice place and I would probably like it – the place, not the price and monthly costs: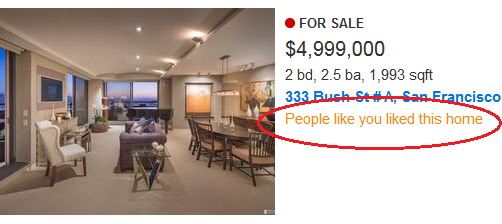 $1.29 million: A 2-BR, 2-BA 1,116 sqft high-rise condo, this one a lot more modest, at 1701 Jackson St. The unit was last sold in April 2016 for nearly the same price, $1.28 million. In 2003, it sold for $680,000.
The mortgage is outright lowbrow, about $6,000 a month with $258,000 down, plus HOA fees of $753 a month. Throw in some insurance and over $1,000 a month in property taxes, and I could probably live there for about $8,000 a month after I make a down payment of over a quarter million bucks. Sweet deal.
$2.29 million: 2-BR, 2-BA 1,512 sqft condo on 690 Market Street, in the Ritz-Carlton Residences, where there are five units listed for sale on Zillow at the moment.
This is the same tower where YouTube co-founder Steve Chen purchased a two-level 3,030 sqft condo for $4.85 million over 10 years ago, then spend a fortune building it out, and put in on the market earlier this year. A sale is now pending [read… How Much Does it Really Cost to Buy a Luxury Condo in San Francisco, Not Live in it for 10 Years, Then Sell at a Loss?]
$1.625 million: 2-BR, 2-BA, 1,181 sqft condo whose asking price has been "reduced" from $1.699 million. Further checking reveals that the price had been $1.788 million when it was listed for sale in February 2017. By now, the price has been cut $163,000. Keep cutting, and at some point it's going to sell.
This tower is a couple of blocks from the Bay Bridge, the largest and most congested bridge in the Bay Area, with ten lanes of traffic that throw off a nice amount of pollution. The condo has view of part of the Bay Bridge (see image) which seems to run about level with the condo: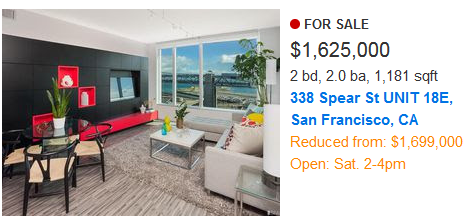 $738,000:  For real penny-pinchers, Zillow recommends a 1-BR, 1-BA 659-sqft tiny "Loft." Now I know that you could buy a nice big house for that amount in Dallas, but this is not Dallas. So for $3,400 a month, plus $150,000 down, plus $259 a month HOA fees, it could be mine. Edwardian building (built in 1900), hardwood floors, redone kitchen with view of another building a few feet away, and a living room with a smallish window with city view. So a nice place, if a bit tight for us.
$1.1 million: or more precisely, $1,098,000. A true jewel, 1,515 sqft, two structures on one lot plus a rear shed. One of the units is occupied by a tenant. "This property offers tremendous potential," it says. "Potential" in real estate means it needs a lot of work. After looking at the photos, I'd probably want to gut this thing. But if you have to worry about those details, you can't afford it, as they say: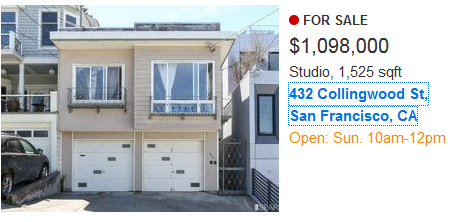 $1 million, rounded. Another budget deal, "Wonderful opportunity to restore this amazing Dolores Heights Victorian! Large 2-story home with high ceilings." Nearly 3,000 sqft. On the photo, part of this place is boarded up. It's one block from Mission Dolores Park, about which we can read this: 'It's Getting Worse': Crime Plagues San Francisco's Dolores Park Where Triple Shooting Occurred. But no problem, the area is gentrifying. I could spend a million bucks on this house and maybe another million to fix it up, including seismic retrofitting, and then I'd have a Victorian jewel (image via Zillow):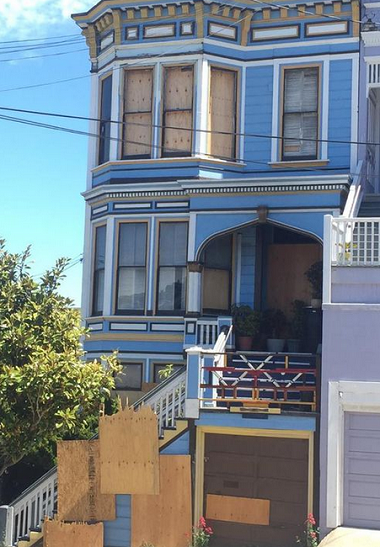 And so Zillow's selection of "recommendations" goes on giving a great cross section of what is available in San Francisco.
$1.295 million: High-rise condo on 631 O'Farrell, 2-BR, 2-BA 1,500 sqft. Price was reduced by $200,000 from $1.495 million when it was put on the market a month ago.
$2.55 million for a building with 6 rental apartments. The building, built in 1906, is rent-controlled, so it would require some additional research to see if this is a deal.
$1.295 million for a 2-BR, 1-BA 1,525 sqft condo built in 1911. "Vintage Victorian meets contemporary and chic San Francisco living! Perfectly situated just above Mission Dolores Park… " (see above, in terms of the tipple shooting).
$1.8 million, rounded: 2-BR 2-BA condo in high-rise building with big views, nice place. I could live in it for just over $11,000 a month, with a Zillow-estimated mortgage payment of $8,200 a month after $360,000 down, plus HOA fees of $1,069 a month, and about $1,800 a month in property taxes.
$2.75 million: 2,055-sqft, 4-BR, 2-BA condo on 2855 Jackson St. After having been listed for $2.995 million in early April, the price was cut by $220,000.
$3.3 million, rounded. This is a single-family home, 4-BR, 3.5-BA. 3,300 sqft on 707 Broderick. It's got a turret, which is the minimum you'd expect for this price: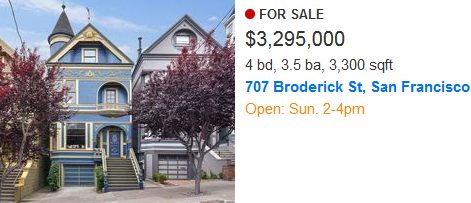 $895,000 for a 842-sqft, 1-BR, 1-BA condo on 1700 Gough.
$698,000: A rare find (cheap!). A few blocks from Mission Dolores Park, 2-BR 1-BA, 824-sqft condo. It listed for $739,000 a month ago. The price was cut by $41,000 to get it moving.
$798,000: 1-BR, 1-BA condo, nice views from the hill-top 136-unit building on 351 Buena Vista Ave. Square footage mercifully not indicated, but from the wide-angle photos, it looks pretty small.
$989,000: 1-BR, 1-BA, 966-sqft condo on 141 Hancock St.
$3.1 million, something nice, to round out the list: high-rise 3-BR, 3-BA 1,791-sqft condo with views, a couple of blocks from the Bay Bridge. The price has been cut by $200,000 since it listed in March: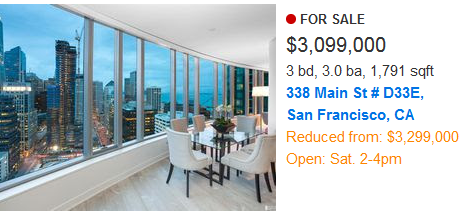 This list and all the lists Zillow sends me on a daily basis show in graphic detail just how far the San Francisco housing market has gone off the rails. There are plenty of homes to buy, but the prices are just ludicrous, for what you get. There are only a limited number of people who are wealthy enough to afford a $1 million home but at the same time are willing to squeeze into a tiny and not so nice place. At some point, this doesn't make sense anymore. And the price cuts show that the market might have reached that point.
More changes in the mortgage market may be in the offing. Read…  Will the New Fed Get Rid of All its Mortgage-Backed Securities? That Seems to be the Plan
Enjoy reading WOLF STREET and want to support it? You can donate. I appreciate it immensely. Click on the beer and iced-tea mug to find out how:

Would you like to be notified via email when WOLF STREET publishes a new article? Sign up here.