Condo price volatility causes whiplash. But the single-family house price surge is just crazy.
Get this: The median price of a single family house in San Francisco in March soared by 25% year-over-year, or by $337,500, to $1,687,500. But that's down a notch from February, both in magnitude and nuttiness, when the price had skyrocketed 31% year-over-year, or by $410,000, to the record of $1.7 million flat.
Over the six years since March 2012, the median house price has ballooned by 143%: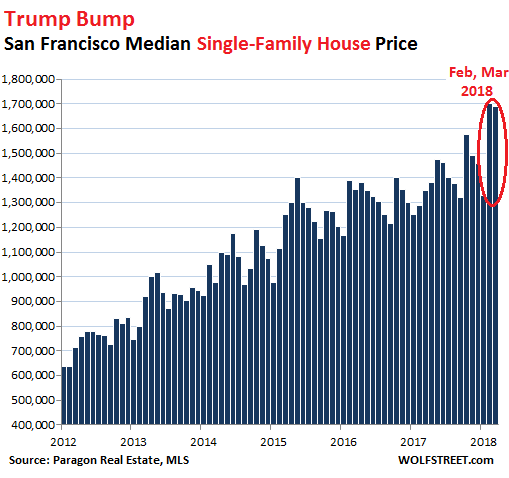 Condos – a category we lump together with TICs (tenancy in common, a specialty in San Francisco), co-ops, and lofts – had been about flat-lining since early 2015, despite major ups and downs in between. The construction boom is putting a lot of new units on the market, though most of them are high end.  So in February the median price dropped 7% year-over-year, or by $80,500, to $1,104,500.
But in March, all heck re-broke loose, and the median price surged 10% year-over-year, or by $114,750, to a new record of $1.25 million: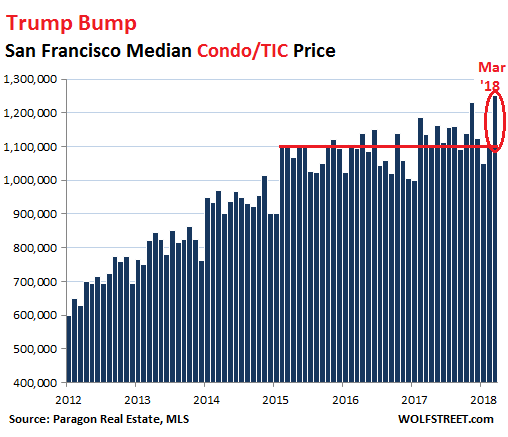 "Virtually every market segment in the city is currently experiencing a feverish high-demand, very-low-supply dynamic," said Patrick Carlisle, Chief Market Analyst at Paragon Real Estate Group, who provided the data. In his report on the San Francisco market, he added:
Fear of possible impending interest rate increases may be playing a role in demand, but consumer confidence has also been soaring over the past year. Recent financial market volatility, so far, appears to be having little effect on local real estate markets, but it still early to measure this.
Median price means half of the homes were sold at prices above it, and half at prices below it. March data reflects closings in March. This measure is very different from the Case-Shiller Home Price Index for San Francisco, which tracks price movements not only in San Francisco but in a five-county area; it's based on comparing sales pairs of the same dwelling, and uses a rolling three-month average that is published with a one-month delay. So it will be several months before the first signs of the March spike in median prices show up in the Case-Shiller index.
San Francisco is becoming a city of multi-family buildings. Over the past decades, nearly all the new units coming on the market were condos and rental apartments. Practically no single-family houses have been built recently. Hence condo sales represent the majority of the market. In total, 275 condos were sold in March, compared to 183 single-family houses. In other words, it doesn't take a lot of sales at the high end to move the price needle.
The next two charts below are on the same scale. The first chart depicts the year-over-year change in the median price of condos. The second chart depicts the year-over-year change in the median price of single-family houses. Note the difference in the vertical bars – and in the condo chart, note the 10 red bars since 2015, denoting year-over-year price declines: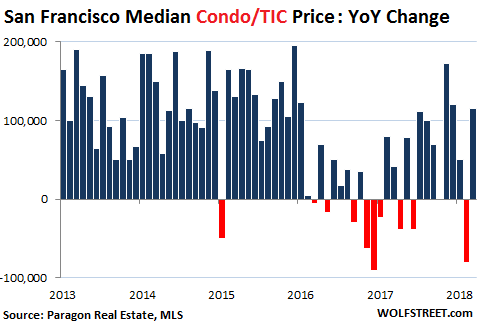 Condo price volatility can give you whiplash, for sure. But the year-over-year house price surges are just plain nuts: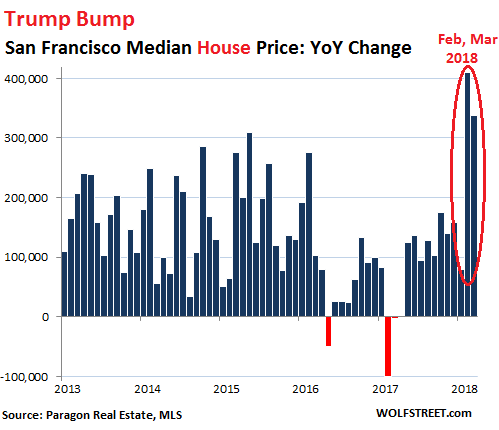 Put together, the median price of all types of dwellings jumped 16% year-over-year, or by $193,500, to $1.41 million: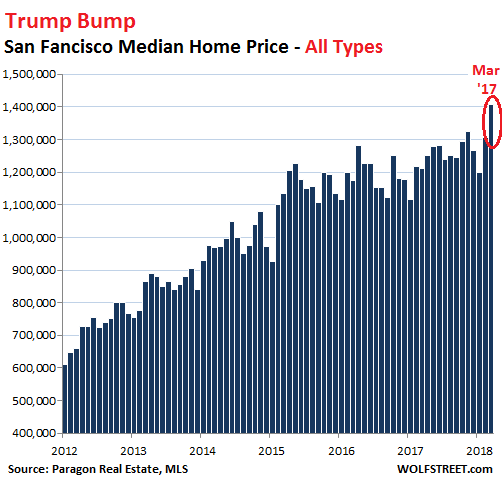 So who gets the credit for this nuttiness? Timing is key. These sales that closed in March weren't necessarily negotiated in March. Many of them were negotiated sometime between late last year and late January. These were the times of a booming stock market. Over the 14 months from Trump's election through January 26 this year, the S&P 500 stock index surged over 30%! The markets were particularly exuberant late last year and in January. San Francisco is uniquely dependent on the stock market, and the ebullient mood – the Trump bump – that lasted until January 26 likely added fuel to the housing market. Which is ironic, considering all the talk of how the new tax law was designed to target the expensive markets in California. Those effects might still set in later. But in March, the Trump bump ruled.
Here's an update on the 100 most expensive rental cities. A story of deep-red and big surges. Read… The Peculiar Phenomenon in the Rental Market Implodes
Enjoy reading WOLF STREET and want to support it? You can donate. I appreciate it immensely. Click on the beer and iced-tea mug to find out how:

Would you like to be notified via email when WOLF STREET publishes a new article? Sign up here.