Why is Sears' CEO still touting "progress," even in SEC filings? Why not tell investors the truth, for once?
Sears Holdings — the storied and once dominant retailer turned into the biggest tragedy in US retail history — reported fourth quarter earnings today. The quarter, ended February 3, covered the crucial holiday sales period. Revenues plunged 27.7% year-over-year to 4.4 billion.
Over the same period, total retail sales across the US by all retailers, including online, rose 5.2%.
In fact, Sears' revenues were so bad that in the crucial holiday quarter they were about flat with Q1 and Q2. In other words, Q4 was an unmitigated fiasco-disaster quarter.
In Q4 2012, Sears still had $12.3 billion in revenues.
The chart below shows just how miserably terrible revenues were in Q4, with no holiday pickup whatsoever, likely the first quarter in Sears' post-World War II history where holiday revenues were about flat with Q1 and Q2 of the same year: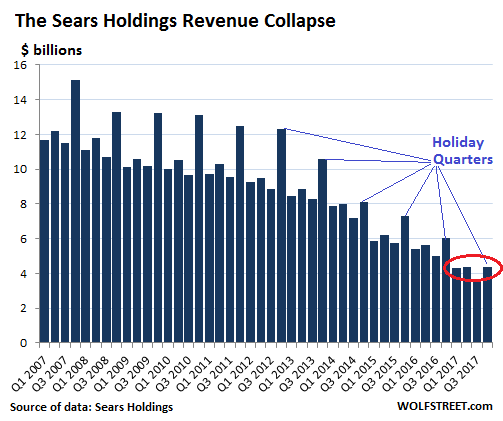 Taking the revenue trend-line of all Q4s going back to 2012 and extending that line as a projection of where revenues might be over the next few years, we discover that revenues will hit zero sometime in 2019 and drop below zero in 2020 – a numerical joke because Sears will be liquidated in bankruptcy court long before then: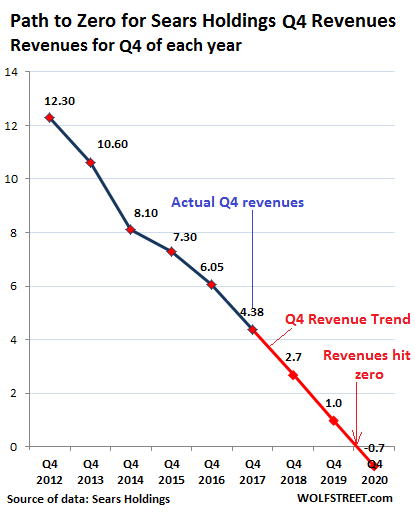 For all of fiscal 2017, revenues plunged 24.6% to $22.1 billion
Sears is Dead Meat. There is no turnaround. There is nothing even slowing down the plunge. Instead, the plunge is accelerating. This is a free-fall.
Some of the media outlets put the net income figure into the headline – a profit in Q4 of $182 million. But it was due to an "income tax benefit" of $539 million. As Sears explained it, a "non-cash tax benefit." Of that, $470 million was "related to tax reform." So no additional cash. No reduction in income taxes either because Sears has been losing so much money for so long it hasn't paid income taxes in years. So this is just a meaningless number.
In reality, the loss before the "income tax benefit" was $357 million. And this is a meaningful number: It occurred during the crucial holiday sales quarter when retailers must make a profit!
During the year, the number of stores – Sears, Kmart, and specialty – plunged by 30%, from 1,430 at the end of fiscal 2016, to 1,002 at the end of fiscal 2017. There were just 570 Sears stores open at the end of Q4. And they're closing those as fast as they can get around to them.
Hedge-fund manager and CEO of Sears Holdings, Eddy Lampert, was quoted in the SEC filing as saying, "We made progress in 2017, with a return to positive Adjusted EBITDA and another quarter of year-over-year improvement in our financial results."
"Adjusted" EBITDA is malicious fiction. There was no progress of any kind, other than toward a bankruptcy filing. And instead of "year-over-year improvement in our financial results," there was a sharp deterioration. Why is Sears' CEO still touting "progress" and "improvement" — even in SEC filings? Why not tell investors the truth, for once?
He's now busy reshuffling debt and digging out the last few brooms in a closet somewhere to use as collateral. At the end of Q4, Sears obtained a new loan of $100 million from JPP, LLC and JPP II, LLC, which are solely owned by Lampert. This loan is secured "by certain real property interests" and by "substantially all of the unencumbered intellectual property of the Company and its subsidiaries…." When Sears is digging out its IP as collateral, it's truly scraping the bottom of the barrel.
Prior loans by the same entities and by Lampert's hedge fund ESL were secured by the part of real estate that hadn't been sold off in sweetheart deals, many of them on a lease-back basis, to affiliated parties such as Seritage. Seritage, whose chairman is Lampert, was spun off via a rights offering from Sears Holdings in July 2015. Last year, Sears Holdings and Lampert settled a suit that aggrieved investors had filed over the deal for $40 million.
Via this process, Sears is being stripped of anything with any value. It will file for bankruptcy after there's nothing left to strip. Shareholders will get nothing. Unsecured creditors will likely end up holding the bag too. And creditors who hold the real estate as collateral will end up with it. But they too will run into the brick-and-mortar meltdown that is slashing the value of many of these properties, and their once sweet dreams might not be so sweet anymore.
On the good news of this disaster-fiasco earnings release, Sears shares [SHLD] rose 8.7% in afterhours trading to $2.63, though that's still down from another Lampert-hype induced 52-week high of $14 in April last year.
When the first major sell-off in two years came along in February – an unexpected event in a market that could only go up and where all models where optimized to reflect that simple fact – hedge funds that use artificial intelligence and machine learning ran into a surprise. Read… AI Hedge Funds Got Crushed the Worst Ever During Selloff: Machines Learned the Wrong Things in One-Way Market
Enjoy reading WOLF STREET and want to support it? You can donate. I appreciate it immensely. Click on the beer and iced-tea mug to find out how:

Would you like to be notified via email when WOLF STREET publishes a new article? Sign up here.