But Cryptocurrency hedge funds fell off a cliff.
Artificial intelligence and machine learning are everywhere, in your smartphone, when you're on Amazon or Netflix where they decide what you might be interested in next, in online advertising to determine what ads you'll see…. They're in ordinary devices that adjust to your preferences, and billions of dollars get poured into it every year because this is the next Holy Grail that's going to revolutionize the way we live.
And hedge funds use it too. And when the first major sell-off in two years came along in February – an unexpected event in a market that can only go up and where all models where optimized to reflect that simple fact – these hedge funds got crushed.
This morning, Eurekahedge released its monthly hedge fund indices for February, including its AI Hedge Fund Index that tracks 15 hedge funds that use artificial intelligence and machine learning for their trading decisions.
But AI is having a hard time. Machine learning apparently figured out, given how stocks have behaved over the past two years, that in this market there will not be a sell-off ever again. And then the sell-off happened.
The AI Hedge Fund Index plunged 7.3% in February from January, its worst month ever. It's down 5.5% for the first two months this year, when the S&P 500 index was up 1.5%. But in 2017, when the S&P 500 index rose nearly 20%, the AI and machine learning luminaries were able to cobble together a return of 9.9%.
Eurekahedge has tracked the AI hedge-fund segment since 2011. This chart shows the index for the past four years. The plunge in February took the index back to March 2017: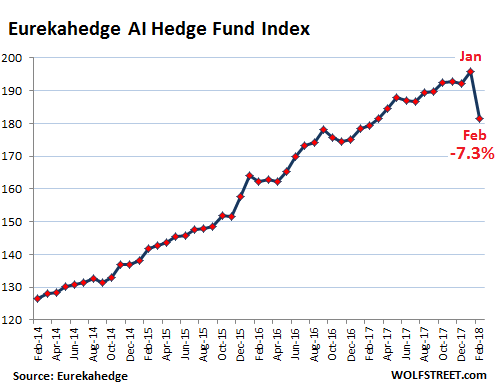 "The first equity correction in two years upended their strategies as once-reliable cross-asset correlations shifted," Bloomberg noted:
The slump even surpassed a more traditional category of quants, commodity trading advisers or CTAs, which posted near-record losses as the equity reversal hammered the automated trend-following strategies.
There is some suspicion that machine-driven funds – whether classic quant funds or AI funds – can speed up and deepen sell-offs. JPMorgan Chase strategists wrote in a note on Friday, cited by Bloomberg, that adoption rates of AI and quant trading have increased, which is making AI strategies more crowded. "In all, we find that AI funds, similar to CTAs, likely played a big role in February's correction by being forced to de-risk given an unprecedented 7.3 percent loss over the past month," they said.
So it seems AI-driven algos have a little more machine-learning to do to get beyond their understanding that markets can only go up.
But the AI Hedge Fund Index wasn't the worst performing index in the bunch. Far from it. The honor went to Eurekahedge's Crypto-Currency Hedge Fund Index, which tracks nine hedge funds engaged in the cryptocurrency space.
It plunged 16.8% in February, after having already plunged 9.1% in January. It's down 24.4% for the first two months this year. This chart shows the downfall after the exponential rise in 2016 and 2017: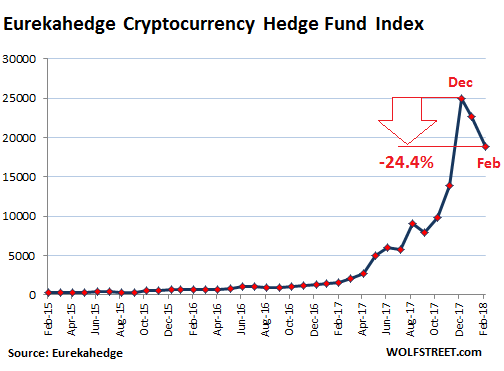 But note the December spike: it was so mind-bogglingly ludicrous – the index shot up nearly 80% in just one month – that the January and February plunge, as steep as it was, only wiped out half of the December spike.
Speculation running rampant? The QE Unwind's "very slow pace may still be contributing to a buildup of various financial imbalances." Read… QE Unwind Is Too Slow, Says Fed Governor, Thus Launching First Trial Balloon
Enjoy reading WOLF STREET and want to support it? You can donate. I appreciate it immensely. Click on the beer and iced-tea mug to find out how:

Would you like to be notified via email when WOLF STREET publishes a new article? Sign up here.